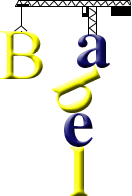 The Tower of Babel (Genesis 11: 1-9)
Runyankore (Nkore)
Ruhanga okuhindahindura endimi z'abantu ahari Babeeli
Ensi yoona ekaba eine orurimi rumwe n'engambo emwe.
Ku baafurukiire oburugwa-izooba, baareeba oruhita omu nsi ya Shinaari; baarutuuramu.
Baagambirana bati: Mwije tubumbe, amatafaari, tugootsye gye. N'ahabw'ekyo baagira amatafaari omu mwanya gw'amabaare, na koroto omu mwanya gw'obudongo.
Baagira bati: Mwije tweyombekyere orurembo n'omunaara, guhikye ahaiguru, tubone kurangaanwa, turekye kutaataanira hoona omu nsi yoona.
MUKAMA yaashuuma kureeba orurembo n'omunaara, ebi abantu baabaire nibombeka. MUKAMA yaagira ati: Reeba, abantu aba n'eihanga rimwe, kandi baine orurimi rumwe; ku baraabe baatandika kukora ebi, omu bi barikuteekateeka kukora, tihariho kiribarema.
Ka tushuume tuhindahindure orurimi rwabo, barekye kuhurirana.
Atyo MUKAMA yaabataataanisa, baarugayo, baabuga ensi yoona; baarekyera aho kwombeka orurembo.
Nikyo rwayeteirwe Babeeli; ahakuba niho MUKAMA yaahindahindwire orurimi rw'ensi yoona; kandi okuruga obwo MUKAMA yaabataataanisa, baabuga ensi yoona.
Source: Baibuli Erikwera 1964. Okutandika. Runyankore-Rukiga Bible 1964. The Bible Society of Uganda.
Contributed by Wolfgang Kuhl
Information about Nkore | Phrases | | Numbers | Tower of Babel
Tower of Babel in Bantu languages
Bemba, Beti, Bulu, Chichewa, Dawida, Haya, Kamba, Kiga, Kikuyu, Kinyarwanda, Kirundi, Kongo, Koti, Kwanyama, Lamba, Lingala, Lozi, Luba-Katanga, Luganda, Luragooli, Mbunda, Mpongwe, Ndebele, Ndonga, Nkore, Northern Sotho, Nyakyusa, Sango, Sena, Shona, Soga, Southern Sotho, Sukuma, Swahili, Swati, Tetela, Tonga, Tsonga, Tswana, Tumbuka, Venda, Xhosa, Yao, Zulu
Other Tower of Babel translations
[top]
---

Why not share this page:
Learn languages for free on Duolingo

If you like this site and find it useful, you can support it by making a donation via PayPal or Patreon, or by contributing in other ways. Omniglot is how I make my living.
Note: all links on this site to Amazon.com
, Amazon.co.uk
and Amazon.fr
are affiliate links. This means I earn a commission if you click on any of them and buy something. So by clicking on these links you can help to support this site.
[top]