Wer bin ich?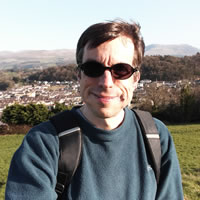 Mein Name ist Simon Ager und ich lebe momentan in Bangor, Wales und Ich verdiene meinen Lebensunterhalt mit dieser Webseite. Ich bin in Lancashire im Nordwesten von England aufgewachsen. Ich habe bereits in vielen Ländern gewohnt. Unter anderem in Frankreich, Jersey, Taiwan und Japan.
Sprachen haben mich fasziniert so lange ich denken kann und Ich habe viele mit unterschiedlichem Erfolg studiert. Mein Mandarin, Französisch, Walisisch und Irisch ist mehr oder weniger fließend, und ich kann auch Deutsch, Spanisch, Japanisch, Schottisch-Gälisch und Manx-Gälisch. Ich habe auch Grundkenntnisse in Taiwanesisch, Kantonesisch, Esperanto, Italienisch, Portugiesisch, Tschechisch, Russisch, Bretonisch, Niederländisch und in der britischen Gebärdensprache (BSL).
Mehr Einzelheiten über meine Erfahrungen beim Lernen von Deutsch und anderen Sprachen.
Nach Sprachen ist meine größte Leidenschaft die Musik - Ich singe in einigen Chören, schreibe Lieder, spiele verschiedene Musikinstrumente und gehe oft auf Konzerte. Ich lese gern, und mag Jonglieren.
Sie können Omniglot durch eine Geldspende via PayPal unterstützen:
Entweder in Englischen Pfund
Or you can contribute to the site in other ways.
German translation Matthias Herzog, with additions by Simon Ager
Information about German | Phrases | Numbers | Colours | Kinship terms | Time | Weather | Tongue twisters | Tower of Babel | Articles | Links | Learning materials
About me in other languages
About this site | Omniglot - a potted history | About me | My language learning adventures | My singing adventures | My songs | My tunes | My musical adventures | My juggling adventures