Morisco alphabet
The Moriscos (Spanish for "Moor-like") were Muslims in Spain and Portugal who were forced to convert to Christianity at the beginning of the 16th century. Many Moriscos continued to practice Islam, most in secret, but some did so openly. A decree issued by King Felipe II in 1566 obliged the Moriscos to adopt Spanish language, dress and customs. A number of unsuccessful rebellions of the Moriscos led to them being relocated from Granada to other parts of Spain, particularly Castile. At the beginning of the 17th century the Moriscos were expelled from Spain to Algeria, Tunisia, and Morocco.
The Moriscos produced books known as aljamiados, which written in Spanish using the Arabic alphabet and were used to instruct fellow Moriscos in Islam.
Morisco alphabet (alfabeto aljamiado / اَلخَمِيَ)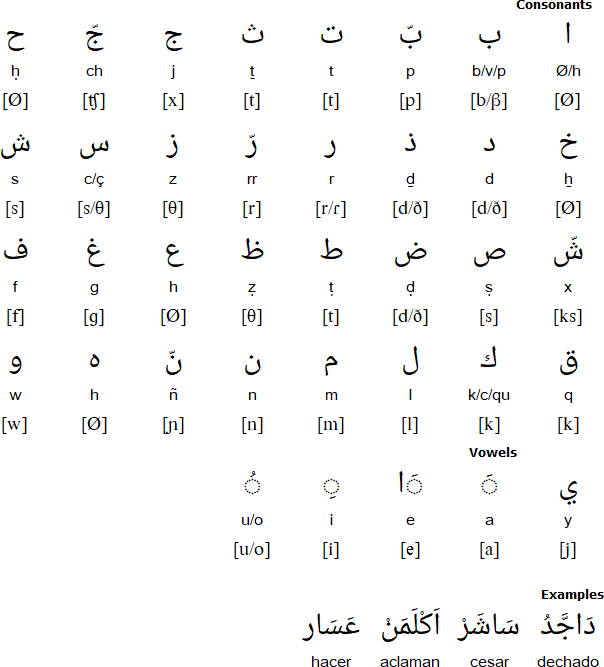 Download an alphabet chart for Morisco (Excel)
Sample text in the Morisco alphabet
دَالْ وَلَرْدُنّ دَا لُشْ شَبِيُشْ
دِيشُ اُنْ رَّاكُنّتَدُرْ كِيَانْ دَامَنْدَرَ بُّرْ كَمِنُ اِ كَرَّا رَ بَّرَ اَبَّارَانْدَارْ سَانْسِيَ اِ شَبِدُرِيَ اَدَارَاسُلُ دِيُشْ اَدَكَالْتَلْ اَ اُنْ كَمِنُ دَا لُشْ كَمِنُشْ دَالْ بَّرَاِشُ اِ لُشْ اَنْجَالاَش أَشْتِيَانْدَانْ شُشْ اَلَشْ اَ لُشْ
Transliteration
Del galardón de los sabios - diso un recontador - quien demandará por camino y carrera para aprender sensia y sabiduria, enderesólo Dios ad aquel tal á un camino de los caminos del paraiso y los ángeles estienden sus alas á los [...].
Translation
From the award of the wise men - said a teller - who will demand by road and race to learn science and wisdom, God straightened him into a way of the ways of the paradise and the angels spread their wings to [...].
Translation and transcription by by Michael Peter Füstumum
Source: http://media.cervantesvirtual.com/s3/BVMC_OBRAS/018/2cb/fe8/2b2/11d/fac/c70/021/85c/e60/64/mimes/0182cbfe-82b2-11df-acc7-002185ce6064.pdf
Links
Information about the Moriscos the Aljamiado
https://en.wikipedia.org/wiki/Morisco
https://en.wikipedia.org/wiki/Aljamiado
https://es.wikipedia.org/wiki/Aljamía
https://core.ac.uk/reader/36033440
Languages written with the Arabic script
Adamaua Fulfulde, Afrikaans, Arabic (Algerian), Arabic (Bedawi), Arabic (Chadian), Arabic (Egyptian), Arabic (Gulf), Arabic (Hassaniya), Arabic (Hejazi), Arabic (Lebanese), Arabic (Libyan), Arabic (Modern Standard), Arabic (Moroccan), Arabic (Najdi), Arabic (Syrian), Arabic (Tunisian), Arwi, Äynu, Azeri, Balanta-Ganja, Balti, Baluchi, Beja, Belarusian, Bosnian, Brahui, Chagatai, Chechen, Chittagonian, Comorian, Crimean Tatar, Dargwa, Dari, Dhatki, Dogri, Domari, Gawar Bati, Gilaki, Hausa, Hazaragi, Hindko, Indus Kohistani, Kabyle, Kalkoti, Karakalpak, Kashmiri, Kazakh, Khowar, Khorasani Turkic, Khwarezmian, Konkani, Kumzari, Kurdish, Kyrgyz, Lezgi, Luri, Maguindanao, Malay, Malay (Terengganu), Mandinka, Marwari, Mazandarani, Mogholi, Morisco, Mozarabic, Munji, Noakhailla, Nubi, Ormuri, Palula, Parkari Koli, Pashto, Persian/Farsi, Punjabi, Qashqai, Rajasthani, Rohingya, Salar, Saraiki, Sawi, Serer, Shabaki, Shina, Shughni, Sindhi, Somali, Tatar, Tausūg, Tawallammat Tamajaq, Tayart Tamajeq, Torwali, Turkish, Urdu, Uyghur, Uzbek, Wakhi, Wanetsi, Wolof, Xiao'erjing, Yidgha
Page last modified: 23.04.21
[top]
---

Why not share this page:

If you like this site and find it useful, you can support it by making a donation via PayPal or Patreon, or by contributing in other ways. Omniglot is how I make my living.
Note: all links on this site to Amazon.com
, Amazon.co.uk
and Amazon.fr
are affiliate links. This means I earn a commission if you click on any of them and buy something. So by clicking on these links you can help to support this site.
Get a 30-day Free Trial of Amazon Prime (UK)
If you're looking for home or car insurance in the UK, why not try Policy Expert?
[top]