Marwari (मारवाड़ी /
مارواڑى

)

Marwari is an Indo-Aryan language spoken by about 13.2 million people mainly in the Indian state of Rajasthan, and also in Gujarat, Haryana, and eastern parts of Pakistan. Marwari is part of the Marwari subgroup of Rajasthani and is related to Haryanvi, Gujarati, Punjabi and Hindi and Haryanvi.

Marwari is usually written with a version of the Devanagari alphabet in India, and with a version of the Perso-Arabic alphabet in Pakistan.

Marwari has no official status, though there are moves in India to give it scheduled status, and is not used in education or government. Historically it was written with the Mahajani script, a version of the Landa script.
Devanagari alphabet for Marwari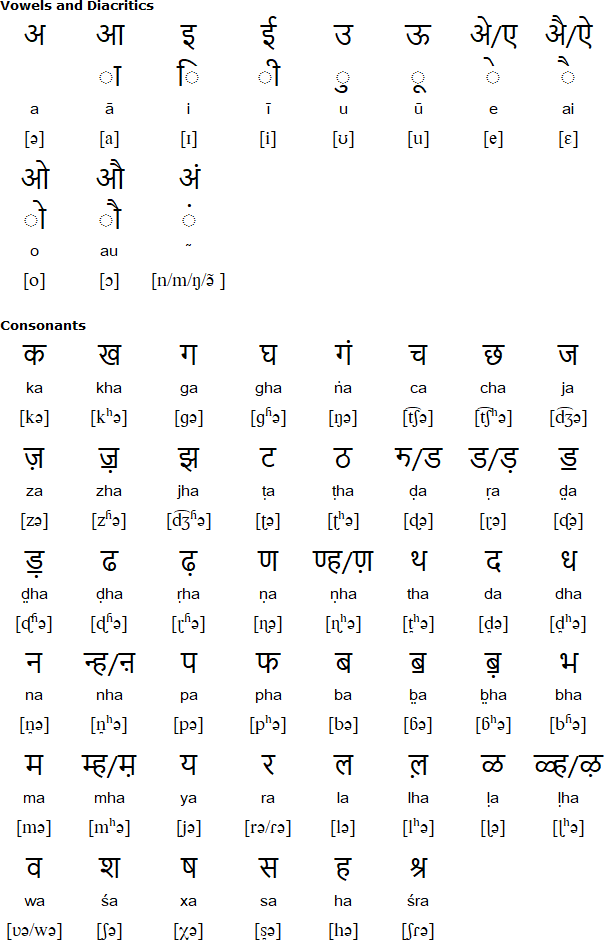 Arabic alphabet for Marwari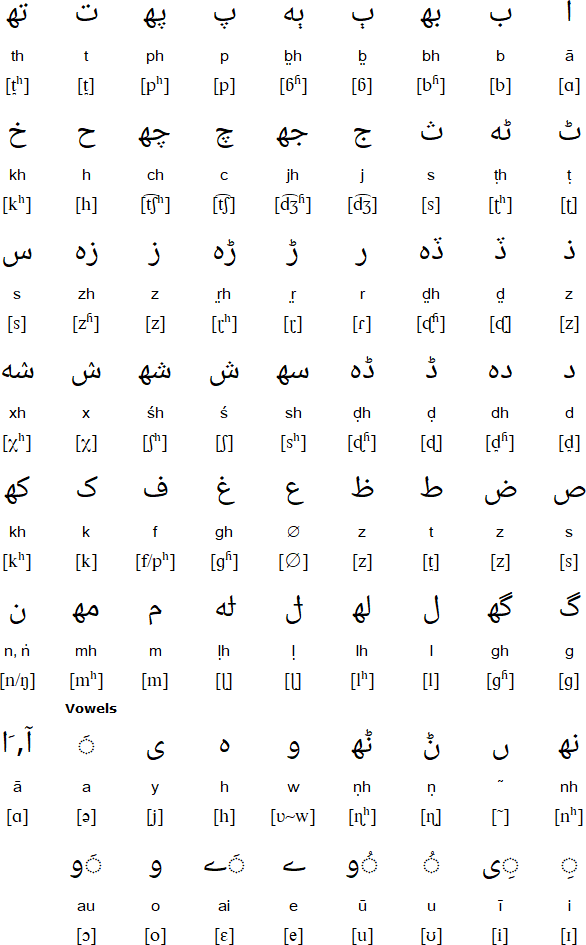 Download an alphabet charts for Marwari (Excel)
Sample texts

Source: http://www.mlrc-pak.hes78.com/writing_system.htm
सगळा मिणख नै गौरव अन अधिकारों रे रासे मांय जळम सूं स्वतंत्रता अने समानता प्राप्त छे। वणी रे गोड़े बुध्दि अन अंतरआत्मा री प्राप्ती छे अन वणी ने भैईपाळा भावना सू एकबीजे रे सारू वर्तन करणो जोयीजै छे।
سگݪا مݨکه نے گورو ان ادهکاروں رے راسے مای جݪم سوں سوتنترا انے سمانتا پراپت چهے. وݨی رے گوڑے بده ان انتراتما ری پراپتی چهے ان وݨی نے بهیئیپاݪا بهاونا سو اےکبیجے رے سارو ورتن کرݨو جوییجے چهے.
Transliteration
Sagḷā miṇakh nai gaurav an adhikārõ re rāse māy jaḷam sū̃ svatantrā ane samāntā prāpt che. Vaṇī re goṛe buddhi an antarātmā rī prāptī che an vaṇī ne bhaiīpāḷā bhāvnā sū ekbīje re sārū vartan karṇo joyījai che.
A recording of this text by Gopal Divraya Meghwal
Translation
All human beings are born free and equal in dignity and rights. They are endowed with reason and conscience and should act towards one another in a spirit of brotherhood.
(Article 1 of the Universal Declaration of Human Rights)
Details supplied by Biswajit Mandal (biswajitmandal[dot]bm90[at]gmail[dot]com) and Michael Peter Füstumum
Links
Information about Marwari
http://en.wikipedia.org/wiki/Marwari_language
https://www.ethnologue.com/language/rwr
Proposal for a Marwari writing system
http://www.scribd.com/doc/13626427/MWPKashalis
Online Marwari lessons
http://speakmarwari.blogspot.co.uk/
Online Marwari dictionary
http://hattai.page.tl/Marwari-Dictionary.htm
Indo-Aryan languages
Awadhi, Assamese, Bagri, Bengali, Bhili, Bishnupriya Manipuri, Braj, Chakma, Chhattisgarhi, Chittagonian, Desiya, Dhatki, Dhivehi, Dhundari, Fiji Hindi, Gawar Bati, Gujarati, Hajong, Halbi, Haryanvi, Hindi, Hindko, Kannauji, Khandeshi, Konkani, Kotia, Kumaoni, Kutchi, Lambadi, Marathi, Marwari, Mewari, Modi, Nimadi, Noakhailla, Odia, Parkari Koli, Punjabi, Rajasthani, Rajbanshi, Rangpuri, Rohingya, Saraiki, Sarnámi Hindustani, Sindhi, Sinhala, Sourashtra, Sugali, Sylheti, Tanchangya, Urdu
Languages written with the Devanāgarī alphabet
Aka-Jeru, Angika, Athpare, Avestan, Awadhi, Balti, Bantawa, Belhare, Bhili, Bhumij, Bilaspuri, Bodo, Bhojpuri, Braj, Car, Chamling, Chhantyal, Chhattisgarhi, Chambeali, Danwar, Dhatki, Dhimal, Dhundari, Digaro Mishmi, Dogri, Doteli, Gaddi, Garhwali, Gondi, Gurung, Halbi, Haryanvi, Hindi, Ho, Jarawa, Jaunsari, Kannauji, Kham, Kangri, Kashmiri, Khaling, Khandeshi, Kharia, Khortha, Korku, Konkani, Kullui, Kumaoni, Kurmali, Kurukh, Kusunda, Lambadi, Limbu, Lhomi, Lhowa, Magahi, Magar, Mahasu Pahari, Maithili, Maldivian, Malto, Mandeali, Marathi, Marwari, Mewari, Mundari, Nancowry. Newar, Nepali, Nimadi, Onge, Pahari, Pali, Pangwali, Rajasthani, Rajbanshi, Rangpuri, Sadri, Sanskrit, Santali, Saraiki, Sirmauri, Sherpa, Shina, Sindhi, Sunwar, Sylheti, Tamang, Thakali, Thangmi, Wambule, Wancho, Yakkha, Yolmo
Languages written with the Arabic script
Adamaua Fulfulde, Afrikaans, Arabic (Algerian), Arabic (Bedawi), Arabic (Chadian), Arabic (Egyptian), Arabic (Gulf), Arabic (Hassaniya), Arabic (Hejazi), Arabic (Lebanese), Arabic (Libyan), Arabic (Modern Standard), Arabic (Moroccan), Arabic (Najdi), Arabic (Syrian), Arabic (Tunisian), Arwi, Äynu, Azeri, Balanta-Ganja, Balti, Baluchi, Beja, Belarusian, Bosnian, Brahui, Chagatai, Chechen, Chittagonian, Comorian, Crimean Tatar, Dargwa, Dari, Dhatki, Dogri, Domari, Gawar Bati, Gilaki, Hausa, Hazaragi, Hindko, Indus Kohistani, Kabyle, Kalkoti, Karakalpak, Kashmiri, Kazakh, Khowar, Khorasani Turkic, Khwarezmian, Konkani, Kumzari, Kurdish, Kyrgyz, Lezgi, Luri, Maguindanao, Malay, Malay (Terengganu), Mandinka, Marwari, Mazandarani, Mogholi, Morisco, Mozarabic, Munji, Noakhailla, Nubi, Ormuri, Palula, Parkari Koli, Pashto, Persian/Farsi, Punjabi, Qashqai, Rajasthani, Rohingya, Salar, Saraiki, Sawi, Serer, Shabaki, Shina, Shughni, Sindhi, Somali, Tatar, Tausūg, Tawallammat Tamajaq, Tayart Tamajeq, Torwali, Turkish, Urdu, Uyghur, Uzbek, Wakhi, Wanetsi, Wolof, Xiao'erjing, Yidgha
Last modified: 30.08.22
[top]
---

Why not share this page:

If you like this site and find it useful, you can support it by making a donation via PayPal or Patreon, or by contributing in other ways. Omniglot is how I make my living.
Note: all links on this site to Amazon.com
, Amazon.co.uk
and Amazon.fr
are affiliate links. This means I earn a commission if you click on any of them and buy something. So by clicking on these links you can help to support this site.
Get a 30-day Free Trial of Amazon Prime (UK)
If you're looking for home or car insurance in the UK, why not try Policy Expert?
[top]