Crimean Tatar (Qırımtatar tili / Къырымтатар тили / قىرىم تاتار تىلى)
Crimean Tatar is a member of the Kypchak branch of Turkic languages. It is spoken mainly in Crimea, a disputed region recognised by most countries as part of Ukraine, and administered by Russia since 2014. There are about 228,000 speakers of Crimean Tatar in the Crimea, where it is officially recognised, along with Russian and Ukrainian, and is used in some schools and universities, and in literature and the media.
There are also about 150,000 speakers of Crimean Tatar in central and southern Uzbekistan, mainly in the Navoiy and Samarqand regions, and 100,000 in the Polatli district of Ankara province in central Turkey. Other countries with Crimean Tatars speakers include Kyrgyzstan (38,000), Romania (22,000), and also Moldova, Bulgaria and Kazakhstan.
Crimean Tatar (Qırımtatar tili, Qırımtatarca) is also known as Crimean (Qırım tili, Qırımca) or Crimean Turkish (Qırım Türkçesi).
Crimean Tatar has been written with the Perso-Arabic script, the Latin alphabet between 1928 and 1938, the Cyrillic alphabet from 1938 to the 1990s, and the Latin alphabet since then, though the Cyrillic alphabet is still used by some people.
Crimean Tatar alphabets
Arabic alphabet for Crimean Tatar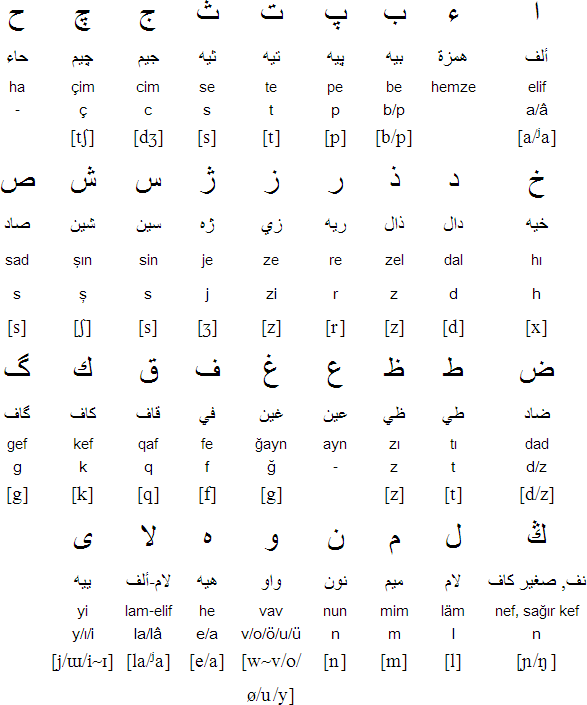 Latin alphabet for Crimean Tatar (Qırımtatar elifbası)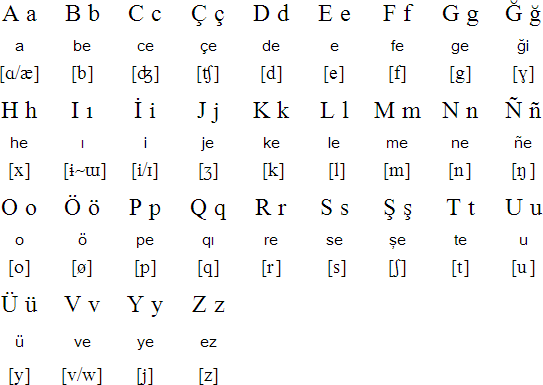 A slightly different version of the Latin alphabet is used for Crimean Tatar in Romania. It includes all the above letters, plus Ĭ ĭ and W w.
More details:
https://tatar-tatarman.blogspot.com/2021/02/alfabetul-limbii-tatare-crimeene-din.html
Cyrillic alphabet for Crimean Tatar (Къырымтатар элифбасы)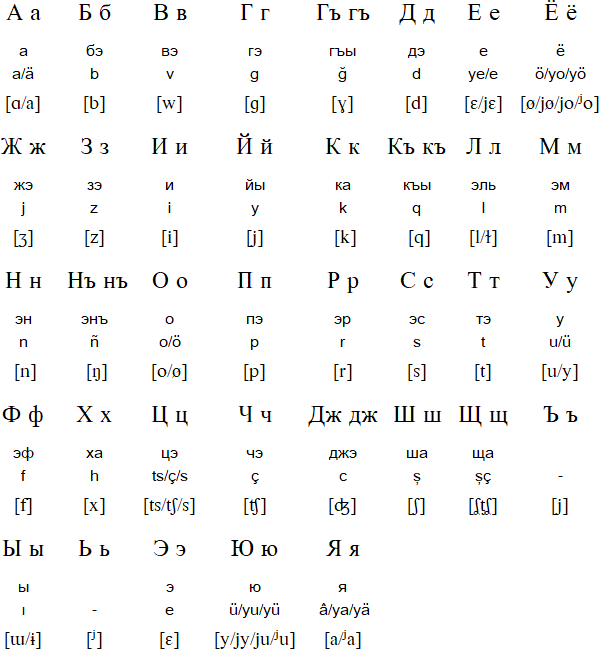 Notes
There is vowel harmony in Crimean Tatar: front vowels are e (э/е), i (и), ö (о/ё) and ü (у/ю), and back vowels are a (а), ı (ы), o (о) and u (у).
ий (iy) = [i:] in Arabic and Persian loan words
я/â = [ʲa] in Arabic and Russian loan words
ж, ц and щ are only used in Russian loan words
Download alphabet charts for Crimean Tatar (Excel)
Sample text in Crimean Tatar
Latin alphabet
Bütün insanlar serbestlik, menlik ve uquqlarda musaviy olıp dünyağa keleler. Olar aqıl vevicdan saibidirler ve biri-birilerinen qardaşçasına munasebette bulunmalıdırlar.
Source: https://www.ohchr.org/EN/UDHR/Pages/Language.aspx?LangID=crh
Cyrillic alphabet
Бутун инсанлар сербестлик, менлик ве укъукъларда мусавий олып дунйагъа келелер. Олар акъыл вевиcдан саибидирлер ве бири-бирилеринен къардащасына мунасебетте булунмалыдырлар.
Translation
All human beings are born free and equal in dignity and rights. They are endowed with reason and conscience and should act towards one another in a spirit of brotherhood.
(Article 1 of the Universal Declaration of Human Rights)
Sample videos in Crimean Tatar
Information about Crimean Tatar | Numbers | Tower of Babel
Links
Information about the Crimean Tatar language
http://en.wikipedia.org/wiki/Crimean_Tatar_language
http://ru.wikipedia.org/wiki/Крымскотатарский_язык http://salpagarov.narod.ru/alfabet/page_1.htm
http://www.qurultay.org/eng/yazi_eng.asp?yazi_no=217
http://www.vatankirim.net/tatarca.asp
Crimean Tatar internet library
http://medeniye.org/en/node/695
Crimean Tatar dictionaries
http://medeniye.org/en/lugat
http://www.tatarcasozluk.com
Къырымтатар тилининъ лингвистик корпусы
(Linguistic corpus of Crimean Tatar Language)
http://korpus.juls.savba.sk/QIRIM/
Information about the Crimean Tatars
http://www.euronet.nl/users/sota/krimtatar.html
http://en.wikipedia.org/wiki/Crimean_Tatars
http://www.eki.ee/books/redbook/crimean_tatars.shtml
Phrases in Crimean Tatar
http://crimean.org/krim/sozluk?start=2
ICC - International Committee for Crimea
http://www.iccrimea.org
Turkic languages
Altay, Äynu, Azerbaijani, Bashkir, Chagatai, Chelkan, Chulym, Chuvash, Crimean Tatar, Dolgan, Fuyu Kyrgyz, Gagauz, Ili Turki, Karachay-Balkar, Karaim, Karakalpak, Karamanli Turkish, Kazakh, Khakas, Khalaj, Khorasani Turkic, Krymchak, Kumandy, Kumyk, Kyrgyz, Nogai, Old Turkic, Qashqai, Romanian Tatar, Salar, Shor, Siberian Tatar, Soyot, Tatar, Teleut, Tofa, Turkish, Turkmen, Tuvan, Urum, Uyghur, Uzbek, Western Yugur, Yakut (Sakha)
Languages written with the Arabic script
Adamaua Fulfulde, Afrikaans, Arabic (Algerian), Arabic (Bedawi), Arabic (Chadian), Arabic (Egyptian), Arabic (Gulf), Arabic (Hassaniya), Arabic (Hejazi), Arabic (Lebanese), Arabic (Libyan), Arabic (Modern Standard), Arabic (Moroccan), Arabic (Najdi), Arabic (Syrian), Arabic (Tunisian), Arwi, Äynu, Azeri, Balanta-Ganja, Balti, Baluchi, Beja, Belarusian, Bosnian, Brahui, Chagatai, Chechen, Chittagonian, Comorian, Crimean Tatar, Dargwa, Dari, Dhatki, Dogri, Domari, Gawar Bati, Gilaki, Hausa, Hazaragi, Hindko, Indus Kohistani, Kabyle, Kalkoti, Karakalpak, Kashmiri, Kazakh, Khowar, Khorasani Turkic, Khwarezmian, Konkani, Kumzari, Kurdish, Kyrgyz, Lezgi, Luri, Maguindanao, Malay, Malay (Terengganu), Mandinka, Marwari, Mazandarani, Mogholi, Morisco, Mozarabic, Munji, Noakhailla, Nubi, Ormuri, Palula, Parkari Koli, Pashto, Persian/Farsi, Punjabi, Qashqai, Rajasthani, Rohingya, Salar, Saraiki, Sawi, Serer, Shabaki, Shina, Shughni, Sindhi, Somali, Tatar, Tausūg, Tawallammat Tamajaq, Tayart Tamajeq, Torwali, Turkish, Urdu, Uyghur, Uzbek, Wakhi, Wanetsi, Wolof, Xiao'erjing, Yidgha
Abaza, Abkhaz, Adyghe, Aghul, Akhvakh, Akkala Sámi, Aleut, Altay, Alyutor, Andi, Archi, Assyrian / Neo-Assyrian, Avar, Azeri, Bagvalal, Balkar, Bashkir, Belarusian, Bezhta, Bosnian, Botlikh, Budukh, Bulgarian, Buryat, Chamalal, Chechen, Chelkan, Chukchi, Chulym, Chuvash, Crimean Tatar, Dargwa, Daur, Dolgan, Dungan, Enets, Erzya, Even, Evenki, Gagauz, Godoberi, Hinukh, Hunzib, Ingush, Interslavic, Itelmen, Juhuri, Kabardian, Kaitag, Kalderash Romani, Kalmyk, Karaim, Karakalpak, Karata, Karelian, Kazakh, Ket, Khakas, Khanty, Khinalug, Khorasani Turkic, Khwarshi, Kildin Sámi, Kili, Komi, Koryak, Krymchak, Kryts, Kubachi, Kumandy, Kumyk, Kurdish, Kyrgyz, Lak, Lezgi, Lingua Franca Nova, Ludic, Macedonian, Mansi, Mari, Moksha, Moldovan, Mongolian, Montenegrin, Nanai, Negidal, Nenets, Nganasan, Nivkh, Nogai, Old Church Slavonic, Oroch, Orok, Ossetian, Pontic Greek, Romanian, Rushani, Russian, Rusyn, Rutul, Selkup, Serbian, Shor, Shughni, Siberian Tatar, Sirenik, Slovio, Soyot, Tabassaran, Tajik, Talysh, Tat, Tatar, Teleut, Ter Sámi, Tindi, Tofa, Tsakhur, Tsez, Turkmen, Tuvan, Ubykh, Udege, Udi, Udmurt, Ukrainian, Ulch, Urum, Uyghur, Uzbek, Veps, Votic, Wakhi, West Polesian, Xibe, Yaghnobi, Yakut, Yazghulami, Yukaghir (Northern / Tundra), Yukaghir (Southern / Kolyma), Yupik (Central Siberian)
Languages written with the Latin alphabet
Page last modified: 01.05.23
[top]
---

Why not share this page:
If you like this site and find it useful, you can support it by making a donation via PayPal or Patreon, or by contributing in other ways. Omniglot is how I make my living.
Note: all links on this site to Amazon.com
, Amazon.co.uk
and Amazon.fr
are affiliate links. This means I earn a commission if you click on any of them and buy something. So by clicking on these links you can help to support this site.
Get a 30-day Free Trial of Amazon Prime (UK)
If you're looking for home or car insurance in the UK, why not try Policy Expert?
[top]