Lezgi (лезги / лезги чӀал)
Lezgi is a member of the Nakh-Daghestanian or Northeast Caucasian language family. It is spoken mainly in southern Dagestan in the Russian Federation, and also in northern parts of Azerbaijan. In 2010 there were about 402,000 Lezgi speakers in Dagestan, and 193,000 people spoke Lezgi in Azerbaijan in 2017. There are also speakers of Lezgi in Turkmenistan, Uzbekistan, Kazakhstan, Turkey, Germany and other countries.
Lezgi is a recognized language in the Dagestan Autonomous Republic, and is used in literature and the media. In Azerbaijan Lezgi is spoken mainly in Qusar, Quba, Qabala, Oghuz, Ismailli and Khachmaz provinces in the northeast of the country.
Lezgi is also known as Lezgian, Lezgin, Lezghi or Kiurintsy. Dialects include Kiuri, Samur and Quba.
Written Lezgi
Lezgi was first written a version of the Arabic alphabet at the beginning of the 20th century. A way of writing Lezgi with the Cyrillic alphabet was devised by Baron Peter von Uslar in the 1860s and used in parallel with the Arabic alphabet. A modified version of the alphabet was used in some schools from 1911.
The Latin alphabet was introduced in the 1928 as part of the Soviet Union's Latinisation campaign. This was revised in 1932, and replaced by the Cyrillic alphabet in 1938.
Arabic alphabet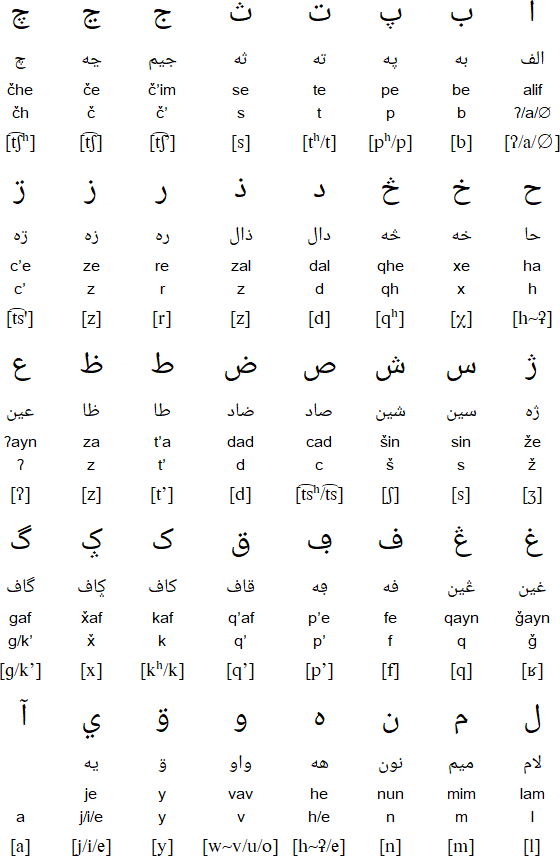 Notes
ث ,ح ,ذ ,ض ,ظ and ع are only used in Arabic loanwords and names
Latin alphabet for Lezgi (1932-1938)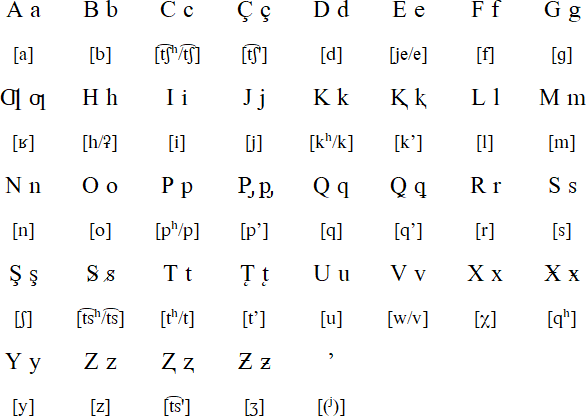 Cyrilic alphabet for Lezgi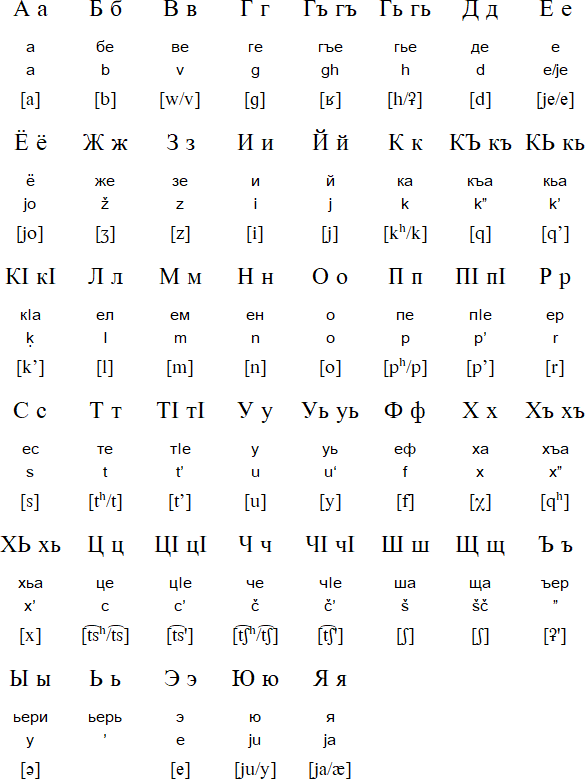 Notes
щ is only used in words borrowed from Russian
ё is only used in only one word, ёъ [joʔ]
ь is only used in combination with other letters, such as гь, кь and хь
Download an alphabet chart for Lezgi (Excel)
Corrections and editions by Michael Peter Füstumum
Sample text in Lezgi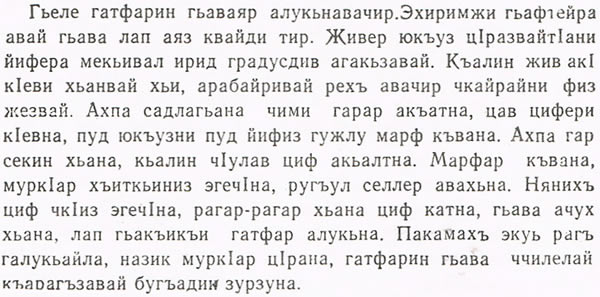 Source: Определитель языков мира по письменностям. Академия наук СССР. Москва – 1965.
Transcription
Гьеле гатфарин гьаваяр алукьнавачир. Эхиримжи гьафтейра авай гьава лап аяз квайди тир. Живер юкъузцӀразвайтӀани йифера мекьивал ирид градусдив агакьзавай. Къалин жив акӀ кӀеви хьанвай хьи, арабайривайрехъ авачир чкайрайни физ жезвай. Ахпа садлагьана чими гарар акъатна, цав цифери кӀевиа, пуд юкъузни пудйифиз гужлу марф къвана. Ахпа гар секин хьана, кьалин чӀулав циф акьалтна. Марфар къвана, муркӀархъиткьиниз эгечӀна, ругъул селлер авахьна. Нянихъ циф чкӀиз эгечӀна, рагар-рагар хьана циф катна, гьава ачуххьана, лап гьакъикъи гатфар алукьна. Пакамахъ экуь рагъ галукьайла, назик муркӀар цӀрана, гатфарин гьаваччилелай къарагъзавай бугъадик зурзуна.
Transliteration
Hele gatfarin havajar aluq'navačir. Exirimži haftejra avaj hava lap ajaz kvajdi tir. Živer juquzc'razvajt'ani jifera meq'ival irid gradusdiv agaq'zavaj. Qalin živ ak' k'evi x̌anvaj x̌i, arabajrivajreqh avačir čkajrajni fiz žezvaj. Axpa sadlahana čimi garar aqatna, cav ciferi k'evia, pud juquzni pudjifiz gužlu marf qvana. Axpa gar sekin x̌ana, q'alin č'ulav cif aq'altna. Marfar qvana, murk'arqhitq'iniz egeč'na, ruǧul seller avax̌na. Njaniqh cif čk'iz egeč'na, ragar-ragar x̌ana cif katna, hava ačux̌x̌ana, lap haqiqi gatfar aluq'na. Pakamaqh eky raǧ galuq'ajla, nazik murk'ar c'rana, gatfarin havaččilelaj qaraǧzavaj buǧadik zurzuna.
Some information provided by Wolfgang Kuhl and Michael Peter Füstumum
Sample video in Lezgi
Information about Lezgi | Phrases | Numbers
Links
Information about Lezgi
https://en.wikipedia.org/wiki/Lezgian_language
https://en.wikipedia.org/wiki/Lezgin_alphabets
https://www.ethnologue.com/language/lez
http://www.peterlin.pl/lezgi/chal.html
Northeast Caucasian languages
Aghul, Akhvakh, Andi, Archi, Avar, Bagvalal, Batsbi, Bezhta, Botlikh, Budukh, Caucasian Albanian, Chamalal, Chechen, Dargwa, Godoberi, Hinukh, Hunzib, Ingush, Kaitag, Karata, Khinalug, Khwarshi, Kryts, Kubachi, Lak, Lezgian, Rutul, Tabassaran, Tindi, Tsakhur, Tsez, Udi
Languages written with the Arabic script
Adamaua Fulfulde, Afrikaans, Arabic (Algerian), Arabic (Bedawi), Arabic (Chadian), Arabic (Egyptian), Arabic (Gulf), Arabic (Hassaniya), Arabic (Hejazi), Arabic (Lebanese), Arabic (Libyan), Arabic (Modern Standard), Arabic (Moroccan), Arabic (Najdi), Arabic (Syrian), Arabic (Tunisian), Arwi, Äynu, Azeri, Balanta-Ganja, Balti, Baluchi, Beja, Belarusian, Bosnian, Brahui, Chagatai, Chechen, Chittagonian, Comorian, Crimean Tatar, Dargwa, Dari, Dhatki, Dogri, Domari, Gawar Bati, Gilaki, Hausa, Hazaragi, Hindko, Indus Kohistani, Kabyle, Kalkoti, Karakalpak, Kashmiri, Kazakh, Khowar, Khorasani Turkic, Khwarezmian, Konkani, Kumzari, Kurdish, Kyrgyz, Lezgi, Luri, Maguindanao, Malay, Malay (Terengganu), Mandinka, Marwari, Mazandarani, Mogholi, Morisco, Mozarabic, Munji, Noakhailla, Nubi, Ormuri, Palula, Parkari Koli, Pashto, Persian/Farsi, Punjabi, Qashqai, Rajasthani, Rohingya, Salar, Saraiki, Sawi, Serer, Shabaki, Shina, Shughni, Sindhi, Somali, Tatar, Tausūg, Tawallammat Tamajaq, Tayart Tamajeq, Torwali, Turkish, Urdu, Uyghur, Uzbek, Wakhi, Wanetsi, Wolof, Xiao'erjing, Yidgha
Abaza, Abkhaz, Adyghe, Aghul, Akhvakh, Akkala Sámi, Aleut, Altay, Alyutor, Andi, Archi, Assyrian / Neo-Assyrian, Avar, Azeri, Bagvalal, Balkar, Bashkir, Belarusian, Bezhta, Bosnian, Botlikh, Budukh, Bulgarian, Buryat, Chamalal, Chechen, Chelkan, Chukchi, Chulym, Chuvash, Crimean Tatar, Dargwa, Daur, Dolgan, Dungan, Enets, Erzya, Even, Evenki, Gagauz, Godoberi, Hinukh, Hunzib, Ingush, Interslavic, Itelmen, Juhuri, Kabardian, Kaitag, Kalderash Romani, Kalmyk, Karaim, Karakalpak, Karata, Karelian, Kazakh, Ket, Khakas, Khanty, Khinalug, Khorasani Turkic, Khwarshi, Kildin Sámi, Kili, Komi, Koryak, Krymchak, Kryts, Kubachi, Kumandy, Kumyk, Kurdish, Kyrgyz, Lak, Lezgi, Lingua Franca Nova, Ludic, Macedonian, Mansi, Mari, Moksha, Moldovan, Mongolian, Montenegrin, Nanai, Negidal, Nenets, Nganasan, Nivkh, Nogai, Old Church Slavonic, Oroch, Orok, Ossetian, Pontic Greek, Romanian, Rushani, Russian, Rusyn, Rutul, Selkup, Serbian, Shor, Shughni, Siberian Tatar, Sirenik, Slovio, Soyot, Tabassaran, Tajik, Talysh, Tat, Tatar, Teleut, Ter Sámi, Tindi, Tofa, Tsakhur, Tsez, Turkmen, Tuvan, Ubykh, Udege, Udi, Udmurt, Ukrainian, Ulch, Urum, Uyghur, Uzbek, Veps, Votic, Wakhi, West Polesian, Xibe, Yaghnobi, Yakut, Yazghulami, Yukaghir (Northern / Tundra), Yukaghir (Southern / Kolyma), Yupik (Central Siberian)
Languages written with the Latin alphabet
Page last modified: 23.04.21
[top]
---

Why not share this page:

If you like this site and find it useful, you can support it by making a donation via PayPal or Patreon, or by contributing in other ways. Omniglot is how I make my living.
Note: all links on this site to Amazon.com
, Amazon.co.uk
and Amazon.fr
are affiliate links. This means I earn a commission if you click on any of them and buy something. So by clicking on these links you can help to support this site.
Get a 30-day Free Trial of Amazon Prime (UK)
If you're looking for home or car insurance in the UK, why not try Policy Expert?
[top]