Domari (Dômarî /
דּוֺמָרִי

/

دٛومَرِي

)

Domari is an Western Indo-Aryan language spoken by the Dom people in Iran, Turkey, Egypt, Libya, Tunisia, Algeria, Morocco, Israel, Syria, Turkey, Azerbaijan, Jordan, Sudan, and in neighboring countries. In 2012 there were 4 million speakers of Domari, which is also known as Middle Eastern Romani, Tsigene, Luti or Mehtar.

Dialects of Domari include Nawari, Kurbati, Helebi, Halab, Karachi, Marashi, Barake, Churi-Wali and Narikurava. Domari is closely related to Romani, Punjabi and Rajasthani.

Domari has not had any standard written form. It is sometimes written with Arabic, Hebrew or Latin alphabets.
Latin alphabet for Domari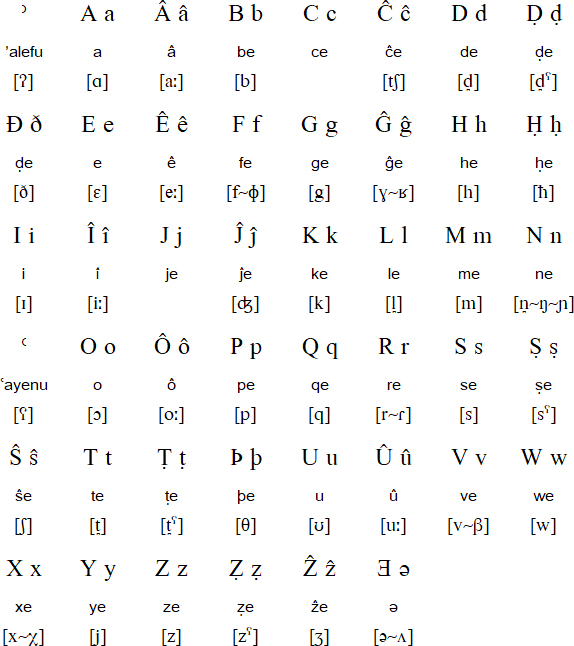 Notes
There are alternative ways of writing some sounds: ĉ - ch, ð - dh, ĝ - gh, î - ī, ŝ - sh, ṭ - th, û - ū, x - kh, ẑ - zh, and ǝ - ė
C and J are only used in foreign loanwords.
Hebrew alphabet for Domari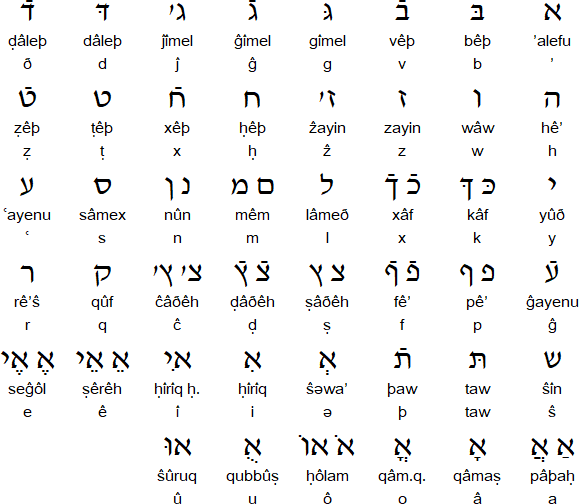 Arabic alphabet for Domari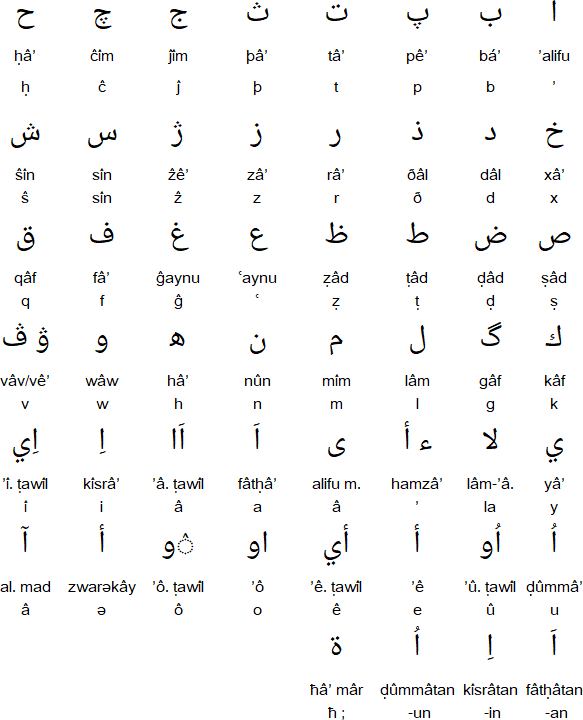 Details of Domari alphabet provided by Robert Lloyd Wheelock
Download an alphabet chart for Domari (Excel)
Sample text
Minden Haleman u raw-erden u garen u-desas-ta. Gara mawmom waŝliman. Nanden wis daway qlaranki u kunden-sa e-desas-ma. Besawi hromi ĵurak min o-desas-ki. Garen Till-uyarta, laherden Domeni, marde amin-kara di bakra u keren u piren. Aren min hnona, rawrden, garen Ĉuyak-desas-ta. Zarak parda bay-im u nasra minẑ-is. Rasrom-us pandas-ma, ferom-is dfangak u dirdom bitas u moldom-is. Laherdom ĵuri pandasma, ferom-is lawrie-ma, bagerdom siri-us.
Translation
We set off ourselves and travelled and went to that place. My uncle went with me. We bought (took) twenty camels from the Beduin and sold them in that place. I got married [to] a woman from that place. We went to Jerusalem, we found Dom. They killed for us two sheep and we ate and we drank. We came from there, we travelled, we went to Egypt.
Source: http://www.domresearchcenter.com/journal/15/kenrick5.html
Sample video in Domari
Information about Domari | Numbers in Domari
Links
Information about the Domari language and alphabets
https://en.wikipedia.org/wiki/Domari_language
https://www.ethnologue.com/language/rmt
http://journals.dartmouth.edu/cgi-bin/WebObjects/Journals.woa/1/xmlpage/1/article/412?htmlAlways=yes
http://languagecontact.humanities.manchester.ac.uk/ELA/languages/Domari.html
http://romani.humanities.manchester.ac.uk/atmanchester/projects/domari.shtml
Romani languages
Caló, Domari, Erromintxela, Finnish Kalo, Kalderash, Lovari, Romani
Languages written with the Hebrew script
Aramaic, Bukhori, Domari, Hebrew, Jewish Neo-Aramaic, Judeo-Arabic, Judeo-Persian, Juhuri, Knaanic, Ladino, Mozarabic, Yiddish, Yevanic
Languages written with the Arabic script
Adamaua Fulfulde, Afrikaans, Arabic (Algerian), Arabic (Bedawi), Arabic (Chadian), Arabic (Egyptian), Arabic (Gulf), Arabic (Hassaniya), Arabic (Hejazi), Arabic (Lebanese), Arabic (Libyan), Arabic (Modern Standard), Arabic (Moroccan), Arabic (Najdi), Arabic (Syrian), Arabic (Tunisian), Arwi, Äynu, Azeri, Balanta-Ganja, Balti, Baluchi, Beja, Belarusian, Bosnian, Brahui, Chagatai, Chechen, Chittagonian, Comorian, Crimean Tatar, Dargwa, Dari, Dhatki, Dogri, Domari, Gawar Bati, Gilaki, Hausa, Hazaragi, Hindko, Indus Kohistani, Kabyle, Kalkoti, Karakalpak, Kashmiri, Kazakh, Khowar, Khorasani Turkic, Khwarezmian, Konkani, Kumzari, Kurdish, Kyrgyz, Lezgi, Luri, Maguindanao, Malay, Malay (Terengganu), Mandinka, Marwari, Mazandarani, Mogholi, Morisco, Mozarabic, Munji, Noakhailla, Nubi, Ormuri, Palula, Parkari Koli, Pashto, Persian/Farsi, Punjabi, Qashqai, Rajasthani, Rohingya, Salar, Saraiki, Sawi, Serer, Shabaki, Shina, Shughni, Sindhi, Somali, Tatar, Tausūg, Tawallammat Tamajaq, Tayart Tamajeq, Torwali, Turkish, Urdu, Uyghur, Uzbek, Wakhi, Wanetsi, Wolof, Xiao'erjing, Yidgha
Languages written with the Latin alphabet
Page last modified: 28.06.21
[top]
---

Why not share this page:

If you like this site and find it useful, you can support it by making a donation via PayPal or Patreon, or by contributing in other ways. Omniglot is how I make my living.
Note: all links on this site to Amazon.com
, Amazon.co.uk
and Amazon.fr
are affiliate links. This means I earn a commission if you click on any of them and buy something. So by clicking on these links you can help to support this site.
Get a 30-day Free Trial of Amazon Prime (UK)
If you're looking for home or car insurance in the UK, why not try Policy Expert?
[top]