Kashmiri (कॉशुर /
كٲشُر

)

Kashmiri is a member of the Dardic subgroup of the Indo-Aryan language family. In 2011 there were 6.7 million speakers of Kashmiri in India, and there were about 143,000 in Pakistan in 2016. In India it is spoken in the states of Jammu and Kashmir, and in Himachal Pradesh, especially in the Kashmir valley. In Pakistan it is spoken in Azad Kashmir province.

Kashmiri is also known as Cashmeeree, Cashmiri, Kacmiri, Kaschemiri, Keshur or Koshur.

Kashmiri first appeared in writing during the 8th century AD in the Sharda alphabet, which is still used in religious ceremonies by Kashmiri Pandits. After the arrival of Islam in Kashmir during the 15th century, the Arabic script was adapted to write Kashmiri. Today Kashmiri Muslims write their language with the Arabic script, and Kashmiri Hindus used the Devanagari alphabet.

Kashmiri is one of the official languages of India, and is taught in schools in the Kashmir valley. It is also used in literature, newspapers, on the radio, and in other media.
Arabic script for Kashmiri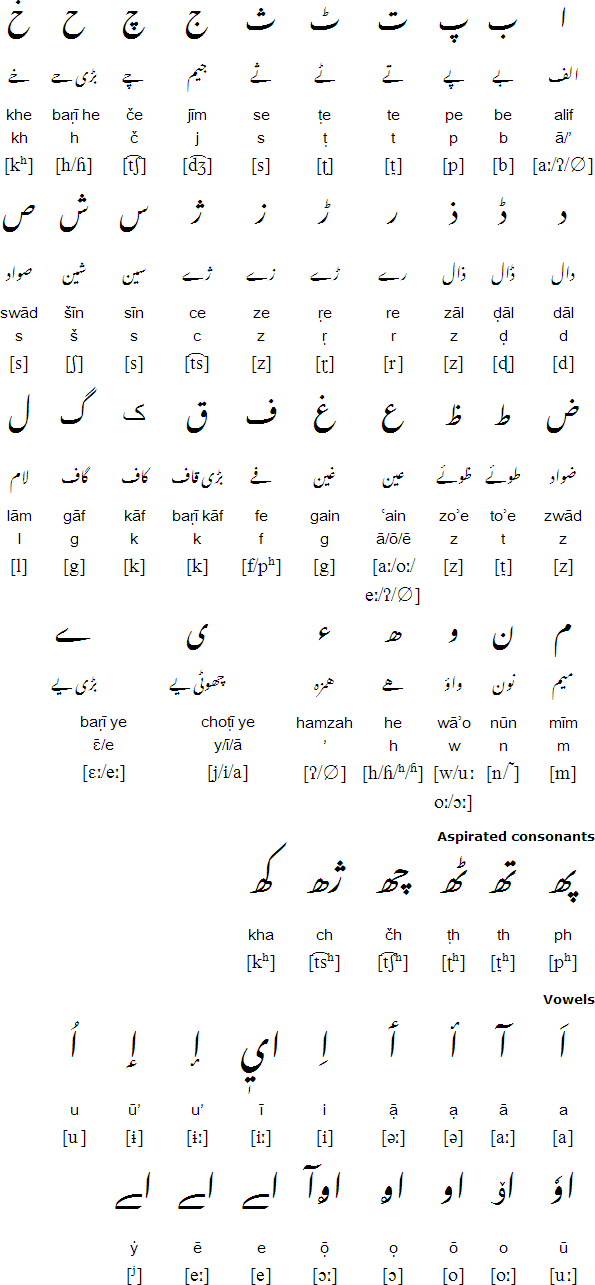 Numerals

Devanagari alphabet for Kashmiri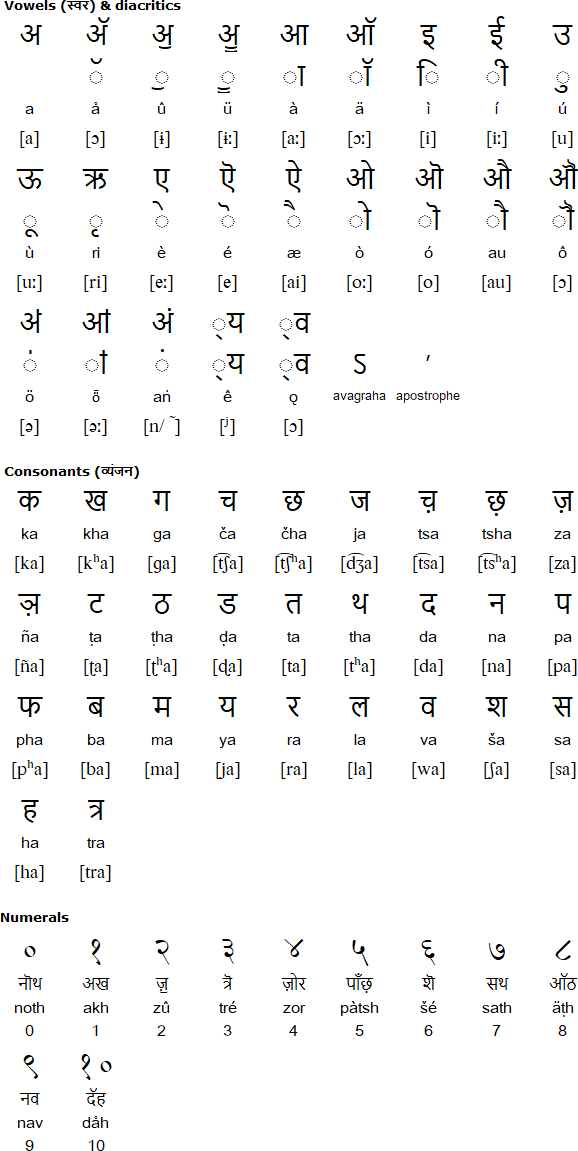 Sources: http://koshur.org/pdf/Let Us Learn Kashmiri.pdf and http://www.geocities.ws/michaelpeterfustumum/kashmiri_latin_alphabet.htm
Download an alphabet chart for Kashmiri (Excel)
Details provided by Biswajit Mandal (biswajitmandal[dot]bm90[at]gmail[dot]com)
Sample texts in Kashmiri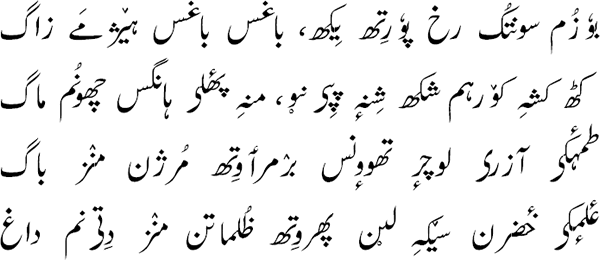 Source: http://www.kashmirilanguage.com/PDF's/Manikaman_1.pdf

IPA transcription
/səːriː insaːn t͡ʃʰi aːzaːd zaːmɨtʲ . wʲakaːr tɨ hokuːk t͡ʃʰi hiwiː . timan t͡ʃʰu soːt͡ʃ samad͡ʒ ataː karnɨ aːmut tɨ timan pazi bəːj baraːdəriː hɨndis d͡ʒazbaːtas tahat akʰ əkis akaːr bakaːr jun/
Transliteration
Sə̄rī insān čhi āzād zāmytj. Vjakār ty hokūk čhi hivī. Timan čhu sōč samaž atā karny āmut ty timan pazi bə̄i barādərī hyndis žazbātas tahat akh əkis akār bakār jun.
Transcription and transliteration by Sammy Silvers
Hear a recording of this text by Waqar Shah
Translation
All human beings are born free and equal in dignity and rights. They are endowed with reason and conscience and should act towards one another in a spirit of brotherhood.
(Article 1 of the Universal Declaration of Human Rights)
Additions and amendments provided by Waqar Shah
Sample videos in Kashmiri
Information about Kashmiri | Phrases | Numbers
Links
Information about Kashmiri
http://en.wikipedia.org/wiki/Kashmiri_language
https://www.ethnologue.com/language/kas
http://www.kashmirilanguage.com
http://www.koshur.org/pdf/BasicReader.pdf
http://www.koausa.org/Reader/intro.html
Kashmiri lessons
http://www.koshur.org
https://www.youtube.com/channel/UCeT7AmIHhzfP9bSGODIVYPA/videos https://www.youtube.com/channel/UCEKwZpQZZaAkvvFLF1i20pg
Online Kashmiri dictionary
http://dsal.uchicago.edu/dictionaries/grierson/
Koshurakhbar - the online Kashmiri newspaper
http://www.koshurakhbar.com
Dardic languages
Indus Kohistani, Kalkoti, Kashmiri, Khowar, Palula, Sawi, Shina, Torwali
Languages written with the Devanāgarī alphabet
Aka-Jeru, Angika, Athpare, Avestan, Awadhi, Balti, Bantawa, Belhare, Bhili, Bhumij, Bilaspuri, Bodo, Bhojpuri, Braj, Car, Chamling, Chhantyal, Chhattisgarhi, Chambeali, Danwar, Dhatki, Dhimal, Dhundari, Digaro Mishmi, Dogri, Doteli, Gaddi, Garhwali, Gondi, Gurung, Halbi, Haryanvi, Hindi, Ho, Jarawa, Jaunsari, Kannauji, Kham, Kangri, Kashmiri, Khaling, Khandeshi, Kharia, Khortha, Korku, Konkani, Kullui, Kumaoni, Kurmali, Kurukh, Kusunda, Lambadi, Limbu, Lhomi, Lhowa, Magahi, Magar, Mahasu Pahari, Maithili, Maldivian, Malto, Mandeali, Marathi, Marwari, Mewari, Mundari, Nancowry. Newar, Nepali, Nimadi, Onge, Pahari, Pali, Pangwali, Rajasthani, Rajbanshi, Rangpuri, Sadri, Sanskrit, Santali, Saraiki, Sirmauri, Sherpa, Shina, Sindhi, Sunwar, Sylheti, Tamang, Thakali, Thangmi, Wambule, Wancho, Yakkha, Yolmo
Languages written with the Arabic script
Adamaua Fulfulde, Afrikaans, Arabic (Algerian), Arabic (Bedawi), Arabic (Chadian), Arabic (Egyptian), Arabic (Gulf), Arabic (Hassaniya), Arabic (Hejazi), Arabic (Lebanese), Arabic (Libyan), Arabic (Modern Standard), Arabic (Moroccan), Arabic (Najdi), Arabic (Syrian), Arabic (Tunisian), Arwi, Äynu, Azeri, Balanta-Ganja, Balti, Baluchi, Beja, Belarusian, Bosnian, Brahui, Chagatai, Chechen, Chittagonian, Comorian, Crimean Tatar, Dargwa, Dari, Dhatki, Dogri, Domari, Gawar Bati, Gilaki, Hausa, Hazaragi, Hindko, Indus Kohistani, Kabyle, Kalkoti, Karakalpak, Kashmiri, Kazakh, Khowar, Khorasani Turkic, Khwarezmian, Konkani, Kumzari, Kurdish, Kyrgyz, Lezgi, Luri, Maguindanao, Malay, Malay (Terengganu), Mandinka, Marwari, Mazandarani, Mogholi, Morisco, Mozarabic, Munji, Noakhailla, Nubi, Ormuri, Palula, Parkari Koli, Pashto, Persian/Farsi, Punjabi, Qashqai, Rajasthani, Rohingya, Salar, Saraiki, Sawi, Serer, Shabaki, Shina, Shughni, Sindhi, Somali, Tatar, Tausūg, Tawallammat Tamajaq, Tayart Tamajeq, Torwali, Turkish, Urdu, Uyghur, Uzbek, Wakhi, Wanetsi, Wolof, Xiao'erjing, Yidgha
[top]
---

Why not share this page:

If you like this site and find it useful, you can support it by making a donation via PayPal or Patreon, or by contributing in other ways. Omniglot is how I make my living.
Note: all links on this site to Amazon.com
, Amazon.co.uk
and Amazon.fr
are affiliate links. This means I earn a commission if you click on any of them and buy something. So by clicking on these links you can help to support this site.
Get a 30-day Free Trial of Amazon Prime (UK)
If you're looking for home or car insurance in the UK, why not try Policy Expert?
[top]