Dhatki (धाटकी /
ڍاٽڪي

)

Dhatki is a member of the Western Rajasthani branch of the Indo-Aryan language family. It is spoken by about 206,400 people mainly in southern Pakistan, and also in the northeast of India.

In Pakistan Dhatki is spoken by about 190,000 poeple mainly in the Umerkot and Tharparkar districts of the province of Sindh. In India it is spoken by about 16,400 people in the districts of Jaisalmer, Barmer and Jalore in the west of Rajastan state

Dhatki is also known as Dhati, Dhatti or Thari. Dialects include Eastern Dhatki, Southern Dhatki, Central Dhatki, Barage and Malhi. It is closely related to Marwari.

In Pakistan Dhatki is written with a version of the Perso-Arabic script based on the Sindhi alphabet, and with the Devanagari alphabet in India. Some people use other scripts, such as Mahahani to write Dhatki It is taught in some schools in Pakistan and used on the radio.
Arabic alphabet for Dhatki
Devanagari alphabet for Dhatki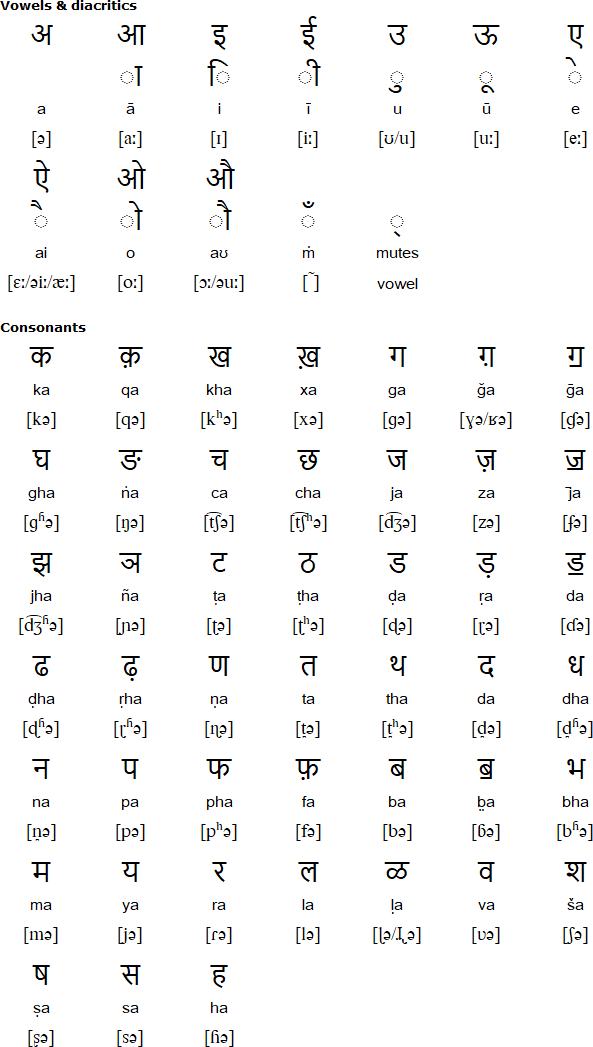 Download an alphabet chart for Dhatki (Excel)
Details of the Dhatki alphabet provided by Wolfram Siegel
Sample text in Dhatki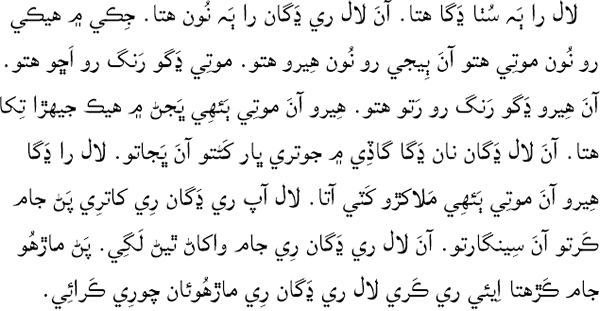 Source: https://www.dhatki.com/en/dhatki-listening-stories
Sample videos in Dhatki
Links
Information about the Dhatki language
https://en.wikipedia.org/wiki/Dhatki_language
https://www.ethnologue.com/language/mki
https://www.dhatki.com/en/dhatki-year-1-school-books
Indo-Aryan languages
Awadhi, Assamese, Bagri, Bengali, Bhili, Bishnupriya Manipuri, Braj, Chakma, Chhattisgarhi, Chittagonian, Desiya, Dhatki, Dhivehi, Dhundari, Fiji Hindi, Gawar Bati, Gujarati, Hajong, Halbi, Haryanvi, Hindi, Hindko, Kannauji, Khandeshi, Konkani, Kotia, Kumaoni, Kutchi, Lambadi, Marathi, Marwari, Mewari, Modi, Nimadi, Noakhailla, Odia, Parkari Koli, Punjabi, Rajasthani, Rajbanshi, Rangpuri, Rohingya, Saraiki, Sarnámi Hindustani, Sindhi, Sinhala, Sourashtra, Sugali, Sylheti, Tanchangya, Urdu
Languages written with the Arabic script
Adamaua Fulfulde, Afrikaans, Arabic (Algerian), Arabic (Bedawi), Arabic (Chadian), Arabic (Egyptian), Arabic (Gulf), Arabic (Hassaniya), Arabic (Hejazi), Arabic (Lebanese), Arabic (Libyan), Arabic (Modern Standard), Arabic (Moroccan), Arabic (Najdi), Arabic (Syrian), Arabic (Tunisian), Arwi, Äynu, Azeri, Balanta-Ganja, Balti, Baluchi, Beja, Belarusian, Bosnian, Brahui, Chagatai, Chechen, Chittagonian, Comorian, Crimean Tatar, Dargwa, Dari, Dhatki, Dogri, Domari, Gawar Bati, Gilaki, Hausa, Hazaragi, Hindko, Indus Kohistani, Kabyle, Kalkoti, Karakalpak, Kashmiri, Kazakh, Khowar, Khorasani Turkic, Khwarezmian, Konkani, Kumzari, Kurdish, Kyrgyz, Lezgi, Luri, Maguindanao, Malay, Malay (Terengganu), Mandinka, Marwari, Mazandarani, Mogholi, Morisco, Mozarabic, Munji, Noakhailla, Nubi, Ormuri, Palula, Parkari Koli, Pashto, Persian/Farsi, Punjabi, Qashqai, Rajasthani, Rohingya, Salar, Saraiki, Sawi, Serer, Shabaki, Shina, Shughni, Sindhi, Somali, Tatar, Tausūg, Tawallammat Tamajaq, Tayart Tamajeq, Torwali, Turkish, Urdu, Uyghur, Uzbek, Wakhi, Wanetsi, Wolof, Xiao'erjing, Yidgha
Languages written with the Devanāgarī alphabet
Aka-Jeru, Angika, Athpare, Avestan, Awadhi, Balti, Bantawa, Belhare, Bhili, Bhumij, Bilaspuri, Bodo, Bhojpuri, Braj, Car, Chamling, Chhantyal, Chhattisgarhi, Chambeali, Danwar, Dhatki, Dhimal, Dhundari, Digaro Mishmi, Dogri, Doteli, Gaddi, Garhwali, Gondi, Gurung, Halbi, Haryanvi, Hindi, Ho, Jarawa, Jaunsari, Kannauji, Kham, Kangri, Kashmiri, Khaling, Khandeshi, Kharia, Khortha, Korku, Konkani, Kullui, Kumaoni, Kurmali, Kurukh, Kusunda, Lambadi, Limbu, Lhomi, Lhowa, Magahi, Magar, Mahasu Pahari, Maithili, Maldivian, Malto, Mandeali, Marathi, Marwari, Mewari, Mundari, Nancowry. Newar, Nepali, Nimadi, Onge, Pahari, Pali, Pangwali, Rajasthani, Rajbanshi, Rangpuri, Sadri, Sanskrit, Santali, Saraiki, Sirmauri, Sherpa, Shina, Sindhi, Sunwar, Sylheti, Tamang, Thakali, Thangmi, Wambule, Wancho, Yakkha, Yolmo
Page created: 03.06.22. Last modified: 03.06.22
[top]
---

Why not share this page:

If you like this site and find it useful, you can support it by making a donation via PayPal or Patreon, or by contributing in other ways. Omniglot is how I make my living.
Note: all links on this site to Amazon.com
, Amazon.co.uk
and Amazon.fr
are affiliate links. This means I earn a commission if you click on any of them and buy something. So by clicking on these links you can help to support this site.
Get a 30-day Free Trial of Amazon Prime (UK)
If you're looking for home or car insurance in the UK, why not try Policy Expert?
[top]