Dargwa (дарган мез)
Dargwa is a North East Caucasian language spoken mainly in the Dagestan Autonomous Republic in the Russian Federation. There are also Dargwa speakers in the republics of Kalmykia, Khantia-Mansia and Chechnya, in other parts of the Russian Federation, and in Azerbaijan, Kazakhstan, Kyrgyzstan, Turkey, Turkmenistan, Ukraine and Uzbekistan. In 2010 there were about 486,000 speakers of Dargwa in Russia, and another 10,000 in other countries.
Dargwa is also known as Dargin, Dargi or Dargva, and there are numerous dialects, including Cudaxar, Akusha, Kaitag, Kubachi, Muirin, Sirxin and Chirag.
Dargwa is a recognised language in the Dagestan Autonomous Republic. It is taught in some schools, and is used in newspapers, periodicals and other literature. Parts of the Bible have been translated into Dargwa.
Dargwa was written with the Arabic alphabet 1926, when the Latin alphabet was adopted. Since 1937 a version of the Cyrillic alphabet has been used to write Dargwa.
Arabic alphabet for Dargwa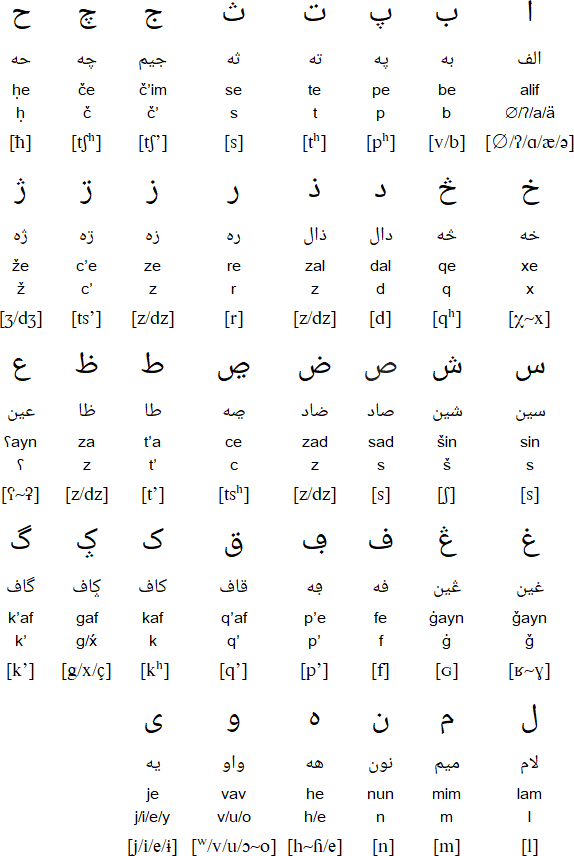 Notes
ظ, ض, ص, ذ and ث were only used in Arabic loanwords and names.
Latin alphabet for Dargwa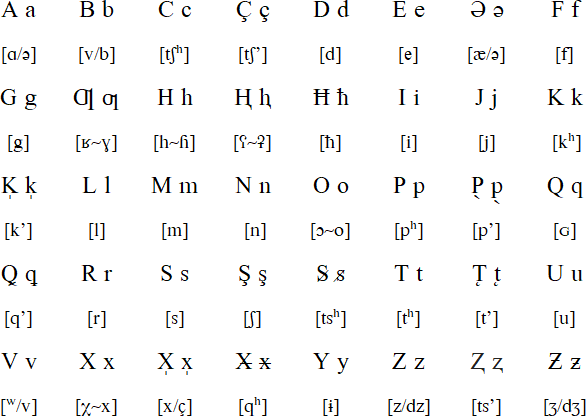 Cyrillic alphabet for Dargwa
Download alphabet charts for Dargwa
Sample text in Dargwa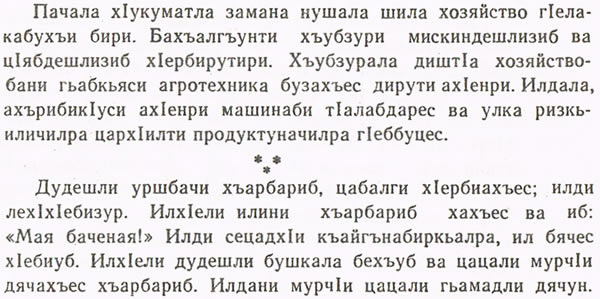 Transcription
Пачала хӀукуматла замана нушала шила хозяйство гӀелакабухъи бири. Бахъалгъунти хъубзури мискиндешлизиб ва цӀябдешлизиб хӀербирутири. Хъубзурала диштӀа хозяйствобани гьабкьяси агротехника бузахъес дирути ахӀенри. Илдала, ахърибикӀуси ахӀенри машинаби тӀалабдарес ва улка ризкьиличира цархӀилти продуктуначилра гӀеббуцес.
Дудешли уршбачи хъарбариб, цабагли хӀербиахъес; илди лехӀхӀебизур. ИлхӀели илини хъарбариб хахъес ва иб: «Мая баченая!» Илди сецадхӀи къайгънабиркьалра, ил бячес хӀебиуб. ИлхӀели дудешли бушкала бехъуб ва цацали мурчӀи дячахъес хъарбариб. Илдани мурчӀи цацали гьамадли дячун.
Transliteration
Pačala ḥukumatla zamana nušala šila xozäjstvo ʕelakabuqi biri. Baqalǧunti qubzuri miskindešlizib va c'äbdešlizib ḥerbirutiri. Qubzurala dišt'a xozäjstvobani habq'äsi agrotexnika buzaqes diruti aḥenri. Ildala, aqribik'usi aḥenri mašinabi t'alabdares va ulka rizq'iličira carḥilti produktunačilra ʕebbuces.
Dudešli uršbači qarbarib, cabagli ḥerbiaqes; ildi leḥḥebizur. Ilḥeli ilini qarbarib xaqes va ib: «Maja bačenaja!» Ildi secadḥi ġajǧnabirq'alra, il bäčes ḥebiub. Ilḥeli dudešli buškala bequb va cacali murč'i däčaqes qarbarib. Ildani murč'i cacali hamadli däčun.
Source: Определитель языков мира по письменностям. Академия наук СССР. Москва – 1965.
Sample text supplied by Wolfgang Kuhl. Other information provided by Wolfram Siegel and Michael Peter Füstumum
Information about Dargwa | Numbers
Links
Information about the Dargin/Dargwa language
http://en.wikipedia.org/wiki/Dargwa_language
http://www.ethnologue.com/14/show_language.asp?code=DAR
Northeast Caucasian languages
Aghul, Akhvakh, Andi, Archi, Avar, Bagvalal, Batsbi, Bezhta, Botlikh, Budukh, Caucasian Albanian, Chamalal, Chechen, Dargwa, Godoberi, Hinukh, Hunzib, Ingush, Karata, Khinalug, Khwarshi, Kryts, Kubachi, Lak, Lezgian, Rutul, Tabassaran, Tindi, Tsakhur, Tsez, Udi
Languages written with the Arabic script
Adamaua Fulfulde, Afrikaans, Arabic (Algerian), Arabic (Chadian), Arabic (Egyptian), Arabic (Hassaniya), Arabic (Lebanese), Arabic (Libyan), Arabic (Modern Standard), Arabic (Moroccan), Arabic (Syrian), Arabic (Tunisian), Arwi, Äynu, Azeri, Balanta-Ganja, Balti, Baluchi, Beja, Belarusian, Bosnian, Brahui, Chagatai, Chechen, Comorian, Crimean Tatar, Dargwa, Dari, Dogri, Domari, Gilaki, Hausa, Hazaragi, Indus Kohistani, Kabyle, Kalkoti, Karakalpak, Kashmiri, Kazakh, Khowar, Khorasani Turkic, Konkani, Kumzari, Kurdish, Kyrgyz, Lezgi, Luri, Maguindanao, Malay, Malay (Terengganu), Mandinka, Marwari, Mazandarani, Morisco, Mozarabic, Nubi, Ormuri, Palula, Parkari Koli, Pashto, Persian/Farsi, Punjabi, Qashqai, Rajasthani, Rohingya, Salar, Saraiki, Sawi, Serer, Shabaki, Shina, Shughni, Sindhi, Somali, Tatar, Tausūg, Tawallammat Tamajaq, Tayart Tamajeq, Torwali, Turkish, Urdu, Uyghur, Uzbek, Wakhi, Wanetsi, Wolof, Xiao'erjing
Abaza, Abkhaz, Adyghe, Aghul, Akhvakh, Aleut, Altay, Alyutor, Andi, Archi, Assyrian / Neo-Assyrian, Avar, Azeri, Bagvalal, Balkar, Bashkir, Belarusian, Bezhta, Botlikh, Budukh, Bulgarian, Buryat, Chamalal, Chechen, Chelkan, Chukchi, Chulym, Chuvash, Crimean Tatar, Dargwa, Dolgan, Dungan, Enets, Erzya, Even, Evenki, Gagauz, Godoberi, Hinukh, Hunzib, Ingush, Interslavic, Itelmen, Juhuri, Kabardian, Kalderash Romani, Kalmyk, Karaim, Karakalpak, Karata, Kazakh, Ket, Khakas, Khanty, Khinalug, Khwarshi, Kildin Sámi, Komi, Koryak, Krymchak, Kryts, Kubachi, Kumandy, Kumyk, Kurdish, Kyrgyz, Lak, Lezgi, Lingua Franca Nova, Ludic, Macedonian, Mansi, Mari, Moksha, Moldovan, Mongolian, Montenegrin, Nanai, Negidal, Nenets, Nganasan, Nivkh, Nogai, Old Church Slavonic, Oroch, Orok, Ossetian, Pontic Greek, Russian, Rusyn, Rutul, Selkup, Serbian, Shor, Shughni, Siberian Tatar, Slovio, Soyot, Tabassaran, Tajik, Talysh, Tat, Tatar, Tindi, Tofa, Tsakhur, Tsez, Turkmen, Tuvan, Ubykh, Udege, Udi, Udmurt, Ukrainian, Ulch, Urum, Uyghur, Uzbek, Veps, Votic, Wakhi, West Polesian, Yaghnobi, Yakut, Yazghulami, Yukaghir (Northern / Tundra), Yukaghir (Southern / Kolyma), Yupik (Central Siberian)
Languages written with the Latin alphabet
Page last modified: 23.04.21
[top]
---

Why not share this page:

If you like this site and find it useful, you can support it by making a donation via PayPal or Patreon, or by contributing in other ways. Omniglot is how I make my living.
If you need to type in many different languages, the Q International Keyboard can help. It enables you to type almost any language that uses the Latin, Cyrillic or Greek alphabets, and is free.
Note: all links on this site to Amazon.com
, Amazon.co.uk
and Amazon.fr
are affiliate links. This means I earn a commission if you click on any of them and buy something. So by clicking on these links you can help to support this site.
[top]