Chittagonian (চিটাইঙ্গা)
Chittagonian is a member of the Eastern Bengali-Assamese branch of the Indo-Aryan language family. It is spoken by about 13 million people in the Chittagong Division in southeast Bangladesh, particularly in the city of Chittagong, and in the Rangamati, Bandarban and Khagrachhari districts.
Chittagonian is also known as Chatgaiyan Buli, Chatgaya or Chittagonian Bengali. It is closely related to Rohingya and is more or less mutually intelligible with it.
Chittagonian vocabulary comes mainly from Sanskrit, with quite a few words borrowed from Arabic, Persian and Turkish, as well as English and Portuguese.
There are many songs in Chittagonian, and it is used to some extent on the TV and radio.
Chittagonian is written with the Bengali alphabet. There are ways to write it with the Arabic and Latin alphabets. However, few Chittagonian speakers are literate in their language and tend to write in Bengali instead.
Bengali alphabet for Chittagonian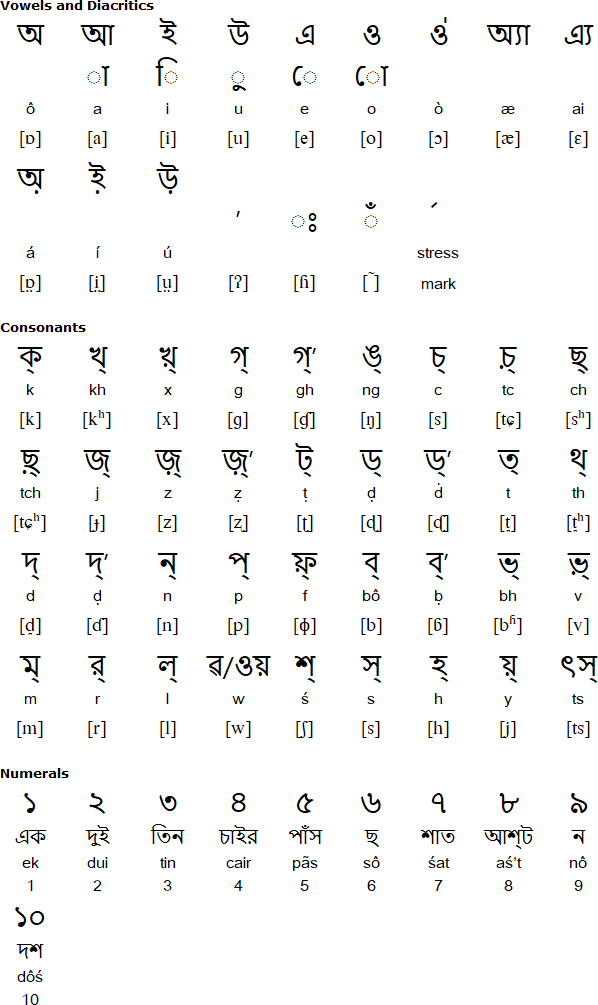 Latin alphabet for Chittagonian
Arabic alphabet for Chittagonian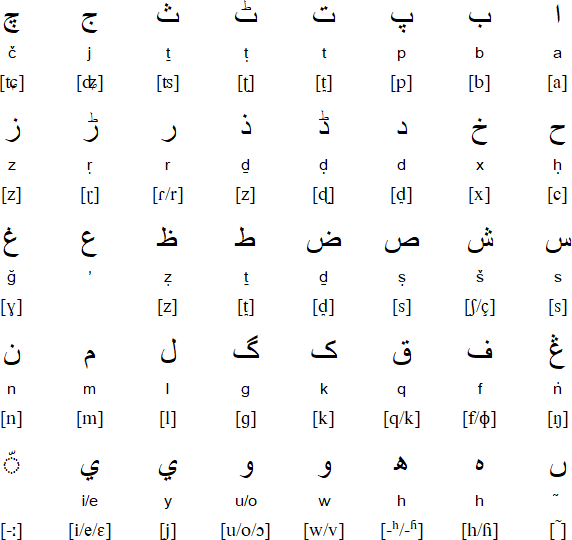 Download alphabet charts for Chittagonian (Excel)
Details of the Chittagonian alphabets provided by Wolfram Siegel (PDF) and Biswajit Mandel
Sample text
বিয়াক মানুশ ইজ্‌জত এদ‌্দে অ়কর ই়শাবে আজাদ আর উ়য়াইন্‌না অ়ইয়েরে ফ়য়দা অ়য়। ই়তারাত্‌তু আহল এদ্‌দে বিবেক আছে ; এতল্‌লায় এজ্‌জন আরেজ্‌জনর উ়য়ারে ভাইয়ুর নান বেভার গরন দরহার।
Transliteration
Biyak manuś ijjôt edde ókôr íśabe ajad ar úyainnaa óiyere fôyda óy. Ítarattu ahôl edde bibek ase; etôllay ejjôn arejjônôr úyare bhaiyur nan bebhar gôrôn dôrhar.
Hear a recording of this text by Syed Mohammad Moin Uddin
Translation
All human beings are born free and equal in dignity and rights. They are endowed with reason and conscience and should act towards one another in a spirit of brotherhood.
(Article 1 of the Universal Declaration of Human Rights)
Details supplied by Biswajit Mandal (biswajitmandal[dot]bm90[at]gmail[dot]com)
Sample videos in Chittagonian
Links
Information about Chittagonian
https://en.wikipedia.org/wiki/Chittagonian_language
https://www.ethnologue.com/language/ctg
https://glottolog.org/resource/languoid/id/chit1275
https://wikitravel.org/en/Chittagonian_phrasebook
Indo-Aryan languages
Awadhi, Assamese, Bagri, Bengali, Bhili, Bishnupriya Manipuri, Braj, Chakma, Chhattisgarhi, Chittagonian, Desiya, Dhatki, Dhivehi, Dhundari, Fiji Hindi, Gawar Bati, Gujarati, Hajong, Halbi, Haryanvi, Hindi, Hindko, Kannauji, Khandeshi, Konkani, Kotia, Kumaoni, Kutchi, Lambadi, Marathi, Marwari, Mewari, Modi, Nimadi, Noakhailla, Odia, Parkari Koli, Punjabi, Rajasthani, Rajbanshi, Rangpuri, Rohingya, Saraiki, Sarnámi Hindustani, Sindhi, Sinhala, Sourashtra, Sugali, Sylheti, Tanchangya, Urdu
Languages written with the Eastern Nagari (Bengali) alphabet
Atong, Bengali, Bishnupriya Manipuri, Bodo, Bhumij, Chittagonian, Garo, Hajong, Karbi, Kharia, Khasi, Koch, Kokborok, Kurmali, Malto, Manipuri, Mundari, Noakhailla, Rangpuri, Sadri, Santali, Sylheti, Toto, Tanchangya
Languages written with the Arabic script
Adamaua Fulfulde, Afrikaans, Arabic (Algerian), Arabic (Bedawi), Arabic (Chadian), Arabic (Egyptian), Arabic (Gulf), Arabic (Hassaniya), Arabic (Hejazi), Arabic (Lebanese), Arabic (Libyan), Arabic (Modern Standard), Arabic (Moroccan), Arabic (Najdi), Arabic (Syrian), Arabic (Tunisian), Arwi, Äynu, Azeri, Balanta-Ganja, Balti, Baluchi, Beja, Belarusian, Bosnian, Brahui, Chagatai, Chechen, Chittagonian, Comorian, Crimean Tatar, Dargwa, Dari, Dhatki, Dogri, Domari, Gawar Bati, Gilaki, Hausa, Hazaragi, Hindko, Indus Kohistani, Kabyle, Kalkoti, Karakalpak, Kashmiri, Kazakh, Khowar, Khorasani Turkic, Khwarezmian, Konkani, Kumzari, Kurdish, Kyrgyz, Lezgi, Luri, Maguindanao, Malay, Malay (Terengganu), Mandinka, Marwari, Mazandarani, Mogholi, Morisco, Mozarabic, Munji, Noakhailla, Nubi, Ormuri, Palula, Parkari Koli, Pashto, Persian/Farsi, Punjabi, Qashqai, Rajasthani, Rohingya, Salar, Saraiki, Sawi, Serer, Shabaki, Shina, Shughni, Sindhi, Somali, Tatar, Tausūg, Tawallammat Tamajaq, Tayart Tamajeq, Torwali, Turkish, Urdu, Uyghur, Uzbek, Wakhi, Wanetsi, Wolof, Xiao'erjing, Yidgha
Languages written with the Latin alphabet
[top]
---

Why not share this page:

If you like this site and find it useful, you can support it by making a donation via PayPal or Patreon, or by contributing in other ways. Omniglot is how I make my living.
Note: all links on this site to Amazon.com
, Amazon.co.uk
and Amazon.fr
are affiliate links. This means I earn a commission if you click on any of them and buy something. So by clicking on these links you can help to support this site.
Get a 30-day Free Trial of Amazon Prime (UK)
If you're looking for home or car insurance in the UK, why not try Policy Expert?
[top]