Hunzib (гьонкьос мыц)
Hunzib is a Northeast Caucasian language spoken in southwestern Dagestan in the Russian Federation by about 1,840 people, particularly in the Tsunta and Kizilyurt districts of Dagestan and in two villages across the border in Georgia.
Hunzib is closely related to Bezhta and Khwarshi, and less closely related to Tsez and Hinukh, and contains loanwords from Avar, Georgian, Turkish, Arabic and Russian.
Hunzib has no official status, is not taught in schools, and is rarely written. Hunzib speakers are educated in Avar for the first five years of their schooling, and in Russian thereafter.
Hunzib alphabet and pronunciation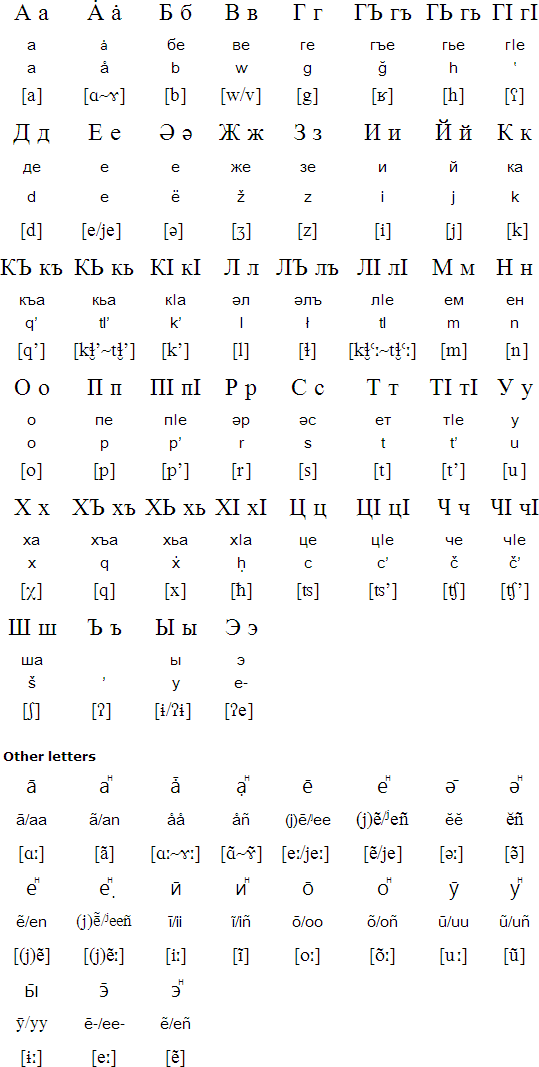 Download alphabet chart for Hunzib in Word format
Information on pronunciation compiled by Wolfram Siegel
Information about Hunzib | Numbers in Hunzib
Links
Information about the Hunzib language
http://en.wikipedia.org/wiki/Hunzib_language
http://www10.gencat.cat/pres_casa_llengues/AppJava/frontend/llengues_detall.jsp?id=302&idioma=5
Northeast Caucasian languages
Aghul, Akhvakh, Andi, Archi, Avar, Bagvalal, Bats, Botlikh, Budukh, Caucasian Albanian, Chamalal, Chechen, Dargwa, Godoberi, Hinukh, Hunzib, Ingush, Karata, Khinalug, Khwarshi, Kryts, Kubachi, Lak, Lezgian, Rutul, Tabassaran, Tindi, Tsakhur, Tsez, Udi
Other languages written with the Cyrillic alphabet