Udi (удин муз / udin muz)
Udi is a member of the Lezgian (southern) branch of the Northeast Caucasian languages. It is spoken by about 8,000 people in parts of Azerbaijan, Russia, Georgia and Armenia, with the majority of speakers in the Azerbaijani village of Nij in the Qabala district. There are also quite a few Udi speakers in villages in Tavush Province in northeastern Armenia.
Documentation of Udi started in the mid-19th century, and an Udi Grammar, by Anton Antonovich Schiffner, was published in 1863. An Udi translation of part of the Bible was published in 1902, and a small number of publications in Udi have appeared since then.
Since 1992 Udi has been taught in primary schools in Nij. Initially the Cyrillic alphabet was used, but towards the end of the 1990s a way of writing Udi with the Latin alphabet was devised.
Cyrillic alphabet for Udi
This is the version of the Cyrillic used for Udi in VL Ghukasian's Udi-Azeri-Russian dictionary.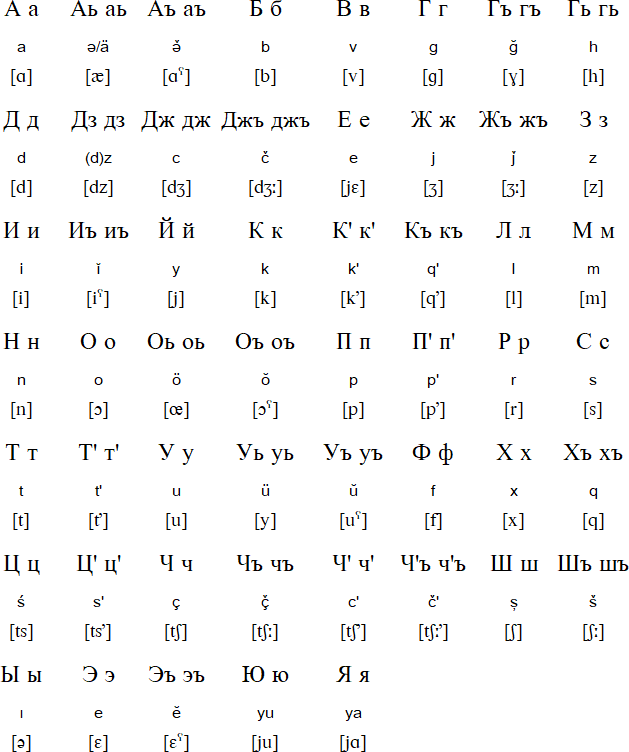 Latin alphabet for Udi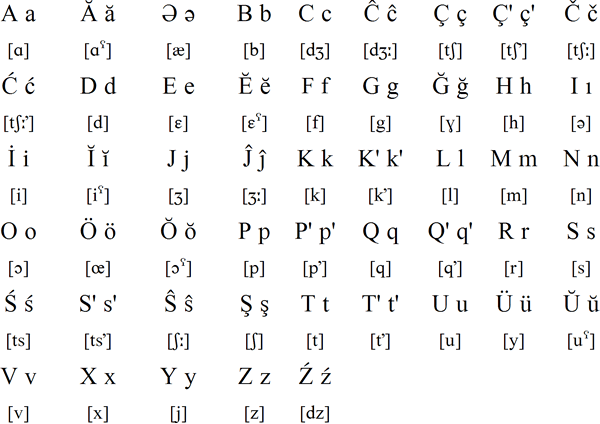 The pronunciation of some of the letters is uncertain.
Links
Information about the Udi language
http://en.wikipedia.org/wiki/Udi_language
http://az.wikipedia.org/wiki/Udi_dili
http://titus.fkidg1.uni-frankfurt.de/didact/caucasus/nekklaut.htm#XFN10
http://titus.fkidg1.uni-frankfurt.de/ecling/ecling03.htm
http://wschulze.userweb.mwn.de/udinhalt.htm
Northeast Caucasian languages
Aghul, Akhvakh, Andi, Archi, Avar, Bagvalal, Bats, Botlikh, Budukh, Caucasian Albanian, Chamalal, Chechen, Dargwa, Godoberi, Hinukh, Hunzib, Ingush, Karata, Khinalug, Khwarshi, Kryts, Kubachi, Lak, Lezgian, Rutul, Tabassaran, Tindi, Tsakhur, Tsez, Udi
Other languages written with the Cyrillic alphabet