Karata (КӀкӀирлӀи мацӀцӀи)
Karata is a member of the Avar-Andic branch of Northeast Caucasian languages spoken in Akhvakh and Khazavyurt districts of southern Dagestan in the Russian Federation. It has two dialects, Karatin and Tokitin, and is spoken in the towns of Karata, Anchix, Tukita, Rachabalda, Lower Inxelo, Mashtada, Archo, Chabakovo, Racitl and formerly Siux.
Karata is rarely written and speakers of Karata generally use Avar when writing.
Karata alphabet and pronunciation
Download Karata alphabet chart provided by Wolfram Siegel (Word doc, in German)
Sample text in Karata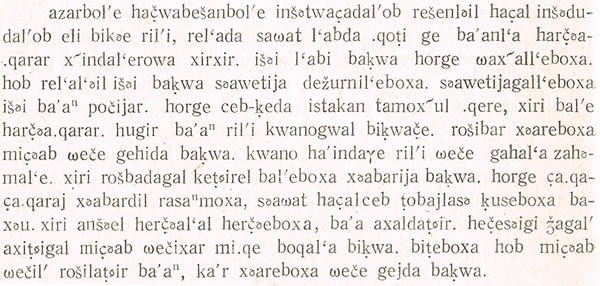 Source: З. М. Магомедбекова, Каратинский язык, Тбилиси 1971. (Z.M. Magomedbekova, Karata language, Tbilisi 1971.)
Links
Information about Karata language and people
http://en.wikipedia.org/wiki/Karata_language
http://www.ethnologue.com/language/kpt
http://www.eki.ee/books/redbook/karatas.shtml
Northeast Caucasian languages
Aghul, Akhvakh, Andi, Archi, Avar, Bagvalal, Bats, Botlikh, Budukh, Caucasian Albanian, Chamalal, Chechen, Dargwa, Godoberi, Hinukh, Hunzib, Ingush, Karata, Khinalug, Khwarshi, Kryts, Kubachi, Lak, Lezgian, Rutul, Tabassaran, Tindi, Tsakhur, Tsez, Udi
Other languages written with the Cyrillic alphabet