Khwarshi (Акьижес / Инхиэс мицц)
Khwarshi is a Northeast Caucasian language spoken in parts of Dagestan in the Russian Federation by about 3,000 people. It is spoken in the Tsumadinsky, Kizilyurtovsky and Khasavyurtovsky districts.
There are six dialects of the Khwarshi language: Upper- and Lower Inkhokwari Khwarshi, Kwantlada Khwarshi, Santlada Khwarshi, Khwayni Khwarshi and Khwarshi Proper.
Cyrilic alphabet for Khwarshi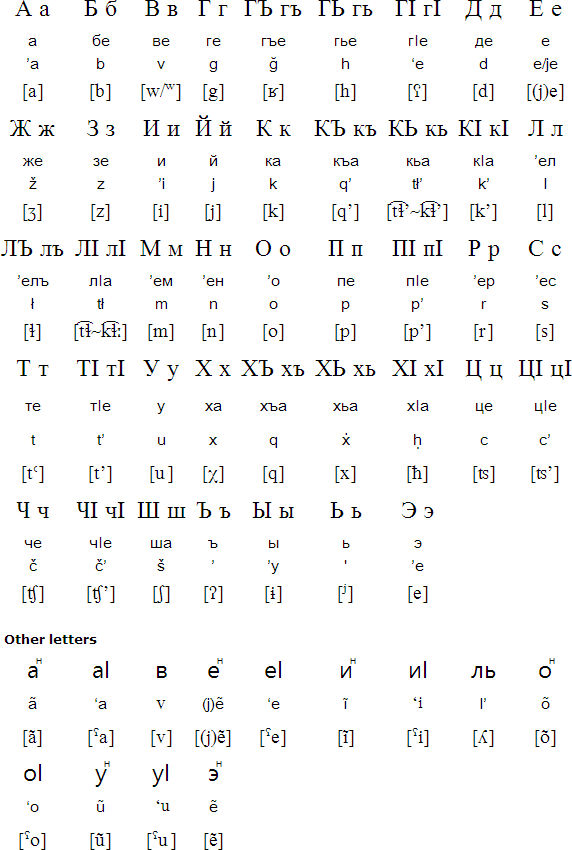 Download alphabet chart for Khwarshi (PDF)
Information about the Khwarshi alphabet compiled by Wolfram Siegel
Links
Information about the Khwarshi language and people
http://en.wikipedia.org/wiki/Khwarshi_language
A Grammar of Khwarshi (PDF)
http://www.lotpublications.nl/publish/articles/003836/bookpart.pdf
Northeast Caucasian languages
Aghul, Akhvakh, Andi, Archi, Avar, Bagvalal, Bats, Botlikh, Budukh, Caucasian Albanian, Chamalal, Chechen, Dargwa, Godoberi, Hinukh, Hunzib, Ingush, Karata, Khinalug, Khwarshi, Kryts, Kubachi, Lak, Lezgian, Rutul, Tabassaran, Tindi, Tsakhur, Tsez, Udi
Other languages written with the Cyrillic alphabet