Khinalug (каьтш мицI / kätš mic')
Khinalug is a Northeast Caucasian language spoken in the villages of Khinalug and Gülüstan in the Quba Rayon mountains of northern Azerbaijan. It has about 3,125 speakers and no close relatives.
Khinalug is also written Khinalig, Xinalug(h) or Khinalugh.
Khinalug alphabet and pronunciation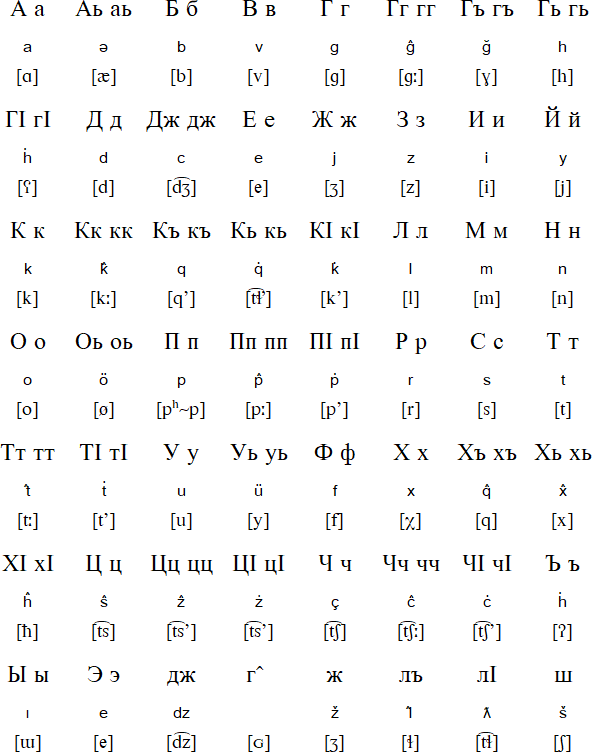 Download Khinalug alphabet chart provided by Wolfram Siegel (Word doc, in German)
Sample text in Khinalug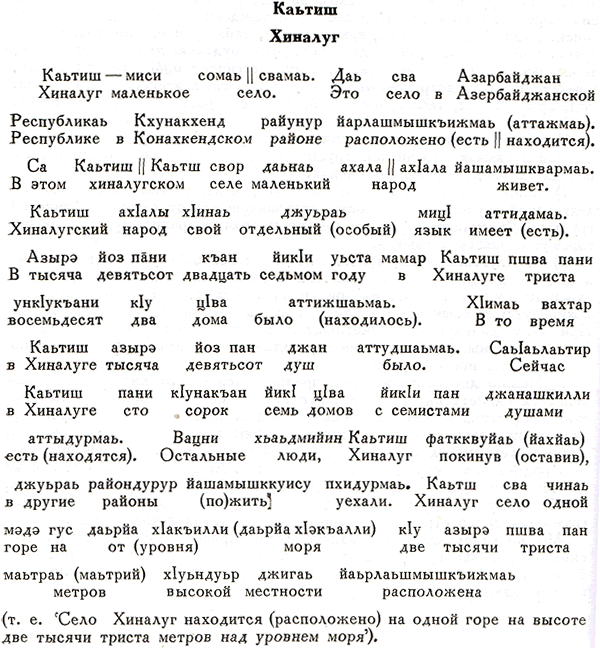 Source: Desheriyev, Yu. D. 1959. Пешериев Ю. П. Грамматика хиналугского языка. Москва: Издательство Академии Наук СССР. (Desheriyev, Yu. D. 1959. Pesher P. Grammar of the Khinalug language. Moscow: Publishing House of the Academey of Sciences of the USSR). Supplied by Wolfgang Kuhl.
Links
Information about Khinalug language and people
https://en.wikipedia.org/wiki/Khinalug_language
http://www.eki.ee/books/redbook/khinalugs.shtml
Northeast Caucasian languages
Aghul, Akhvakh, Andi, Archi, Avar, Bagvalal, Bats, Botlikh, Budukh, Caucasian Albanian, Chamalal, Chechen, Dargwa, Godoberi, Hinukh, Hunzib, Ingush, Karata, Khinalug, Khwarshi, Kryts, Kubachi, Lak, Lezgian, Rutul, Tabassaran, Tindi, Tsakhur, Tsez, Udi
Other languages written with the Cyrillic alphabet