Khinalug (каьтш мицI / kätš mic')
Khinalug is a Northeast Caucasian language spoken in the villages of Khinalug and Gülüstan in the Quba Rayon mountains of northern Azerbaijan. It has about 3,125 speakers and no close relatives.
Khinalug is also written Khinalig, Xinalug(h) or Khinalugh.
Khinalug alphabet and pronunciation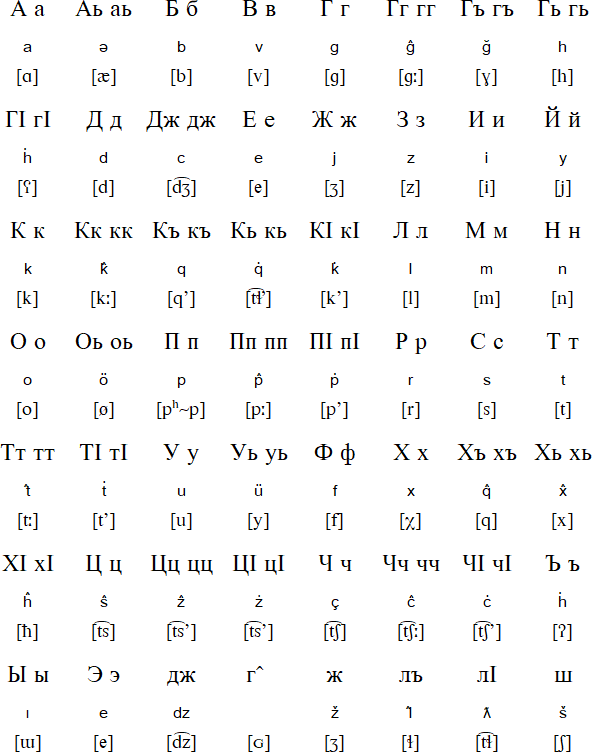 Download Khinalug alphabet chart provided by Wolfram Siegel (Word doc, in German)
Sample text in Khinalug
Каьтиш-миси сомаь/свамаь. Даь сва Азарбайджан Республикаь Кхунакхенд райнур йарлашмышкъижмаь (аттажмаь). Са Каьтиш/Каьтш свор даьнаь ахала/ахӀала йашамышквармаь. Каьтиш ахӀалы хӀинаь джыьраь мицӀ аттидамаь. Азырә йоз па̃ни къан йикӀи уьста мамар Каьтиш пшва пани ункӀыкъани кӀу цӀва аттижшаьмаь. СаьӀаьлаьтир Каьтиш пани кӀынакъан йикӀ цӀва йикӀи пан джанашкилли аттыдурмаь. Вацни хъаьдмийни Каьтиш фаткквуйаь (йахйаь) джуьраь райондурур йашамышккуису пхидурмаь. Каьтш сва чинаь мәдә гус даьрйа хӀакъилли (даьрйа хӀәкъалли) кӀу азырә пшва пан маьтраь (маьтрий) хӀуьндуьр джигаь йаьрлаьшмышкъижмаь.
Translation
Khinalug is a small village. This village is located in the Republic of Azerbaijan in the area of ​​Konahkendskom. Khinalug people live in this small village. Khinalug people have a separate special language. In 1927, there were three hundred eighty-two Khinalug houses with seven hundred souls. The rest of the people left Khinalug to went to other areas to live. The village Khinalug is located on a hill at an altitude of two thousand three hundred meters above sea level.
Source: Desheriyev, Yu. D. 1959. Пешериев Ю. П. Грамматика хиналугского языка. Москва: Издательство Академии Наук СССР. (Desheriyev, Yu. D. 1959. Pesher P. Grammar of the Khinalug language. Moscow: Publishing House of the Academey of Sciences of the USSR).
Sample text supplied by Wolfgang Kuhl, and transcribed and translated by Michael Peter Füstumum
Links
Information about Khinalug language and people
https://en.wikipedia.org/wiki/Khinalug_language
http://www.eki.ee/books/redbook/khinalugs.shtml
Northeast Caucasian languages
Aghul, Akhvakh, Andi, Archi, Avar, Bagvalal, Bats, Botlikh, Budukh, Caucasian Albanian, Chamalal, Chechen, Dargwa, Godoberi, Hinukh, Hunzib, Ingush, Karata, Khinalug, Khwarshi, Kryts, Kubachi, Lak, Lezgian, Rutul, Tabassaran, Tindi, Tsakhur, Tsez, Udi
Other languages written with the Cyrillic alphabet