Tikamuli
Tikamuli was developed by Tikaram Mulicha in 2005 to write Sunwar, a Kiranti language spoken in mainly eastern Nepal. It is promoted by the Sunuwar Welfare Society in Kathmandu in Nepal, where the script is used.
Notable features
Writing direction: left to right in horizontal lines
Vowels, other than a, are written with diacritics. There are no independent vowel letters.
Consonants have an inherent vowel which is changed with vowel diacritics
Used to write: Sunwar, a Kiranti language spoken in eastern Nepal, and in Sikkim in India
Tikamuli script for Sunwar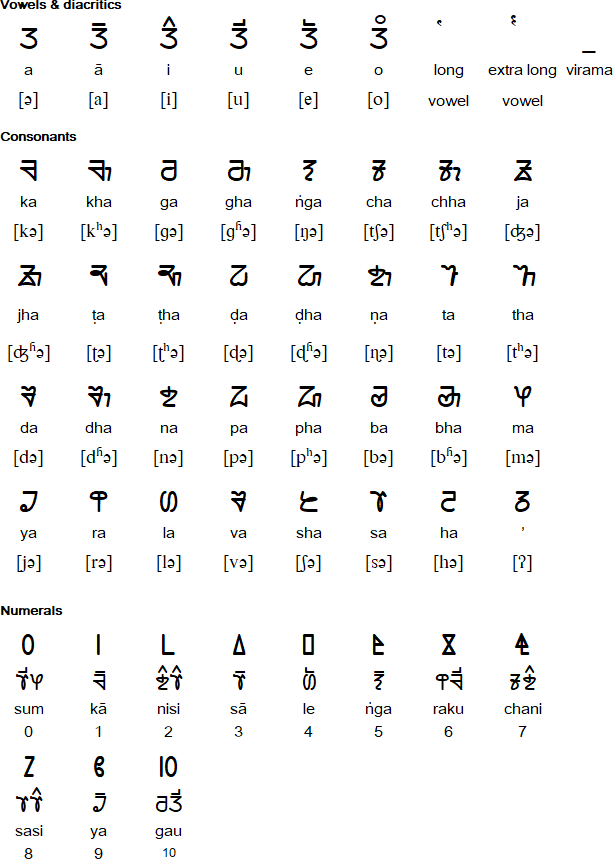 Download an alphabet chart for Tikamuli (Excel format)
Sample text (Matthew 1:1-3)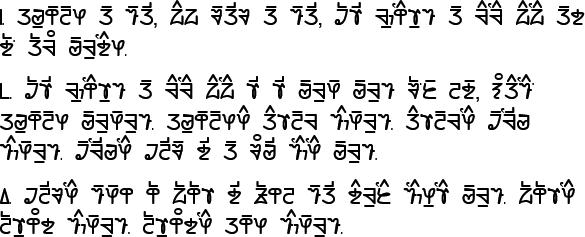 Transliteration
abrāhām ā tau, pip dāud ā tau, yesu khrīst ā kikī pipī ān nēṅ eko bāknīm.
yesu khrīst ā kikī pipī su su bākmā bākt deṅshā hanā, ngoitīṅ abrāhām bākmākt. abrāhāmmī isahāk thīmākt. isahākmī yākūb thimākt. yakūbmī yahūdā nu ā wobu thīmī bākt.
yahūdāmī tāmār re peres nu jerah tau nikshī thimsī bākt. peresmī hesron thimākt. hesronmī arām thimākt.
Translation
The book of the generation of Jesus Christ, the son of David, the son of Abraham.
 Abraham begat Isaac; and Isaac begat Jacob; and Jacob begat  Judas and his brethren;
And Judas begat a Phares and Zara of Thamar; and Phares begat  Esrom; and Esrom begat Aram;
Information about Sunwar | Sunuwar script | Tikamuli script | Tower of Babel
Links
Information about the Tikamuli script
http://scriptsource.org/cms/scripts/page.php?item_id=script_detail&uid=mrqq6uxjlx
http://glyphs.webfoot.com/blog/2011/05/02/tikamuli-2005-nepal/
http://std.dkuug.dk/jtc1/sc2/wg2/docs/n3963.pdf
http://glyphs.webfoot.com/blog/2011/05/02/tikamuli-2005-nepal/
Tikamuli fonts
http://viriimind.50webs.com/downloads/sunuwarFont.zip
Ahom, Aima, Arleng, Badagu, Badlit, Basahan, Balinese, Balti-A, Balti-B, Batak, Baybayin, Bengali, Bhaiksuki, Bhujimol, Bilang-bilang, Bima, Blackfoot, Brahmi, Buhid, Burmese, Carrier, Chakma, Cham, Cree, Dehong Dai, Devanagari, Dham Lipi, Dhankari / Sirmauri, Ditema, Dives Akuru, Dogra, Ethiopic, Evēla Akuru, Fox, Fraser, Gond, Goykanadi, Grantha, Gujarati, Gunjala Gondi, Gupta, Gurmukhi, Halbi Lipi, Hanifi, Hanuno'o, Hočąk, Ibalnan, Incung, Inuktitut, Jaunsari Takri, Javanese, Kaithi, Kadamba, Kamarupi, Kannada, Kawi, Kharosthi, Khema, Khe Prih, Khmer, Khojki, Khudabadi, Kirat Rai, Kōchi, Komering, Kulitan, Kurukh Banna, Lampung, Lanna, Lao, Lepcha, Limbu, Lontara/Makasar, Lota Ende, Magar Akkha, Mahajani, Malayalam, Manpuri / Meitei (Modern), Manpuri (Old), Marchen, Meroïtic, Masarm Gondi, Modi, Mon, Mongolian Horizontal Square Script, Multani, Nandinagari, Newa, New Tai Lue, Ojibwe, Odia, Pahawh Hmong, Pallava, Phags-pa, Purva Licchavi, Qiang / Rma, Ranjana, Rejang (Kaganga), Sasak, Savara, Satera Jontal, Shan, Sharda, Siddham, Sinhala, Sorang Sompeng, Sourashtra, Soyombo, Sukhothai, Sundanese, Syloti Nagri, Tagbanwa, Takri, Tamil, Tanchangya (Ka-Pat), Tani, Thaana, Telugu, Thai, Tibetan, Tigalari, Tikamuli, Tocharian, Tolong Siki, Vatteluttu, Warang Citi
Page last modified: 16.03.23
[top]
---

Why not share this page:
If you like this site and find it useful, you can support it by making a donation via PayPal or Patreon, or by contributing in other ways. Omniglot is how I make my living.
Note: all links on this site to Amazon.com
, Amazon.co.uk
and Amazon.fr
are affiliate links. This means I earn a commission if you click on any of them and buy something. So by clicking on these links you can help to support this site.
If you're looking for home or car insurance in the UK, why not try Policy Expert?
[top]