Palawano (Palaw'an)
Palawano is a member of Palawanic branch of the Philippine language family. It is spoken in Palawan province in the Mimaropa region of the Philippines. There are in fact three languages known as Palawano:
Brooke's Point Palawano (Pela'wan), which is spoken by about 14,400 people in the southeast of Palawan island.
Central Palawano, which is spoken in the southwest of Palawan island by about 12,000 people. It is also known as Quezon Palawano.
Southwest Palawano, which is spoken in the southwest of Palawan island by about 12,000 people.
There are several ways to write Palawano languages with the Latin alphabet, based either on Spanish or Tagalog spelling.
Brooke's Point Palawano alphabet and pronunciation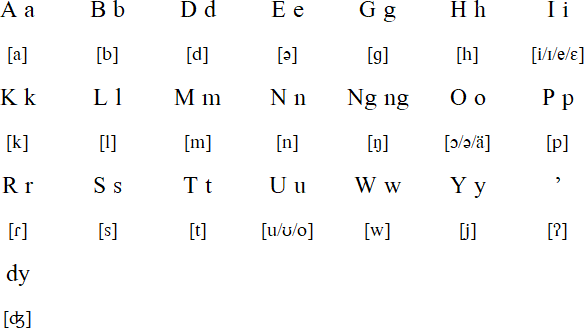 Notes
The letters c, f, q, x, z are also used, but only is words borrowed from Spanish.
The grave accent (à) used in the sample text probably indicates stress
Download an alphabet chart for Palawano (Excel)
Ibalnan script
The Ibalnan script is a way to write Palawano languages based on the Tagbanwa script. It is an abugida or syllabic alphabet in which consonants have an inherent vowel (a). Other vowels are indicated by dots above or below the consonants. A ring above a consonants mutes the inherent vowel.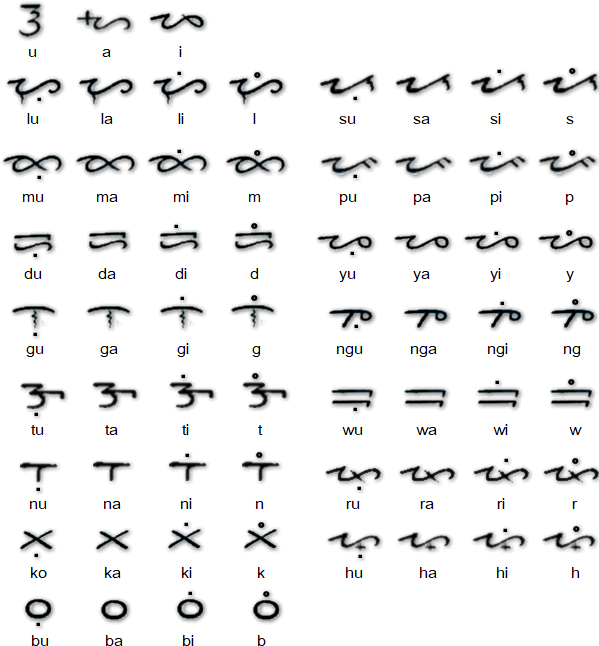 Sample text in Central Palawano
Tagnà ginona it Empò ì langit nà donyà. Nà pegkegona ye kediye it donyà, kara ngay kegonaan nà mekonàwas nga, nà medlem ngay at donom. Nà megpedlibilibo ì Nakem it Empò at menga danom. Nà moda leng it Empò, "Menyadi nè araynawag". Moda nominawag.
Tranlsation
In the beginning God created heaven and earth. The earth was formless and empty, and darkness covered the deep water. The spirit of God was hovering over the water. Then God said, "Let there be light!" So there was light.
Source: The Language Museum
Sample videos in Palawano
Links
Information about the Palawano language
https://en.wikipedia.org/wiki/Palawano_language
https://www.ethnologue.com/subgroups/palawanic<
https://news.abs-cbn.com/life/02/24/17/alpabeto-ng-mga-katutubong-palawan-nanganganib-nang-mabaon-sa-limot
https://www.reddit.com/r/Philippines/comments/btxcsa/one_of_the_most_interesting_things_about_palawan/
Philippine languages
Aborlan Tagbanwa, Agutaynen, Aklan, Bantayanon, Bantik, Bantoanon, Baybayanon, Bikol, Binukid, Blaan, Buhid, Bukid, Buol, Butuanon, Calmian Tagbanwa, Caluyanon, Capiznon, Casiguran Dumagat Agta, Cebuano, Central Tagbanwa, Cuyonon, Gorontalo, Hanuno'o, Hiligaynon, Iraya, Isnag, Kagayanen, Kalanguya, Kapampangan, Kinabalian, Kinaray-a, Klata, Maguindanao, Mamanwa, Manide, Maranao, Masbateño, Matigsalug, Molbog, Mongondow, Obo, Palawano, Porohanon, Ratahan, Rinconada Bikol, Romblomanon, Sangirese, Surigaonon, Suwawa, Tagalog, Tagabawà, Talaud, Tausūg, Tawbuid, Tboli, Tiruray, Tombulu, Tondano, Tonsawang, Umiray Dumaget, Waray-Waray, Western Subanon
Languages written with the Latin alphabet
Ahom, Aima, Arleng, Badagu, Badlit, Basahan, Balinese, Balti-A, Balti-B, Batak, Baybayin, Bengali, Bhaiksuki, Bhujimol, Bilang-bilang, Bima, Blackfoot, Brahmi, Buhid, Burmese, Carrier, Chakma, Cham, Cree, Dehong Dai, Devanagari, Dham Lipi, Dhankari / Sirmauri, Ditema, Dives Akuru, Dogra, Ethiopic, Evēla Akuru, Fox, Fraser, Gond, Goykanadi, Grantha, Gujarati, Gunjala Gondi, Gupta, Gurmukhi, Halbi Lipi, Hanifi, Hanuno'o, Hočąk, Ibalnan, Incung, Inuktitut, Jaunsari Takri, Javanese, Kaithi, Kadamba, Kamarupi, Kannada, Kawi, Kharosthi, Khema, Khe Prih, Khmer, Khojki, Khudabadi, Kirat Rai, Kōchi, Komering, Kulitan, Kurukh Banna, Lampung, Lanna, Lao, Lepcha, Limbu, Lontara/Makasar, Lota Ende, Magar Akkha, Mahajani, Malayalam, Manpuri / Meitei (Modern), Manpuri (Old), Marchen, Meroïtic, Masarm Gondi, Modi, Mon, Mongolian Horizontal Square Script, Multani, Nandinagari, Newa, New Tai Lue, Ojibwe, Odia, Pahawh Hmong, Pallava, Phags-pa, Purva Licchavi, Qiang / Rma, Ranjana, Rejang (Kaganga), Sasak, Savara, Satera Jontal, Shan, Sharda, Siddham, Sinhala, Sorang Sompeng, Sourashtra, Soyombo, Sukhothai, Sundanese, Syloti Nagri, Tagbanwa, Takri, Tamil, Tanchangya (Ka-Pat), Tani, Thaana, Telugu, Thai, Tibetan, Tigalari, Tikamuli, Tocharian, Tolong Siki, Vatteluttu, Warang Citi
Page last modified: 16.03.23
[top]
---

Why not share this page:

If you like this site and find it useful, you can support it by making a donation via PayPal or Patreon, or by contributing in other ways. Omniglot is how I make my living.
Note: all links on this site to Amazon.com
, Amazon.co.uk
and Amazon.fr
are affiliate links. This means I earn a commission if you click on any of them and buy something. So by clicking on these links you can help to support this site.
Get a 30-day Free Trial of Amazon Prime (UK)
If you're looking for home or car insurance in the UK, why not try Policy Expert?
[top]