Lao (ພາສາລາວ)
Lao is a Tai-Kadai language spoken mainly in Laos, and also in Cambodia and Vietnam. In 2015 there were about 3.4 million native speakers of Lao in Laos, and another 800,000 people spoke it as a second language. In 2009 there were about 18,500 Lao speakers in northwest Cambodia, and there were 14,900 speakers in Vietnam.
Lao at a glance
Native name: ລາວ (lao) [láːw], ພາສາລາວ (phasa lao) [pʰáːsǎːláːw]
Language family: Kra-Dai, Tai, Southwestern Tai, Lao-Phutai, Lao
Number of speakers: c. 4.5 million
Spoken in: Laos, Thailand, Cambodia, Vietnam, USA
First written: c. 1350
Writing system: Lao script (ອັກສອນລາວ) [ʔáksɔ̌ːn láːw]
Status: Official language in Laos. Recognised minority language in Thailand and Cambodia.
Lao is closely related to Thai and speakers of Lao are able to understand spoken Thai without too many difficulties. Thai speakers find it more difficult to understand Lao due to lack of exposure to the language. The language family is also known as Kradai, Kra-Dai, Daic or Kadai.
Lao alphabet (ອັກສອນລາວ)
After the unification of the Lao principalities (meuang) in the 14th century, the Lan Xang monarchs commissioned their scholars to create a new script to write the Lao language. The scholars probably modelled the alphabet on the the Old Khmer script, which was itself based on Mon scripts.
Notable features
Writing direction: left to right in horizontal lines
Script family: Proto-Sinaitic, Phoenician, Aramaic, Brāhmī, Tamil-Brahmi, Pallava, Khmer, Sukhothai, Fak Kham, Tai Noi
Syllables are based around consonants. Vowels are indicated with diacritics which can appear above, below or around the consonant letters. When they occur on their own or at the beginning of a word, vowels are attached to the glottal stop symbol (the final letter in the third row of consonants).
Lao is a tonal language with 6 tones. The tone of a syllable is determined by a combination of the class of consonant, the type of syllable (open or closed), the tone marker and the length of the vowel (see below).
For some consonants there are multiple letters. Originally they represented separate sounds, but over the years the distinction between those sounds was lost and the letters were used instead to indicate tones. Various offical reforms of the Lao script have reduced the number of duplicate consonants.
There are no spaces between words, instead spaces in a Lao text indicate the end of a clause or sentence.
Written Lao is based on the dialect of the Lao capital, Vientiene.
There is no official Latin transliteration system for Lao. In Laos, French-based systems are used and there is considerable variation in spelling, particularly of vowels. In Thailand, the Royal Thai General Transcription is used.
The transcription system used here is one used by the British Permanent Committee on Geographical Names (BGN/PCGN).
Consonants
Consonants are divided into three classes which help to determine the tone of a syllable (indicated by the numbers below). The sounds represented by some consonants change when they are used at the end of a syllable (indicated by the letters on the right of the slash below). The consonants can all be used at the beginning of a syllable but only some can be used at the end of a syllable.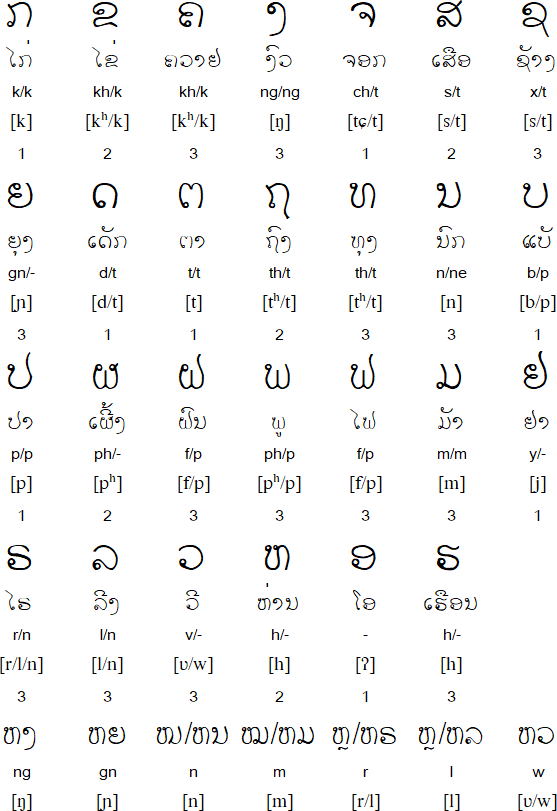 The consonants in the final row are compounds and conjuncts used as alternatives to the basic consonants.
Vowel diacritics (with k)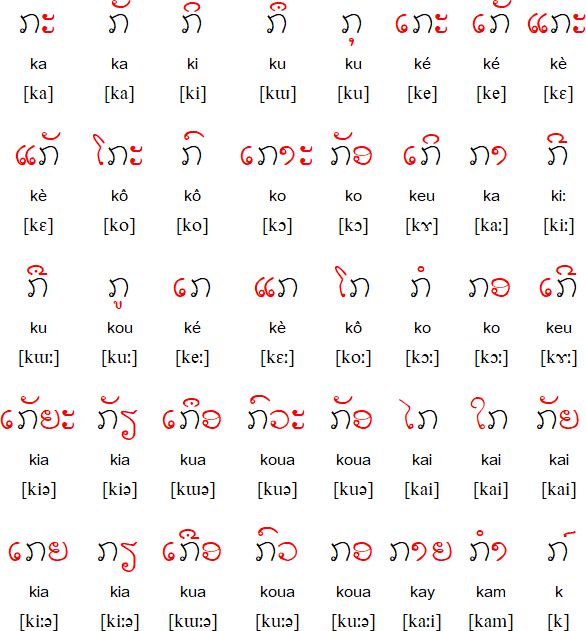 How to write and pronounce Lao letters
Numerals

How to write and pronounce Lao numbers
Tone indication
Open syllables
Closed syllables *
unmarked
short vowel
long vowel
Class 1
low
mid
high falling
high
low falling
Class 2
low rising
mid
low falling
high
low falling
Class 3
high
mid
high falling
mid
high falling
* Closed syllables are those ending with p, t or k
Sample text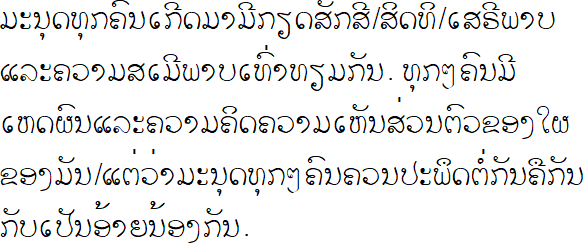 Transliteration
Manut thuk khôn kœ̄t māmīkẏat sâk sī, sitthi, sēlī phôp læ khwôm smœ̄ phôp thàw thẏam kân. Thuk thuk khôn mīhēt phôn læ khwômkhit khwôm hian swàn tôw khɔ̄̄ṅ phai khɔ̄ṅ mân, tǣ̀vồ manut thuk thuk khôn khwan paphʉt tàṁ kân khʉ̄ kân kâp pianốy nɔ̄́ṅ kân.
Translation
All human beings are born free and equal in dignity and rights. They are endowed with reason and conscience and should act towards one another in a spirit of brotherhood.
(Article 1 of the Universal Declaration of Human Rights)
Sample videos in Lao
Information about Lao | Phrases | Numbers | Family words | Tower of Babel | Learning materials
Links
Information about Laos and the Laotian language
http://en.wikipedia.org/wiki/Lao_language
http://www.seasite.niu.edu/lao/laolanguage/lao_language_fp.htm
Online Lao lessons
http://www.seasite.niu.edu/Lao/LaoLanguage/spoken_lao/spokenlao.htm
Lao phrases
http://wikitravel.org/en/Lao_phrasebook
http://www.phrasebook.thai-isan-lao.com
http://laos411.com/language/
Online Lao dictionaries
http://www.sealang.net/lao/dictionary.htm
http://glosbe.com/lo/en/
http://sengphachanh.webege.com/eng2lao.html
http://laodictionary.net
Free Lao fonts
http://www.wazu.jp/gallery/Fonts_Lao.html
http://www.laoscript.net/downloads/
http://www.seasite.niu.edu/seasite.htm#download
Online Lao news and radio
http://www.rfa.org/lao/
Tai-Kaidai languages
Ahom, Aiton, Bouyei, Isan, Kam, Khamti, (Tai) Khün, Lao, Lue, Northern Thai (Kam Mueang), Nùng, Shan, Sui, Tai Dam, Tai Dón, Tai Hongjin, Tai Laing, Tai Nuea, Tai Phake, Tai Ya, Thai, Thai Song, Yang Zhuang, Zhuang
Languages written with the Lao script
Ahom, Aima, Arleng, Badagu, Badlit, Basahan, Balinese, Balti-A, Balti-B, Batak, Baybayin, Bengali, Bhaiksuki, Bhujimol, Bilang-bilang, Bima, Blackfoot, Brahmi, Buhid, Burmese, Carrier, Chakma, Cham, Cree, Dehong Dai, Devanagari, Dham Lipi, Dhankari / Sirmauri, Ditema, Dives Akuru, Dogra, Ethiopic, Evēla Akuru, Fox, Fraser, Gond, Goykanadi, Grantha, Gujarati, Gunjala Gondi, Gupta, Gurmukhi, Halbi Lipi, Hanifi, Hanuno'o, Hočąk, Ibalnan, Incung, Inuktitut, Jaunsari Takri, Javanese, Kaithi, Kadamba, Kamarupi, Kannada, Kawi, Kharosthi, Khema, Khe Prih, Khmer, Khojki, Khudabadi, Kirat Rai, Kōchi, Komering, Kulitan, Kurukh Banna, Lampung, Lanna, Lao, Lepcha, Limbu, Lontara/Makasar, Lota Ende, Magar Akkha, Mahajani, Malayalam, Manpuri / Meitei (Modern), Manpuri (Old), Marchen, Meroïtic, Masarm Gondi, Modi, Mon, Mongolian Horizontal Square Script, Multani, Nandinagari, Newa, New Tai Lue, Ojibwe, Odia, Pahawh Hmong, Pallava, Phags-pa, Purva Licchavi, Qiang / Rma, Ranjana, Rejang (Kaganga), Sasak, Savara, Satera Jontal, Shan, Sharda, Siddham, Sinhala, Sorang Sompeng, Sourashtra, Soyombo, Sukhothai, Sundanese, Syloti Nagri, Tagbanwa, Takri, Tamil, Tanchangya (Ka-Pat), Tani, Thaana, Telugu, Thai, Tibetan, Tigalari, Tikamuli, Tocharian, Tolong Siki, Vatteluttu, Warang Citi
Page last modified: 13.04.23
[top]
---

Why not share this page:

If you like this site and find it useful, you can support it by making a donation via PayPal or Patreon, or by contributing in other ways. Omniglot is how I make my living.
Note: all links on this site to Amazon.com
, Amazon.co.uk
and Amazon.fr
are affiliate links. This means I earn a commission if you click on any of them and buy something. So by clicking on these links you can help to support this site.
Get a 30-day Free Trial of Amazon Prime (UK)
If you're looking for home or car insurance in the UK, why not try Policy Expert?
[top]