Tibetan (བོད་སྐད)
Tibetan is Tibetic language spoken mainly in the Tibet Autonomous Region of the People's Republic of China, and also in parts of India and Nepal. According to the 1990 census, there are 1.2 million speakers of Standard Tibetan, which is also known as Lhasa Tibetan, and is the Tibetic language with the most speakers.
Before 1949-50, Tibet comprised of three provinces: Amdo, now split between the Qinghai, Gansu and Sichuan provinces; Kham, now largely incorporated into the provinces of Sichuan, Yunnan and Qinghai, and U-Tsang, which, together with western Kham, is now known as the Tibet Autonomous Region, which was created in 1965.
Standard Tibetan has three main registers: vernacular speech (Phal-skad), formal speech (Zhe-sa), and the formal literary and religious style (Chos-skad), which is used in religious and classical literature.
In the Tibet Autonomous Region Tibetan is an official language, and is the main language of instruction in primary schools. Some subjects can be studied through Tibetan in colleges as well, but the main language of instruction in secondary schools in Mandarin Chinese.
Written Tibetan
During the 7th Century AD Songstem Gampo [སྲོང་བཙན་སྒམ་པོ་] (569-649AD), the 33rd king of the Yarlung Dynasty of southern Tibet and the first Emperor of Tibet, sent Thonmi Sambhota, one of his ministers, to India to gather information on Buddhism. The minister then reputedly devised a script for Tibetan based on the Devanagari model and also wrote a grammar of Tibetan based on Sanskrit grammars.
The new Tibetan alphabet was used to write Tibetan translations of Buddhists texts. The first Sanskrit-Tibetan dictionary, Mahavyutpatti, appeared in the 9th century. Wood block printing, introduced from China, was used in Tibet from an early date and is still used in a few monasteries.
Tibetan literature is mainly concerned with Buddhist themes and includes works translated from Sanskrit and Chinese and original Tibetan works. There are also literary works about the Bon religion, a pre-Buddhist religion indigenous to Tibet. The most unusual genre of Tibetan literature is that of gter-ma (གཏེར་མ་) or 'rediscovered' texts - reputedly the work of ancient masters which have been hidden in remote caves for many centuries.
Notable features
Type of writing system: Abugida / Syllabic Alphabet. Each letter has an inherent vowel /a/. Other vowels can be indicated using a variety of diacritics which appear above or below the main letter.
Writing direction: left to right in horizontal lines.
Syllables are separated by a dot.
Consonant clusters are written with special conjunct letters.
The Tibetan alphabet
The form of the alphabet shown below, known as u-chen (དབུ་ཅན་) is used for printing. Cursive versions of the alphabet, such as the umê or 'headless' script (དབུ་མེད་) and gyuk yig or 'flowing script' (རྒྱུག་ཡིག་) are used for informal writing.
Consonants
How to pronounce and write Tibetan consonants:
Vowels diacritics

How to pronounce Tibetan vowels:
Conjunct consonants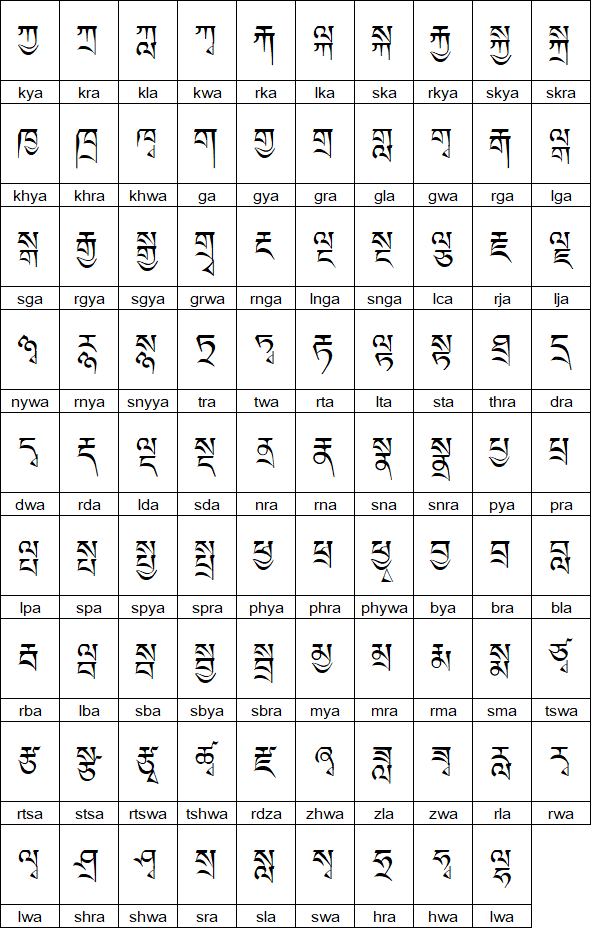 Note
This table includes the standard consonant combinations used for native Tibetan words. It does not include other combinations found in common loan words or the thousands of combinations used for translitterating Sanskrit words in religious texts.
Source: http://sites.google.com/site/chrisfynn2/home/tibetanscriptfonts/thetibetanwritingsystem/tibetanlettercombinations
Numerals

Punctuation and other symbols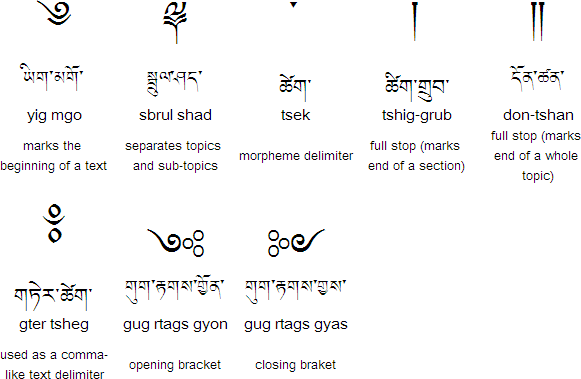 Downloads
Download a Tibetan alphabet chart in Excel, Word or PDF format
Umê Script for Tibetan (དབུ་མེད་)
The Umê script is a semi-formal version of the Tibetan alphabet used in calligraphy and shorthand. The name umê (དབུ་མེད་) means 'headless'.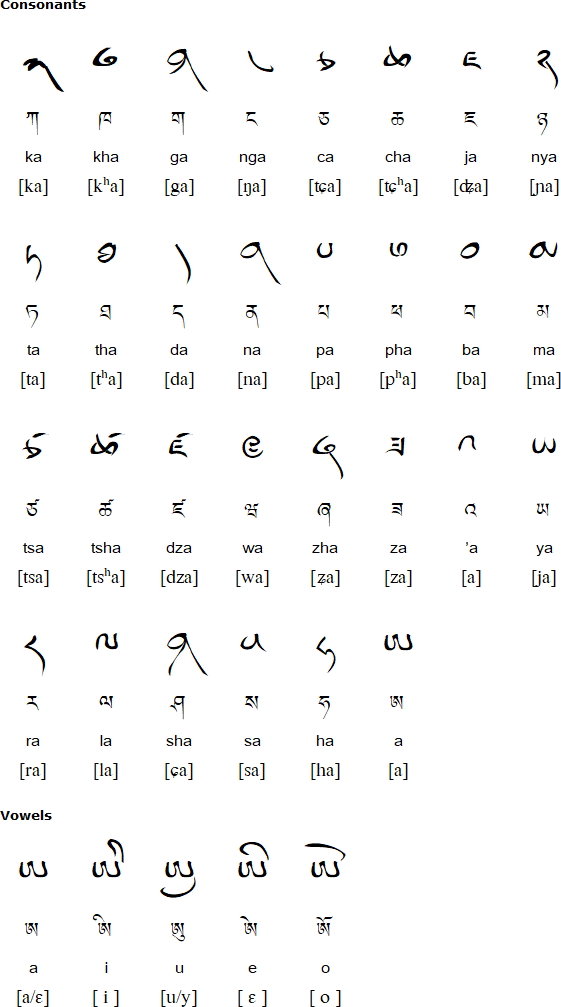 Downland a font for Tibetan Umed Cursive (by Max Greiner)
More information about Umê script
https://en.wikipedia.org/wiki/Umê_script
https://infogalactic.com/info/Umê_script
Sample text in the u-chen script (དབུ་ཅན་)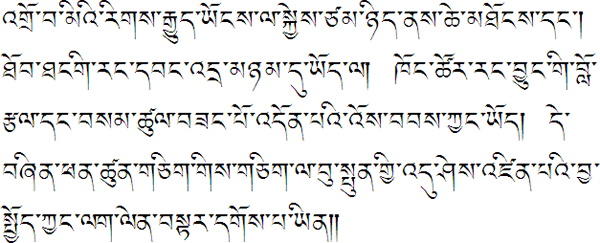 Sample text in the gyuk yig script (རྒྱུག་ཡིག་)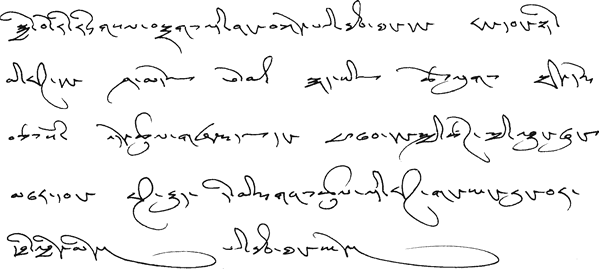 Transliteration (Wylie)
'gro ba mi'i rigs rgyud yongs la skyes tsam nyid nas che mthongs dang*/_thob thangagi rang dbang 'dra mnyam du yod la/_khong tshor rang byung gi blo rtsal dang bsam tshul bzang po 'don pa'i 'os babs kyang yod/_de bzhin phan tshun gcig gis gcig la bu spun gyi 'du shes 'dzin pa'i bya spyod kyang lag len bstar dgos pa yin//
Generated by THL's Online Tibetan Transliteration Converter
Translation
All human beings are born free and equal in dignity and rights. They are endowed with reason and conscience and should act towards one another in a spirit of brotherhood.
(Article 1 of the Universal Declaration of Human Rights)
Video in Tibetan
Information about Tibetan | Phrases | Numbers | Tower of Babel | Learning materials
---
Tibetan script for Sanskrit
These are the Tibetan letters used to write Sanskrit. Some of them are not used in Tibetan.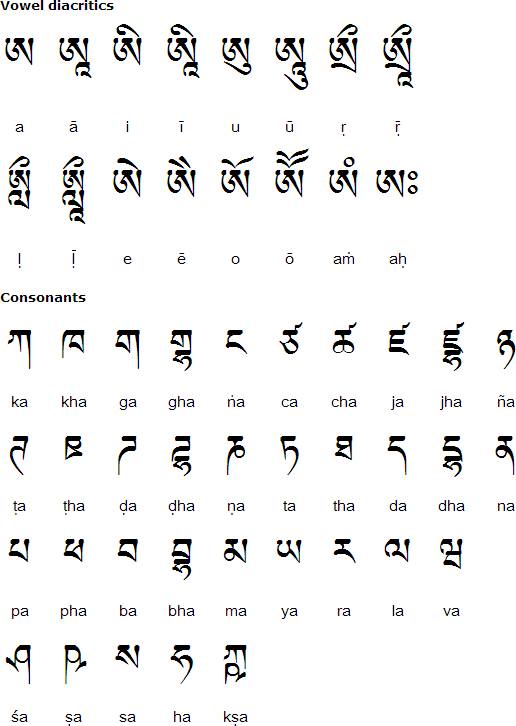 Information about Sanskrit | Phrases | Numbers | Tower of Babel | Writing systems for Sanskrit: Devanagari, Bhaiksuki, Brahmi, Galik, Grantha, Gupta, Kadamba, Kharosthi, Nandinagari, Sharda, Siddham, Thai, Tibetan
---
Links
Information about the Tibetan language and alphabet
http://en.wikipedia.org/wiki/Standard_Tibetan
http://en.wikipedia.org/wiki/Tibetan_script
http://www.tibettravel.org/tibetan-language/tibetan-language-and-grammar.html
Online Tibetan lessons
http://www.memrise.com/courses/english/tibetan/
https://freelanguage.org/learn-tibetan
http://www.learntibetan.net/
Tibetan phrases
https://wikitravel.org/en/Tibetan_phrasebook
http://www.eclipse.co.uk/tibet/lang.html
http://www.oocities.com/tibetanlanguage/language.html
http://itibettravel.com/top-100-basic-tibetan-phrases-to-know-while-in-tibet/
Tibetan dictionaries
http://www.thlib.org/reference/dictionaries/tibetan-dictionary/translate.php
http://nitartha.pythonanywhere.com/search
http://rywiki.tsadra.org/index.php/Main_Page
http://www.freelang.net/online/tibetan.php
Nitartha international - Tibetan software and online dictionary
http://nitartha.org
The Tibetan language Institute - teaches Tibetan in Hamilton, Montana, USA
http://www.tibetanlanguage.org
PechaMaker - a tool for creation of Tibetan Pecha
http://www.pechamaker.com
Tibetan calligraphy
http://www.asianart.com/exhibitions/calligraphy
https://www.tashimannox.com
http://www.tibetan-calligraphy.com
Online Tibetan language news and radio
http://www.rfa.org/tibetan/
http://www.tibettimes.net
Tibetan fonts and software
http://www.wazu.jp/gallery/Fonts_Tibetan.html
http://tsampa.org/tibetan/software/
http://www.thlib.org/tools/scripts/wiki/Tibetan Fonts.html
http://www.aerifal.cx/~dalias/bodyig/fonts/
Tibetan Umed Cursive (a font by Max Greiner)
ATTU - ANSI Tibetan to Unicode font convertor
http://www.pechamaker.com/attu/
Tibetan & Himalayan Digital Library (THDL)
http://thdl.org
Tibetan Government in Exile's Official Web Site (includes information on Tibetan language and culture): http://www.tibet.net
Tibet Travel Tips
http://www.yowangdu.com/tibet_travel.html
Some of the writing systems used to write Sanskrit
Bhaiksuki, Brāhmi, Devanāgari, Galik, Grantha, Gupta, Kadamba, Kharosthi, Nandinagari, Sharda, Siddham, Thai, Tibetan
Tibeto-Burman languages
Achang, Arakanese, Balti, Bisu, Drung, Hajong, Hani, Hmar, Jingpho, Lepcha, Lhomi, Lisu, Magar, Manipuri, Mro, Naxi, Newar, Nusu, Pahari, Tangkhul Naga, Tujia, Yolmo
Languages written with the Tibetan alphabet
Amdo Tibetan, Balti, Bokar, Dzongkha (Bhutanese), Khams Tibetan, Ladakhi, Sikkimese, Tibetan, Sherpa, Tamang, Tshangla
Ahom, Aima, Arleng, Badagu, Badlit, Basahan, Balinese, Balti-A, Balti-B, Batak, Baybayin, Bengali, Bhaiksuki, Bhujimol, Bilang-bilang, Bima, Blackfoot, Brahmi, Buhid, Burmese, Carrier, Chakma, Cham, Cree, Dehong Dai, Devanagari, Dham Lipi, Dhankari / Sirmauri, Ditema, Dives Akuru, Dogra, Ethiopic, Evēla Akuru, Fox, Fraser, Gond, Goykanadi, Grantha, Gujarati, Gunjala Gondi, Gupta, Gurmukhi, Halbi Lipi, Hanifi, Hanuno'o, Hočąk, Ibalnan, Incung, Inuktitut, Jaunsari Takri, Javanese, Kaithi, Kadamba, Kamarupi, Kannada, Kawi, Kharosthi, Khema, Khe Prih, Khmer, Khojki, Khudabadi, Kirat Rai, Kōchi, Komering, Kulitan, Kurukh Banna, Lampung, Lanna, Lao, Lepcha, Limbu, Lontara/Makasar, Lota Ende, Magar Akkha, Mahajani, Malayalam, Manpuri / Meitei (Modern), Manpuri (Old), Marchen, Meroïtic, Masarm Gondi, Modi, Mon, Mongolian Horizontal Square Script, Multani, Nandinagari, Newa, New Tai Lue, Ojibwe, Odia, Pahawh Hmong, Pallava, Phags-pa, Purva Licchavi, Qiang / Rma, Ranjana, Rejang (Kaganga), Sasak, Savara, Satera Jontal, Shan, Sharda, Siddham, Sinhala, Sorang Sompeng, Sourashtra, Soyombo, Sukhothai, Sundanese, Syloti Nagri, Tagbanwa, Takri, Tamil, Tanchangya (Ka-Pat), Tani, Thaana, Telugu, Thai, Tibetan, Tigalari, Tikamuli, Tocharian, Tolong Siki, Vatteluttu, Warang Citi
Page last modified: 16.03.23
[top]
---

Why not share this page:

If you like this site and find it useful, you can support it by making a donation via PayPal or Patreon, or by contributing in other ways. Omniglot is how I make my living.
Note: all links on this site to Amazon.com
, Amazon.co.uk
and Amazon.fr
are affiliate links. This means I earn a commission if you click on any of them and buy something. So by clicking on these links you can help to support this site.
Get a 30-day Free Trial of Amazon Prime (UK)
If you're looking for home or car insurance in the UK, why not try Policy Expert?
[top]