Lepontic
Lepontic is an extinct Continental Celtic language once spoken in parts of Rhaetia and Cisalpine Gaul (now northern Italy) between about 550 and 100 BC. Lepontic is considered by some scholars to be a form of Cisapline Gaulish/Celtic and a dialect of Gaulish. Others, such as M. Lejeune, believe that is was a distinct Continental Celtic language.
Lepontic was displaced first by Gaulish after Gaulish tribes settled in the area where it was spoken, and then by Latin after the Romans took control of that area during the late 2nd and 1st century BC.
Lepontic was the first Celtic language to be written, and inscriptions in Lepontic have been found in around Lugano in Switzerland, and in the areas around Lake Como and Lake Maggiore in northern Italy. They appear on monuments, coins, cups, pots, and other objects. Most are in the Lepontic or Lugano alphabet, others are in the Latin alphabet. The Lepontic alphabet was derived from the Etruscan alphabet
Notable features
Writing direction: left to right or right to left in horizontal lines
Used to write: Lepontic
Lepontic/Lugano alphabet

Note: the pronuciation of Lepontic is uncertain.
Sample text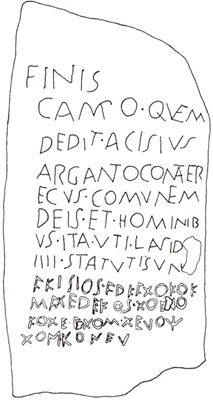 Transliteration
FINIS
CAMPO · QUEM
DEDIT · ACISIUS
ARGANTOCOMATER
ECUS · COMUNEM
DEIS · ET · HOMINIB
US · ITA · UTI · LAPID(ES)
IIII · STATUTI · SUNT
AKISIOS : ARKATOKOK
MATEREKOS : TOŚO
KOTE : ATOM : TEUOχ
TOM : KONEU
Note: the first part of this in Latin. The second part from AKISIOS is in Lepontic
Source: http://www.univie.ac.at/lexlep/wiki/File:Morandi_2004_588_100.jpg
Links
Information about Lepontic
http://en.wikipedia.org/wiki/Lepontic_language
http://www.univie.ac.at/lexlep/wiki/North_Italic_Script
http://en.wikipedia.org/wiki/Old_Italic_alphabet#Alphabet_of_Lugano
http://rootsofeurope.ku.dk/kalender/arkiv_2012/celtic_spring/Lepontisch_WS_2010.pdf/
Lexicon Leponticum - a collection of Lepontic inscriptions
http://www.univie.ac.at/lexlep/wiki/Main_Page
Celtic languages
Breton, Celtiberian, Cornish, Cumbric, Gaulish, Irish, Lepontic, Lusitanian, Manx, Scottish Gaelic, Tartessian, Welsh
A-chik Tokbirim, Adinkra, ADLaM, Armenian, Avestan, Avoiuli, Bassa (Vah), Beitha Kukju, Borama / Gadabuursi, Carian, Carpathian Basin Rovas, Chinuk pipa, Chisoi, Coorgi-Cox, Coptic, Cyrillic, Dalecarlian runes, Elbasan, Etruscan, Faliscan, Fox, Galik, Georgian (Asomtavruli), Georgian (Nuskhuri), Georgian (Mkhedruli), Glagolitic, Global Alphabet, Gothic, Greek, Irish (Uncial), Kaddare, Kayah Li, Khatt-i-Badí', Khazarian Rovas, Koch, Korean, Latin, Lepontic, Luo Lakeside Script, Lycian, Lydian, Manchu, Mandaic, Mandombe, Marsiliana, Medefaidrin, Messapic, Mongolian, Mro, Mundari Bani, Naasioi Otomaung, N'Ko, North Picene, Nyiakeng Puachue Hmong, Odùduwà, Ogham, Old Church Slavonic, Oirat Clear Script, Ol Chiki (Ol Cemet' / Santali), Old Italic, Old Nubian, Old Permic, Ol Onal, Orkhon, Osage, Oscan, Osmanya (Somali), Pau Cin Hau, Phrygian, Pollard script, Runic, Székely-Hungarian Rovás (Hungarian Runes), South Picene, Sutton SignWriting, Sunuwar, Tai Viet, Tangsa, Todhri, Toto, Umbrian, (Old) Uyghur, Wancho, Yezidi, Zaghawa, Zoulai
Page last modified: 15.03.23
[top]
---

Why not share this page:

If you like this site and find it useful, you can support it by making a donation via PayPal or Patreon, or by contributing in other ways. Omniglot is how I make my living.
Note: all links on this site to Amazon.com
, Amazon.co.uk
and Amazon.fr
are affiliate links. This means I earn a commission if you click on any of them and buy something. So by clicking on these links you can help to support this site.
Get a 30-day Free Trial of Amazon Prime (UK)
If you're looking for home or car insurance in the UK, why not try Policy Expert?
[top]