Coptic (ⲘⲉⲧⲢⲉⲙ̀ⲛⲭⲏⲙⲓ)
The Coptic alphabet is variant of the Greek alphabet containing a number of extra letters for sounds not found in Greek. The extra letters come from the Demotic form of the Egyptian script. The Coptic alphabet came into being during the 3rd century BC after the Greek conquest of Egypt and the subsequent spread of Christianity.
The name 'Coptic' derives from the Greek word for Egyptian: Aigyptioi which became Qibt in Arabic and then was Latinised to become Copt
Used to write
Coptic, a member of the Egyptian branch of the Afro-Asiatic language family and a descendant of the Ancient Egyptian language. Coptic was an official language in Egypt until around the 13th Century AD, when it was replaced by Arabic. Nowadays Coptic Christians all speak Arabic as their every day language, but use Coptic in their religious ceremonies.
Coptic alphabet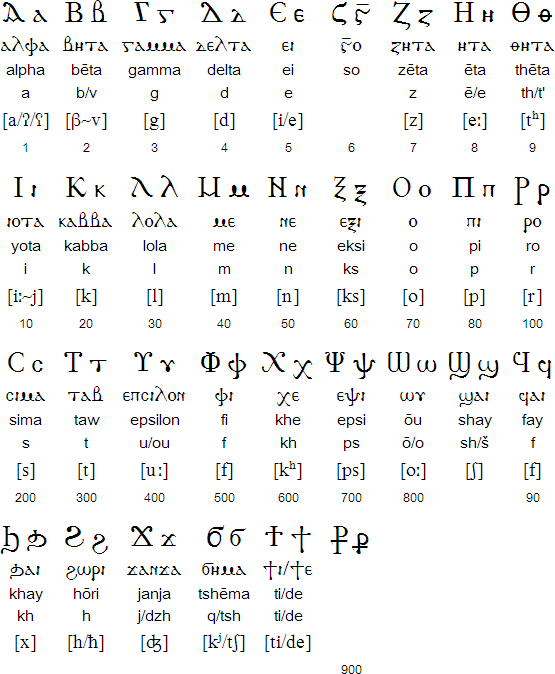 Notes
bēta = [β] at the beginning of a word, [v] elsewhere.
double ghamma = [ŋg].
delta = [d] in names, [ð] elsewhere.
taw = [d] after ne, [t] elsewhere.
epsilon = [v] after alpha or ei, [u] after short o, [ɪ] elsewhere.
The symbol jinkim, which looks like an apostrophy, splits words into separate syllables when attached to the letter ei and followed by a consonant
Source: http://www.copticchurch.net/coptic_fonts/alphabet.html
Hear the Coptic letters pronounced
Numerals

Sample texts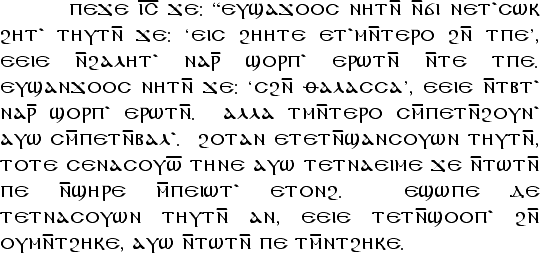 Article 1 of the Universal Declaration of Human Rights
ⲥⲟⲩⲙⲟⲥⲉ ⲣⲱⲙⲉ ⲛⲓⲙ ⲉⲩϣⲏϣ ⲉ ⲛⲉⲩⲉⲣⲏⲩ ϩⲛ ⲟⲩⲇⲓⲕⲁⲓⲟⲥⲩⲛⲏ. ⲟⲩⲛ ϭⲟⲙ ⲙⲙⲟⲩ ⲉⲧⲣⲉⲩⲙⲉⲉⲩⲉ ⲁⲩⲱ ϣϣⲉ ⲉⲧⲣⲉⲩⲣ-ⲙⲛⲧⲙⲁⲓⲥⲟⲛ.
Translation
All human beings are born free and equal in dignity and rights. They are endowed with reason and conscience and should act towards one another in a spirit of brotherhood.
(Article 1 of the Universal Declaration of Human Rights)
Translated by the Magistri Coptic Tutor
Sample video in and about Coptic
Information about Coptic | Numbers | Tower of Babel
Links
Information about Coptic
https://en.wikipedia.org/wiki/Coptic_language
https://en.wikipedia.org/wiki/Coptic_alphabet
http://scriptorium.lib.duke.edu/papyrus/texts/coptic/introduction.html
http://www.touregypt.net/featurestories/copticchristians.htm
http://www.coptic.net/copticweb/
The Coptic Studies Corner
http://www.stshenouda.com
Coptic lessons
http://www.stshenouda.com/coptlang/cptlsn1w.htm
http://heh.pl/&pj
http://st-takla.org/Learn_Languages/01_Learn_Coptic-ta3leem-2ebty/Learn-Coptic_00-index_El-Fehres.html
http://www.coptic.net/copticweb/contributions/copticlanguagelessons.pdf
Coptic fonts
http://www.copticchurch.net/coptic_fonts/
http://www.stshenouda.com/coptsoft.htm
Masters Degree in Coptic Studies at Macquarie University
http://www.coptic.org.au/modules/coptic_studies/
Coptic Churches
http://www.copticchurch.net
http://st-takla.org
ALPHABETUM - a Unicode font specifically designed for ancient scripts, including classical & medieval Latin, ancient Greek, Etruscan, Oscan, Umbrian, Faliscan, Messapic, Picene, Iberian, Celtiberian, Gothic, Runic, Old & Middle English, Hebrew, Sanskrit, Old Nordic, Ogham, Kharosthi, Glagolitic, Old Cyrillic, Phoenician, Avestan, Ugaritic, Linear B, Anatolian scripts, Coptic, Cypriot, Brahmi, Old Persian cuneiform: http://guindo.pntic.mec.es/~jmag0042/alphabet.html
Egyptian languages
Hieroglyphs, Hieratic, Demotic, Coptic
Languages written with the Coptic alphabet
A-chik Tokbirim, Adinkra, ADLaM, Armenian, Avestan, Avoiuli, Bassa (Vah), Beitha Kukju, Beria (Zaghawa), Borama / Gadabuursi, Carian, Carpathian Basin Rovas, Chinuk pipa, Chisoi, Coorgi-Cox, Coptic, Cyrillic, Dalecarlian runes, Elbasan, Etruscan, Faliscan, Fox, Galik, Georgian (Asomtavruli), Georgian (Nuskhuri), Georgian (Mkhedruli), Glagolitic, Global Alphabet, Gothic, Greek, Irish (Uncial), Kaddare, Kayah Li, Khatt-i-Badí', Khazarian Rovas, Koch, Korean, Latin, Lepontic, Luo Lakeside Script, Lycian, Lydian, Manchu, Mandaic, Mandombe, Marsiliana, Medefaidrin, Messapic, Mongolian, Mro, Mundari Bani, Naasioi Otomaung, N'Ko, North Picene, Nyiakeng Puachue Hmong, Odùduwà, Ogham, Old Church Slavonic, Oirat Clear Script, Ol Chiki (Ol Cemet' / Santali), Old Italic, Old Nubian, Old Permic, Ol Onal, Orkhon, Osage, Oscan, Osmanya (Somali), Pau Cin Hau, Phrygian, Pollard script, Runic, Székely-Hungarian Rovás (Hungarian Runes), South Picene, Sutton SignWriting, Sunuwar, Tai Viet, Tangsa, Todhri, Toto, Umbrian, (Old) Uyghur, Wancho, Yezidi, Zoulai
Page last modified: 15.03.23
[top]
---

Why not share this page:

If you like this site and find it useful, you can support it by making a donation via PayPal or Patreon, or by contributing in other ways. Omniglot is how I make my living.
Note: all links on this site to Amazon.com
, Amazon.co.uk
and Amazon.fr
are affiliate links. This means I earn a commission if you click on any of them and buy something. So by clicking on these links you can help to support this site.
Get a 30-day Free Trial of Amazon Prime (UK)
If you're looking for home or car insurance in the UK, why not try Policy Expert?
[top]