Old Turkic / Orkhon
The earliest known examples of writing in any Turkic language were found in the Orkhon river valley in Mongolia in the 19th century. They date from the early 8th century AD and the script in which they are written is known as the Orkhon alphabet, the Old Turkic script, the Göktürk script, or the Orkhon-Yenisey script. Inscriptions dating from the later 8th century AD in a slight variant of the Orkhon alphabet, known as Yenisei or Siberian runes, have also been found around Yenisei and other parts of Siberia.
Because of a superficial resemblance to the Runic alphabet, the alphabet is also known as Orkhon or Turkic runes. This resemblance is probably a result of the writing materials used - most inscriptions are in hard surfaces, such as stone or wood, and curved lines are difficult to inscribe in such surfaces.
The Orkhon alphabet is thought to have been derived from or inspired by a non-cursive version of the Sogdian script. By the 9th century AD, the Orkhon and Yenisei alphabets were replaced by the Uighur alphabet, which developed from the cursive version of the Sogdian script.
Notable features
Writing direction: written mainly from right to left in horizontal lines, though some inscriptions are written vertically with the letters rotated by 90°. When written vertically, it read from bottom to top and right to left.
Some consonants have two forms, one of which was used with front vowels, the other with back vowels.
Used to write: Old Turkic (a.k.a. East Old Turkic, Orkhon Turkic, Old Uyghur), the earliest attested form of Turkic, found in Göktürk and Old Uyghur inscriptions dating from between the 7th and 13th century.
Orkhon alphabet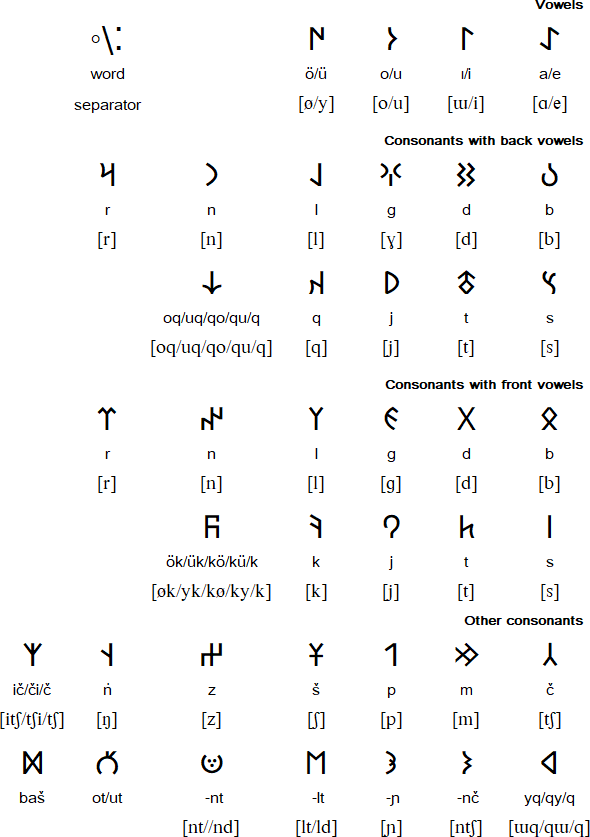 Orkhon alphabet (Yenisei variant)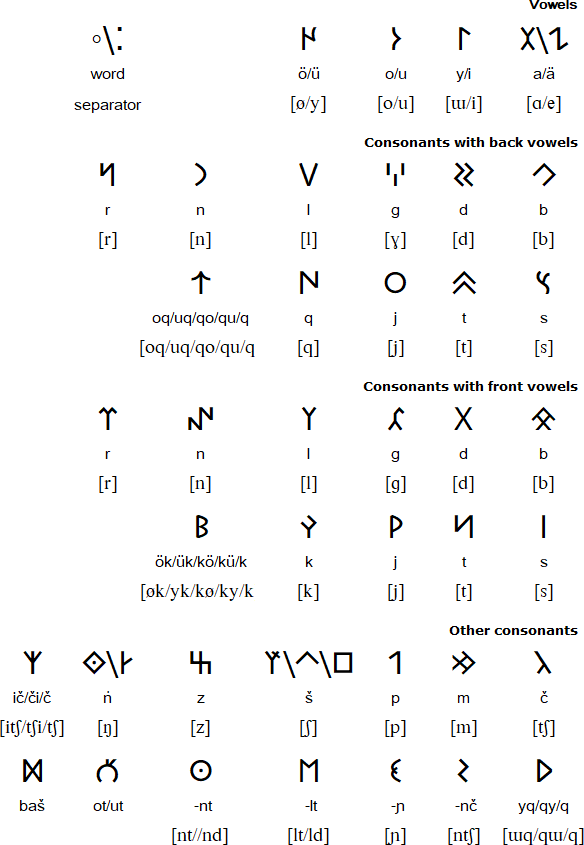 Download an alphabet chart for Old Turkic (Excel)
Sample text

Transliteration
Türk Oguz begleri, bodun, eşidin üze Tengri basmasar asra yir telinmeser Türk bodun ilinin, törüngün kim artatı udaçı erti?
A recording of this text by Görkem
Modern Turkish version
Türk Oğuz beyleri, kavmi, işitin; üstte gök (Tanrı) bastırmasa, altta yer delinmese Türk kavmi; ilini, töreni kim bozabilirdi?
English version
Türk Oguz chieftains, clans, listen; unless the sky (Sky is also God) crushes, the ground punctures Turk clans; who could ever destroy your land and law?
Information about the Old Turkic language and alphabet | Numbers
Links
Information about the Orkhon alphabet and Old Turkic language
http://en.wikipedia.org/wiki/Old_Turkic_script
http://gokbeyuluc.wordpress.com
http://fankibiber.wordpress.com/
http://kokturukce.blogspot.com/2008/09/gktrk-yazlarnn-harflerinin-kkeni-4.html
https://en.wikipedia.org/wiki/Irk_Bitig
Orkhon fonts and keyboard layouts
https://bitigchi.github.io/oldTurkic.html
http://www.gokturkceogreniyorum.com/
https://www.academia.edu/36844791
The Little Prince in Old Turkic
http://www.petit-prince.at/pp-tuerk-goektuerk.htm
Turkic languages
Altay, Äynu, Azerbaijani, Bashkir, Chagatai, Chelkan, Chulym, Chuvash, Crimean Tatar, Dolgan, Fuyu Kyrgyz, Gagauz, Ili Turki, Karachay-Balkar, Karaim, Karakalpak, Karamanli Turkish, Kazakh, Khakas, Khalaj, Khorasani Turkic, Krymchak, Kumandy, Kumyk, Kyrgyz, Nogai, Old Turkic, Qashqai, Romanian Tatar, Salar, Shor, Siberian Tatar, Soyot, Tatar, Teleut, Tofa, Turkish, Turkmen, Tuvan, Urum, Uyghur, Uzbek, Western Yugur, Yakut (Sakha)
A-chik Tokbirim, Adinkra, ADLaM, Armenian, Avestan, Avoiuli, Bassa (Vah), Beitha Kukju, Borama / Gadabuursi, Carian, Carpathian Basin Rovas, Chinuk pipa, Chisoi, Coorgi-Cox, Coptic, Cyrillic, Dalecarlian runes, Elbasan, Etruscan, Faliscan, Fox, Galik, Georgian (Asomtavruli), Georgian (Nuskhuri), Georgian (Mkhedruli), Glagolitic, Global Alphabet, Gothic, Greek, Irish (Uncial), Kaddare, Kayah Li, Khatt-i-Badí', Khazarian Rovas, Koch, Korean, Latin, Lepontic, Luo Lakeside Script, Lycian, Lydian, Manchu, Mandaic, Mandombe, Marsiliana, Medefaidrin, Messapic, Mongolian, Mro, Mundari Bani, Naasioi Otomaung, N'Ko, North Picene, Nyiakeng Puachue Hmong, Odùduwà, Ogham, Old Church Slavonic, Oirat Clear Script, Ol Chiki (Ol Cemet' / Santali), Old Italic, Old Nubian, Old Permic, Ol Onal, Orkhon, Osage, Oscan, Osmanya (Somali), Pau Cin Hau, Phrygian, Pollard script, Runic, Székely-Hungarian Rovás (Hungarian Runes), South Picene, Sutton SignWriting, Sunuwar, Tai Viet, Tangsa, Todhri, Toto, Umbrian, (Old) Uyghur, Wancho, Yezidi, Zaghawa, Zoulai
Page last modified: 15.03.23
[top]
---

Why not share this page:

If you like this site and find it useful, you can support it by making a donation via PayPal or Patreon, or by contributing in other ways. Omniglot is how I make my living.
Note: all links on this site to Amazon.com
, Amazon.co.uk
and Amazon.fr
are affiliate links. This means I earn a commission if you click on any of them and buy something. So by clicking on these links you can help to support this site.
Get a 30-day Free Trial of Amazon Prime (UK)
If you're looking for home or car insurance in the UK, why not try Policy Expert?
[top]