Etruscan (mekh Rasnal)
The Etruscan language was spoken by the Etruscans in Etruria (Tuscany and Umbria) until about the 1st century AD. After which it continued to be studied by priests and scholars, and it was used in religious ceremonies until the early 5th century AD. The emperor Claudius (10 BC - 54 AD) wrote a history of the Etruscans in 20 volumes, however none of these volumes survive.
Etruscan was related to Raetic, a language once spoken in the Alps, and also to Lemnian, once spoken on the island of Lemnos. It was also possibly related to Camunic, a language once spoken in the northwest of Italy.
Etruscan alphabet
The Etruscan alphabet developed from a Western variety of the Greek alphabet brought to Italy by Euboean Greeks. The earliest known inscription dates from the middle of the 6th century BC. Most Etruscan inscriptions are written in horizontal lines from right to left, but some are boustrophedon (running alternately left to right then right to left).
More than 10,000 Etruscan inscriptions have been found on tombstones, vases, statues, mirrors and jewellery. Fragments of an Etruscan book made of linen have also been found. Etruscan texts can be read: i.e. the pronunciation of the letters is known, though scholars are not sure what all the words mean.
No major literary works in Etruscan have survived, however there is evidence for the existence of religious and historical literature and drama. It is also possible that the Etruscans had a notation system for music.
Notable features
Writing direction: right to left (or left to right) in horizontal lines, or boustrophedon (alternating right to left and left to right)
Used to write: Etruscan
Words were originally written without spaces. In later texts a dot or double dot (like a colon) is used to separate words
Archaic Etruscan alphabet (7th-5th centuries BC)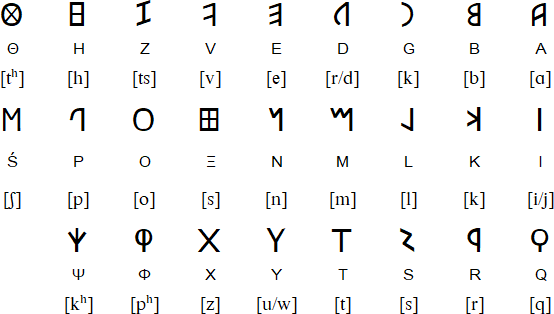 Neo-Etruscan alphabet (4th-3rd centuries BC)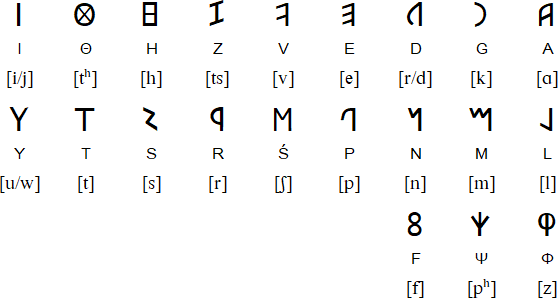 Etruscan numerals

Download an alphabet chart for Etruscan (Excel)
Sample text in Etruscan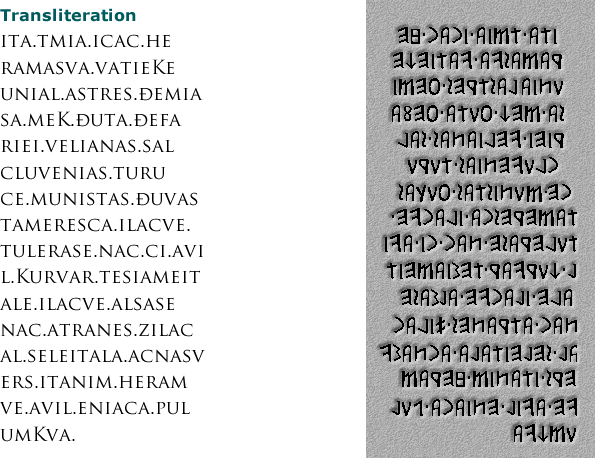 Translation
This temple and (this) statue have been dedicated to Uni / Astarte. Thefariei Velianas, head of the community, donated it for the worship of our peoples. This gift of this temple and sanctuary and the consecration of its boundaries during his three year term in the month of Xurvar (June?) in this way, and in Alsase (July?) this record together with the divinity/statue shall thus be buried by order of the Zilach that the years may outlast the stars.
Source: http://www.mysteriousetruscans.com/language.html
Videos in and about Etruscan
Information about Etruscan | Numbers
Links
Information about the Etruscan language and alphabet
http://en.wikipedia.org/wiki/Etruscan_language
https://it.wikipedia.org/wiki/Lingua_etrusca
http://www.mysteriousetruscans.com/language.html
https://www.britannica.com/topic/Etruscan-language
http://www.languagesgulper.com/eng/Etruscan.html
Etruscan vocabulary
http://etruskisch.de/pgs/vc.htm
http://diachronica.pagesperso-orange.fr/TMCJ_vol_3.2_Fournet_Etruscan.pdf
Etruscan Foundation - an organisation dedicated to the study of the cultural and history of the Etruscans: http://www.etruscanfoundation.org
The Mysterious Etruscans
http://www.mysteriousetruscans.com/
Etruscan font
http://www.dafont.com/etruscan.font
http://www.fontspace.com/dave-bastian/etruscan
ALPHABETUM - a Unicode font specifically designed for ancient scripts, including classical & medieval Latin, ancient Greek, Etruscan, Oscan, Umbrian, Faliscan, Messapic, Picene, Iberian, Celtiberian, Gothic, Runic, Old & Middle English, Hebrew, Sanskrit, Old Nordic, Ogham, Kharosthi, Glagolitic, Old Cyrillic, Phoenician, Avestan, Ugaritic, Linear B, Anatolian scripts, Coptic, Cypriot, Brahmi, Old Persian cuneiform: http://guindo.pntic.mec.es/~jmag0042/alphabet.html
A-chik Tokbirim, Adinkra, ADLaM, Armenian, Avestan, Avoiuli, Bassa (Vah), Beitha Kukju, Borama / Gadabuursi, Carian, Carpathian Basin Rovas, Chinuk pipa, Chisoi, Coorgi-Cox, Coptic, Cyrillic, Dalecarlian runes, Elbasan, Etruscan, Faliscan, Fox, Galik, Georgian (Asomtavruli), Georgian (Nuskhuri), Georgian (Mkhedruli), Glagolitic, Global Alphabet, Gothic, Greek, Irish (Uncial), Kaddare, Kayah Li, Khatt-i-Badí', Khazarian Rovas, Koch, Korean, Latin, Lepontic, Luo Lakeside Script, Lycian, Lydian, Manchu, Mandaic, Mandombe, Marsiliana, Medefaidrin, Messapic, Mongolian, Mro, Mundari Bani, Naasioi Otomaung, N'Ko, North Picene, Nyiakeng Puachue Hmong, Odùduwà, Ogham, Old Church Slavonic, Oirat Clear Script, Ol Chiki (Ol Cemet' / Santali), Old Italic, Old Nubian, Old Permic, Ol Onal, Orkhon, Osage, Oscan, Osmanya (Somali), Pau Cin Hau, Phrygian, Pollard script, Runic, Székely-Hungarian Rovás (Hungarian Runes), South Picene, Sutton SignWriting, Sunuwar, Tai Viet, Tangsa, Todhri, Toto, Umbrian, (Old) Uyghur, Wancho, Yezidi, Zaghawa, Zoulai
Page last modified: 15.03.23
[top]
---

Why not share this page:

If you like this site and find it useful, you can support it by making a donation via PayPal or Patreon, or by contributing in other ways. Omniglot is how I make my living.
Note: all links on this site to Amazon.com
, Amazon.co.uk
and Amazon.fr
are affiliate links. This means I earn a commission if you click on any of them and buy something. So by clicking on these links you can help to support this site.
Get a 30-day Free Trial of Amazon Prime (UK)
If you're looking for home or car insurance in the UK, why not try Policy Expert?
[top]