Avestan
The Avestan alphabet was created in the 3rd and 4th centuries AD for writing the hymns of Zarathustra (a.k.a Zoroaster), the Avesta. Many of the letters are derived from the old Pahlavi alphabet of Persia, which itself was derived from the Aramaic alphabet. Greek influence, in the form of the full representation of vowel sounds, is also present.
The Avestan alphabet was replaced by the Arabic alphabet after Persia converted to Islam during the 7th century AD. The Parsi or Zoroastrian community in India uses the Devanagari or Gujarati alphabets for Avestan.
Notable Features
Writing direction: right to left in horizontal lines
Used to write: Avestan, an extinct Eastern Iranian language related to Old Persian and Sanskrit, which was used as a sacred language of Zoroastrian worship long after it ceased to be used as an everyday spoken language. Avestan is also written with the Devanagari alphabet.
Avestan alphabet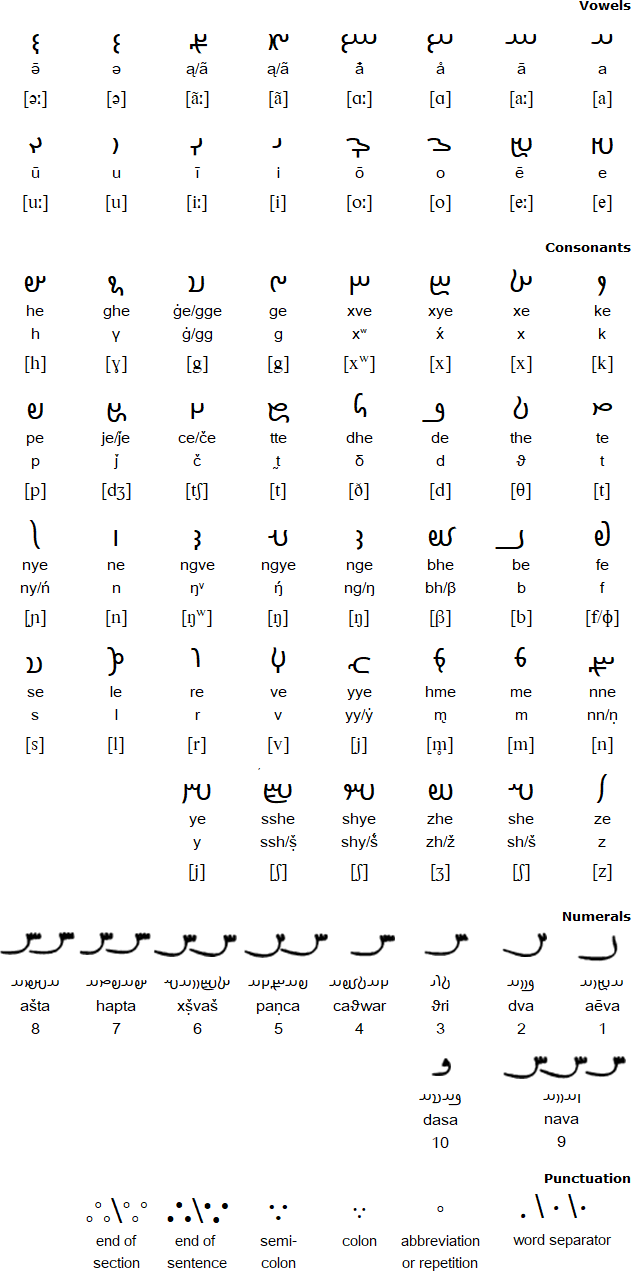 Devanagari alphabet for Avestan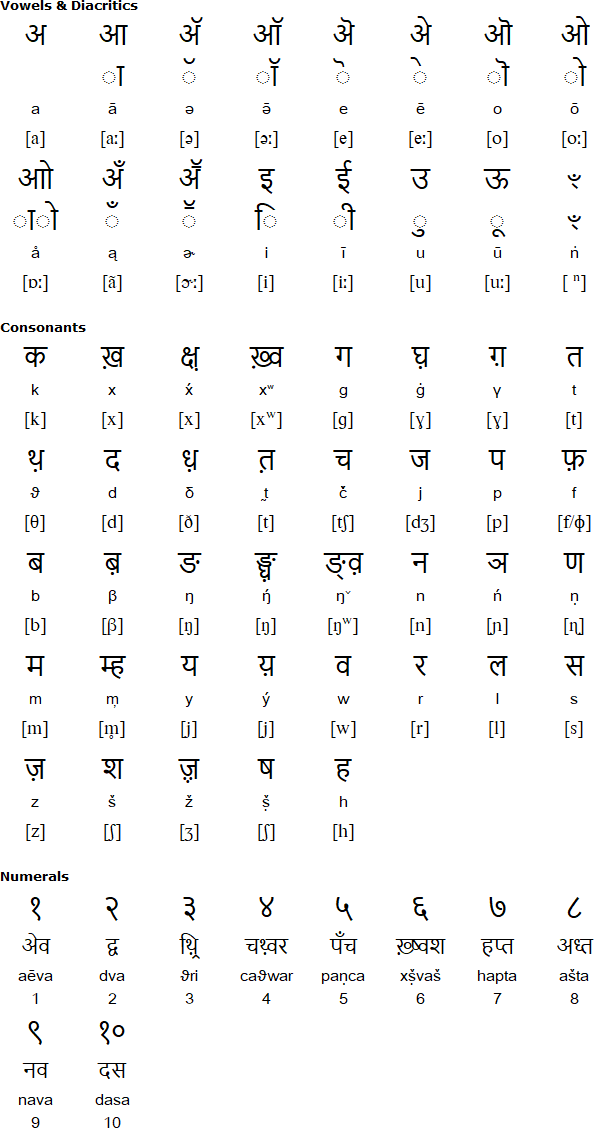 Download alphabet charts for Avestan (Excel format)
Sample texts in Avestan

Source: http://www.avesta.org/gifs/samples.htm

Extract from Yasna 45.I (www.avesta.org/yasna/y43to46.htm) provided by Ian James
Transliteration
at fravaxshyâ nû gûshôdûm nû sraotâ ýaêcâ asnât ýaêcâ dûrât ishathâ nû îm vîspâ cithrê zî mazdånghô-dûm nôit daibitîm dush-sastish ahûm merãshyât akâ varanâ dregvå hizvå âveretô.
Translation
I will speak forth: hear now and hearken now, ye from near and ye from far that desire (instruction). Now observe this in your mind, all of you, for he is revealed. Never shall the false Teacher destroy the Second Life, the Liar, in perversion by his tongue into evil belief.
क्ष᳝थ़्राइश् युजॕन् करपनो कावयस्-चा।
अकाइश् श्यऒथ़नाइश् अहूम् मॅरॅꣳगॅद्याइ मषीम् ।।
यॕꣳग् ख़्वॕ उर्वा ख़्वअे-चा ख़्रऒदत़् दअेना ।।
ह्यत़् अइबी-गॅमॅन् यथ्रा चिन्वतो पॅरॅतुश् ।।
यवोइ वीस्पाइ द्रूजो दॅमानाइ अस्तयो ।।
IPA Transcription
xaθraːiʃ juːdʒɚːn karpano kaːwajas-tʃaː
akaːiʃ ʃjaoθanaːiʃ ahuːm mərəⁿɡəidjaːi maʃiːm
jɚːⁿɡ xʷɚː urwaː xʷaeː-tʃaː xraodat daeːnaː
hjat aibiː-ɡɚːmɚːn jaθraː tʃiːnwatoː pɚrɚːtuʃ
jawoːi wiːspaːi druːdʒoː dəmaːnaːi astajoː
Translation
During their regimes, the Karpans [a type of priest] and the Kavis [a princes] yoked (us) with evil actions in order to destroy the world and mankind. But their own soul and their own conception [daena] did vex them when they reached the Bridge of the Judge, (there to become guests in the House of Deceit forever.
Some details supplied by Biswajit Mandal (biswajitmandal[dot]bm90[at]gmail[dot]com)
Sample video in Avestan
Links
Infomartion about Avestan
http://www.avesta.org
http://en.wikipedia.org/wiki/Avestan_language
http://www.farvardyn.com/avesta.php
http://titus.fkidg1.uni-frankfurt.de/didact/idg/iran/avest/avestbs.htm
https://aksharamukha.appspot.com/describe/Avestan
Avestan Digital Archive
http://ada.usal.es
Avestan fonts
http://www.skytower.org/~ernstjtremel/Ahuramazda/AhuramzdaFont.htm
http://minerva.stkate.edu/offices/academic/classics.nsf/pages/avestafonts/
Iranian languages
Avestan, Baluchi, Bartangi, Dari, Gilaki, Hazaragi, Ishkashimi, Judeo-Persian, Juhuri, Khufi, Kumzari, Kurdish, Luri, Mazandarani, Munji, Ossetian, Ormuri, Oroshor, Persian, Parthian, Pashto, Rushani, Sanglechi, Sarikoli, Shabaki, Shughni, Tajik, Talysh, Tat, Wakhi, Wanetsi, Yaghnobi, Yazghulami, Yidgha, Zazaki
Languages written with the Devanāgarī alphabet
Aka-Jeru, Angika, Athpare, Avestan, Awadhi, Balti, Bantawa, Belhare, Bhili, Bhumij, Bilaspuri, Bodo, Bhojpuri, Braj, Car, Chamling, Chhantyal, Chhattisgarhi, Chambeali, Danwar, Dhatki, Dhimal, Dhundari, Digaro Mishmi, Dogri, Doteli, Gaddi, Garhwali, Gondi, Gurung, Halbi, Haryanvi, Hindi, Ho, Jarawa, Jaunsari, Kannauji, Kham, Kangri, Kashmiri, Khaling, Khandeshi, Kharia, Khortha, Korku, Konkani, Kullui, Kumaoni, Kurmali, Kurukh, Kusunda, Lambadi, Limbu, Lhomi, Lhowa, Magahi, Magar, Mahasu Pahari, Maithili, Maldivian, Malto, Mandeali, Marathi, Marwari, Mewari, Mundari, Nancowry. Newar, Nepali, Nimadi, Onge, Pahari, Pali, Pangwali, Rajasthani, Rajbanshi, Rangpuri, Sadri, Sanskrit, Santali, Saraiki, Sirmauri, Sherpa, Shina, Sindhi, Sunwar, Sylheti, Tamang, Thakali, Thangmi, Wambule, Wancho, Yakkha, Yolmo
A-chik Tokbirim, Adinkra, ADLaM, Armenian, Avestan, Avoiuli, Bassa (Vah), Beitha Kukju, Beria (Zaghawa), Borama / Gadabuursi, Carian, Carpathian Basin Rovas, Chinuk pipa, Chisoi, Coorgi-Cox, Coptic, Cyrillic, Dalecarlian runes, Elbasan, Etruscan, Faliscan, Fox, Galik, Georgian (Asomtavruli), Georgian (Nuskhuri), Georgian (Mkhedruli), Glagolitic, Global Alphabet, Gothic, Greek, Irish (Uncial), Kaddare, Kayah Li, Khatt-i-Badí', Khazarian Rovas, Koch, Korean, Latin, Lepontic, Luo Lakeside Script, Lycian, Lydian, Manchu, Mandaic, Mandombe, Marsiliana, Medefaidrin, Messapic, Mongolian, Mro, Mundari Bani, Naasioi Otomaung, N'Ko, North Picene, Nyiakeng Puachue Hmong, Odùduwà, Ogham, Old Church Slavonic, Oirat Clear Script, Ol Chiki (Ol Cemet' / Santali), Old Italic, Old Nubian, Old Permic, Ol Onal, Orkhon, Osage, Oscan, Osmanya (Somali), Pau Cin Hau, Phrygian, Pollard script, Runic, Székely-Hungarian Rovás (Hungarian Runes), South Picene, Sutton SignWriting, Sunuwar, Tai Viet, Tangsa, Todhri, Toto, Umbrian, (Old) Uyghur, Wancho, Yezidi, Zoulai
ALPHABETUM - a Unicode font specifically designed for ancient scripts, including classical & medieval Latin, ancient Greek, Etruscan, Oscan, Umbrian, Faliscan, Messapic, Picene, Iberian, Celtiberian, Gothic, Runic, Old & Middle English, Hebrew, Sanskrit, Old Nordic, Ogham, Kharosthi, Glagolitic, Old Cyrillic, Phoenician, Avestan, Ugaritic, Linear B, Anatolian scripts, Coptic, Cypriot, Brahmi, Old Persian cuneiform: http://guindo.pntic.mec.es/~jmag0042/alphabet.html
Page last modified: 05.07.23
[top]
---

Why not share this page:

If you like this site and find it useful, you can support it by making a donation via PayPal or Patreon, or by contributing in other ways. Omniglot is how I make my living.
Note: all links on this site to Amazon.com
, Amazon.co.uk
and Amazon.fr
are affiliate links. This means I earn a commission if you click on any of them and buy something. So by clicking on these links you can help to support this site.
Get a 30-day Free Trial of Amazon Prime (UK)
If you're looking for home or car insurance in the UK, why not try Policy Expert?
[top]