Yolmo (ह्योल्मो)
Yolmo is a Tibeto-Burman language spoken in the eastern and northern Himalayan regions of Nepal, particularly in the Helambu and Melamchi valleys in the north of Nuwakot District and in the northwest of Sindhupalchowk District. It is also spoken in the districts of Lamjung, Ilam and Ramecchap. In 2011 there were about 10,680 speakers.
Yolmo is also known as Helambu Sherpa, Hyolmo, Hyolmo Tam, Yholmo, Yohlmo or Yolmo. The people who speak call themselves Yolmopa. The name Hyolmo comes from hyol (surrounded by mountains) and mo (goddess).
Yolmo shares a lot of vocabulary with Sherpa and Tibetan, particularly Kyirong Tibetan, although the languages are not mutually intelligible. In the Ramecchap District a dialect of Yolmo, or a closely related language, is known as Syuba (स्युबा) or Kagate.
Yolmo is rarely written, however there are ways to write it with the Devanagari and Latin alphabets. Dictionaries have been published in both scripts. It is also sometimes written with the Tibetan alphabet.
Devanagari alphabet for Yolmo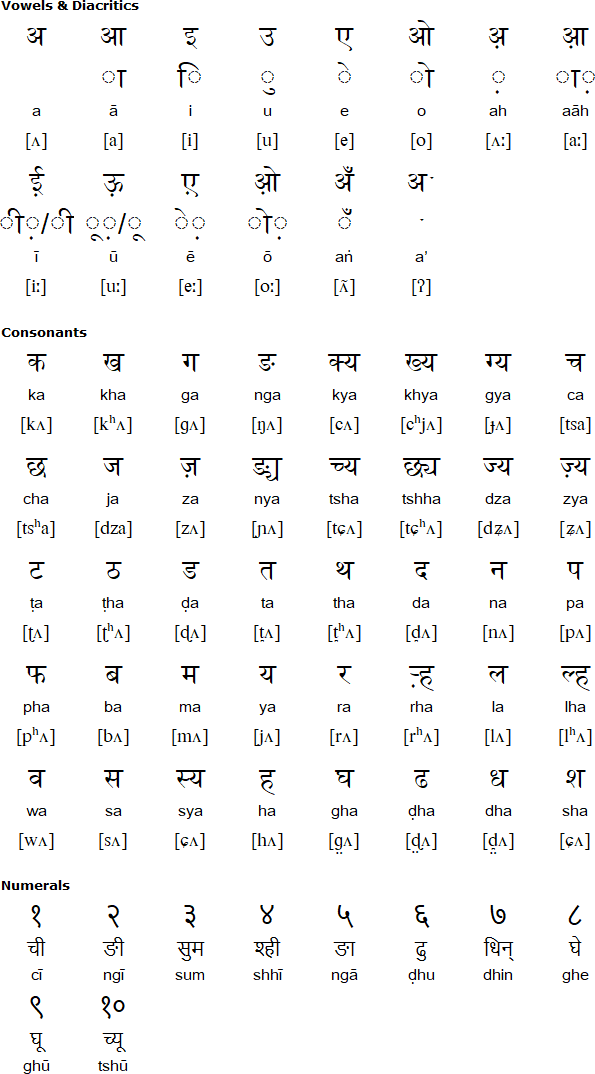 Latin alphabet for Yolmo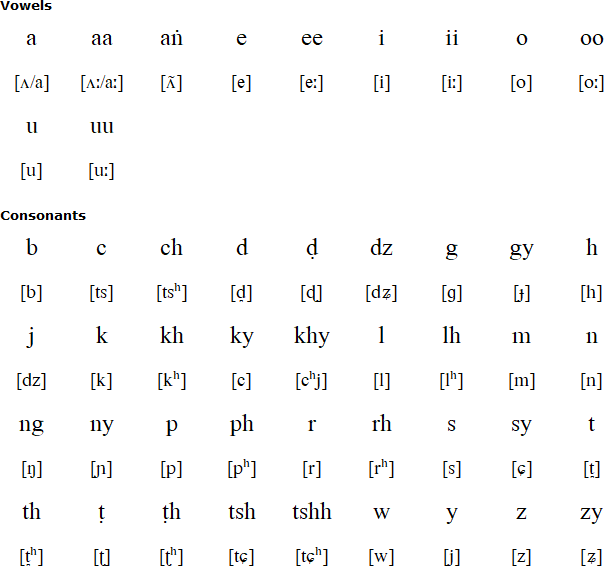 Notes
An acute accent (á) indicates a high tone, and a grave accent (à) indicates a low tone
Download an alphabet chart for Yolmo (Excel)
Sample text (Romans 16:3-5)
३ ङाह् ङ्याम्बु येशु ख्री़ष्टकी़ ल़ेहला स्याहप्तो स्युह्-रो़ह् पेहक्योगी़ प्रिस्का दाङ आकिलास जाब्राङ ङ्यी़ला ङाहगी़ ट़ीह्उ दु म़ेदी़ सुङ नाङदोङ ।
४ ङाहला थारच्यूज्येला खुङ ङ्यी़ स्यि कोह्ॱनाङ स्यिज्ये ठाबे का हल्दी़ येहकें । ओहले ङाह् च्यी़गी़राङ मिहम्बा, लेहमेन क्यिहपागी़ छ़ोबाया़गी़ॱआङ खुङ ङ्यी़ला गिन ज़्या़दी़ येहबा ।
५ ओहले खुङ ङ्यी़गी़ खाङबाला जोम्गेन्गी़ छ़ोबाया़लाॱलाङ टी़ह्उ दु म़ेदी़ सुङ नाङदोङ ।
IPA Translation
ŋʌːh ɲʌːmbu jeɕu kʰriːɕʈkoː leːhʌlʌː ɕʌːhʌpt̪o ɕuh-roːh pehcoɡiː priskʌː d̪ʌːŋʌ ʌkilʌːsʌ dzʌːbrʌːŋʌ ɲiːlʌː ŋʌːhʌɡiː ʈiː̤u d̪u meːd̪iː suŋ nʌːŋʌd̪oŋʌ
ŋʌːhʌlʌː t̪ʰʌːrʌtɕudʑelʌː kʰuŋʌ ɲiː ɕi ko̤-nʌːŋʌ ɕidʑe ʈʰʌːbe kʌːhʌld̪iː jehʌkẽ. ohʌle ŋʌː̤ tɕiːɡiːrʌːŋʌ mihʌmbʌː, lehʌmenʌ cihʌpʌːɡiː tsʰoːbʌːjaːɡiː-ʌŋʌ kʰuŋʌ ɲiːlʌː ɡinʌ ʑaːd̪iː jehʌbaː
ohʌle kʰuŋʌ ɲiːɡiː kʰʌːɲʌbʌːlʌː dzomɡenɡiː tsʰoːbʌːjaːlʌː-lʌːŋʌ ʈiː̤u d̪u meːd̪iː suŋʌ nʌːŋʌd̪oŋʌ
Translation
Greet Priscilla and Aquila my helpers in Christ Jesus:
Who have for my life laid down their own necks: unto whom not only I give thanks, but also all the churches of the Gentiles.
Likewise greet the church that is in their house. Salute my well- beloved Epænetus, who is the first-fruits of Achaia unto Christ.
Source: https://www.kingjamesbibleonline.org/Romans-Chapter-16/#3
Details provided by Biswajit Mandal (biswajitmandal[dot]bm90[at]gmail[dot]com)
Sample videos in Yolmo
Links
Information about Yolmo
https://en.wikipedia.org/wiki/Yolmo_language
https://www.ethnologue.com/language/scp
https://openresearch-repository.anu.edu.au/bitstream/1885/110258/3/Gawne2016-YolmoGrammar.pdf
https://www.indigenousvoice.com/indigenous-peoples/5/hyolmo.html
Lamjung Yolmo - Nepali - English dictionary
https://www.repository.cam.ac.uk/handle/1810/240606
Tibeto-Burman languages
Achang, Arakanese, Balti, Bisu, Drung, Hajong, Hani, Hmar, Jingpho, Lashi, Lepcha, Lhao Vo, Lhomi, Lisu, Magar, Manipuri, Mro, Naxi, Newar, Nusu, Pahari, Tangkhul Naga, Tujia, Yolmo, Zaiwa
Languages written with the Devanāgarī alphabet
Aka-Jeru, Angika, Athpare, Avestan, Awadhi, Balti, Bantawa, Belhare, Bhili, Bhumij, Bilaspuri, Bodo, Bhojpuri, Braj, Car, Chamling, Chhantyal, Chhattisgarhi, Chambeali, Danwar, Dhatki, Dhimal, Dhundari, Digaro Mishmi, Dogri, Doteli, Gaddi, Garhwali, Gondi, Gurung, Halbi, Haryanvi, Hindi, Ho, Jarawa, Jaunsari, Kannauji, Kham, Kangri, Kashmiri, Khaling, Khandeshi, Kharia, Khortha, Korku, Konkani, Kullui, Kumaoni, Kurmali, Kurukh, Kusunda, Lambadi, Limbu, Lhomi, Lhowa, Magahi, Magar, Mahasu Pahari, Maithili, Maldivian, Malto, Mandeali, Marathi, Marwari, Mewari, Mundari, Nancowry. Newar, Nepali, Nimadi, Onge, Pahari, Pali, Pangwali, Rajasthani, Rajbanshi, Rangpuri, Sadri, Sanskrit, Santali, Saraiki, Sirmauri, Sherpa, Shina, Sindhi, Sunwar, Sylheti, Tamang, Thakali, Thangmi, Wambule, Wancho, Yakkha, Yolmo
Languages written with the Latin alphabet
Page last modified: 23.04.21
[top]
---

Why not share this page:

If you like this site and find it useful, you can support it by making a donation via PayPal or Patreon, or by contributing in other ways. Omniglot is how I make my living.
Note: all links on this site to Amazon.com
, Amazon.co.uk
and Amazon.fr
are affiliate links. This means I earn a commission if you click on any of them and buy something. So by clicking on these links you can help to support this site.
Get a 30-day Free Trial of Amazon Prime (UK)
If you're looking for home or car insurance in the UK, why not try Policy Expert?
[top]