Angika (अंगिका)
Angika is an Eastern Bihari language spoken mainly in the Anga region in northern India, particuarly in the Munger, Bhagalpur and Banka districts of Bihar state, and in the Santhal Pargana division of Jharkhand state. It is also in the Morang and Sunsari districts of Province No. 1 in eastern Nepal. In 1997 there were about 725,000 speakers of Angika in India, and there were 20,330 in Nepal in 2011.
Angika is closely related to Maithili, and was classified as a dialect of Maithili in George A. Grierson's 1903 Linguistic Survey of India. Angika speakers assert that it is a separate langauge, and it is now officially recognised as a second state language in the state of Jharkhand. Angika is written with the Devanagari script. In the past it was written with the Kaithi and Anga alphabets.
Devanagari script for Angika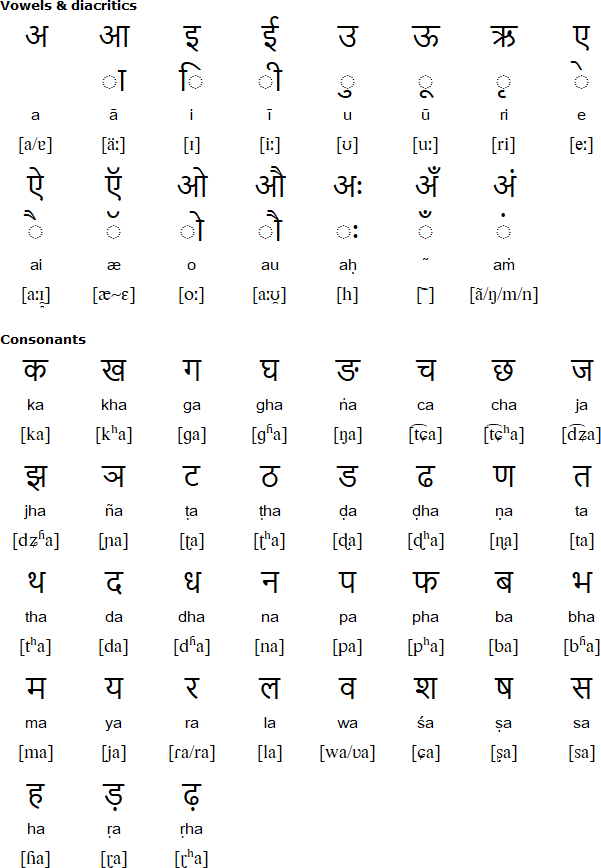 Download an alphabet chart of Angika (Excel)
Sample text (Matthew 1:1-3)
यीशु मसीह के वंशावली ई तरह सॅ छै। हुनी राजा दाऊद के वंश के छेलै, आरु दाऊद अब्राहम के वंश के छेलै।
अब्राहम इसहाक के पिता छेलै। इसहाक सॅ याकूब के, आरु याकूब सॅ यहूदा आरु ओकरो भाय सिनी के जनम होलै।
यहूदा सॅ पेरस आरु जेरह के जनम होलै, जेकरा सिनी के माय के नाम तामार छेलै। पेरस सॅ हेस्रोन के आरु हेस्रोन सॅ अराम के जनम होलै।
Transliteration
Yīśu Masīha ke waṁśāvalī ī tarah sæ chai. hunī rājā Dāūd ke vaṁś ke chelai, āru Dāūd Abrāham ke waṁś ke chelai.
Abrāham Ishāk ke pitā chelai. Ishāk sæ Yākūb ke, āru Yākūb sæ Yahūdā āru okro bhāy sinī ke janam holai.
Yahūdā sæ Peras āru jerah ke janam helai, jekrā sinī ke māy ke nām Tāmār chelai. Peras sæ Hesron ke āru Hesron sæ Arām janam holai.
Translation
The book of the generation of Jesus Christ, the son of David, the son of Abraham.
Abraham begat Isaac; and Isaac begat Jacob; and Jacob begat Judas and his brethren;
And Judas begat Phares and Zara of Thamar; and Phares begat Esrom; and Esrom begat Aram;
Source: https://play.google.com/store/apps/details?id=org.lciindia.sab.anp.bible
Details provided by Biswajit Mandal (biswajitmandal[dot]bm90[at]gmail[dot]com) and Michael Peter Füstumum
Sample videos in and about Angika
Links
Information about Angika
https://en.wikipedia.org/wiki/Angika
https://www.ethnologue.com/language/anp
https://www.indianetzone.com/56/angika_language.htm
https://glottolog.org/resource/languoid/id/angi1238
Indo-Aryan languages
Angika, Awadhi, Assamese, Bengali, Bhili, Bhojpuri, Bishnupriya Manipuri, Braj, Chakma, Chhattisgarhi, Dhivehi, Dhundari, Domari, Erromintxela, Fiji Hindi, Garhwali, Gujarati, Hajong, Halbi, Haryanvi, Hindi, Indus Kohistani, Jaunsari, Kalderash Romani, Kangri, Kannauji, Kashmiri, Khandeshi, Konkani, Kotia, Kullui, Kumaoni, Kutchi, Lambadi, Lovari Romani, Magahi, Mahasu Pahari, Maithili, Marathi, Marwari, Modi, Nepali, Odia, Palula, Parkari Koli, Punjabi, Rajasthani, Rangpuri, Rohingya, Romani, Sadri, Saraiki, Sarnámi Hindustani, Sindhi, Sinhala, Shina, Sirmauri, Sourashtra, Sugali, Sylheti, Tanchangya, Torwali, Urdu
Languages written with the Devanāgarī alphabet
Aka-Jeru, Angika, Avestan, Awadhi, Balti, Bantawa, Bhili, Bhumij, Bodo, Bhojpuri, Braj, Car, Chamling, Chhattisgarhi, Dhimal, Dhundari, Dogri, Garhwali, Gondi, Gurung, Halbi, Haryanvi, Hindi, Ho, Jarawa, Jaunsari, Kannauji, Kham, Kangri, Kashmiri, Khaling, Khandeshi, Kharia, Korku, Konkani, Kullui, Kumaoni, Kurukh, Lambadi, Limbu, Lhomi, Magahi, Magar, Mahasu Pahari, Maithili, Maldivian, Malto, Marathi, Marwari, Mundari, Newar, Nepali, Onge, Pali, Rajasthani, Rangpuri, Sadri, Sanskrit, Santali, Saraiki, Sirmauri, Sherpa, Shina, Sindhi, Sunwar, Sylheti, Tamang, Thangmi, Wancho, Yakkha, Yolmo
---

Why not share this page:
If you need to type in many different languages, the Q International Keyboard can help. It enables you to type almost any language that uses the Latin, Cyrillic or Greek alphabets, and is free.
If you like this site and find it useful, you can support it by making a donation via PayPal or Patreon, or by contributing in other ways. Omniglot is how I make my living.
Note: all links on this site to Amazon.com
, Amazon.co.uk
and Amazon.fr
are affiliate links. This means I earn a commission if you click on any of them and buy something. So by clicking on these links you can help to support this site.