Dhimal (धिमाल)
Dhimal is a member of the Kiranti branch of the Sino-Tibetan language family. It is spoken in eastern Nepal, particularly in the Jhapa District of the Mechi Zone, and in the Morang and Sundari districts of the Koshi Zone. In 2011 there were about 20,430 speakers of Dhimal in Nepal. There are also about 450 Dhimal speakers in northern India, mainly in the Bokaro district of Jharkhand state and in the Puruliya district of West Bengal state.
Dhimal is spoken mainly by adults. Some parents pass Dhimal on to their children, while others speak to them only Nepali.
The Dhimal People's Development Centre was set up in 1993 in Damak in Jhapa district to promote the Dhimal language and culture. The Dhimal Literature Service Publishing, based in Duhubi in Sunsari district, publishes poetry, short stories and other works in Dhimal. The language can also be heard on the radio and appears in newspapers.
There are two dialects of Dhimal: the eastern dialect and the western dialect, which are spoken on either side of the Kankai River. It is thought that Dhimal belongs either to the Brahmaputran or Kiranti branch of the Sino-Tibetan language family.
In Nepal Dhimal is usually written with the Devanagari alphabet, and there is no standard orthograhy. In India it is written with the Bengali alphabet. Another alphabet, known as Dham Lipi or the Dhimal Script, was invented recently.
Devanagari alphabet for Dhimal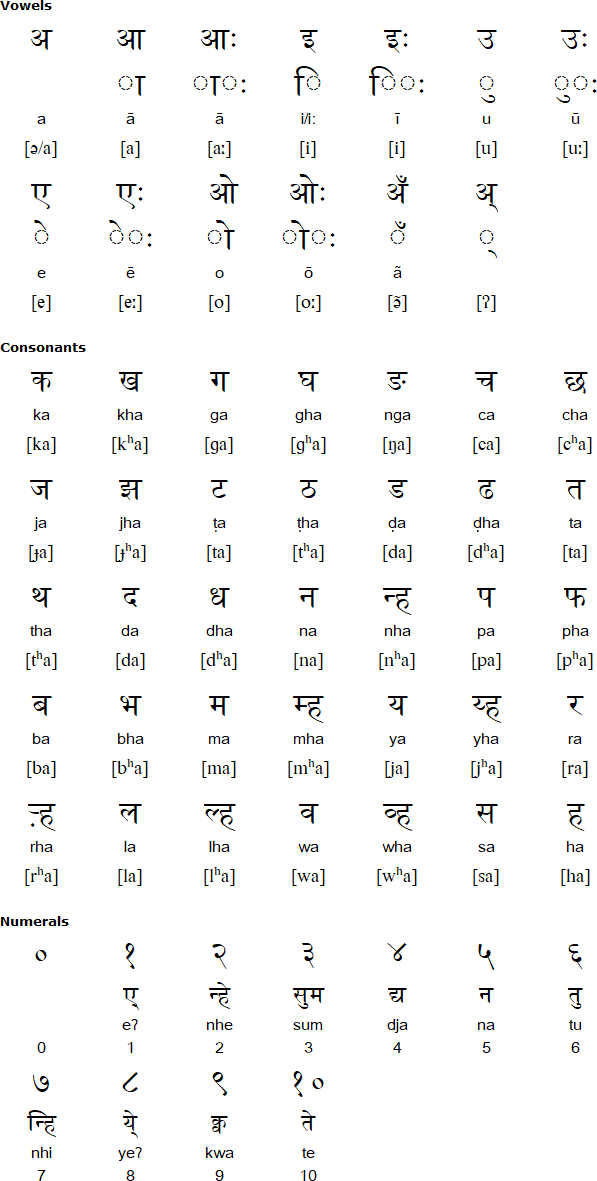 Notes
Between vowels and before front vowels ख (kha) is pronounced [xa]
Between vowels ङ (nga) is pronounced [na]
Between vowels फ (pha) is pronounced [ɸa] or [ɦa]
Between vowels ब (ba) and भ (bha) are pronounced [βa]
Before front vowels स (sa) is pronounced [ɕa] or [ɦa]
Classifiers are used when counting in Dhimal. These vary depending on what you are counting. The generic classifier is ळोङ (loŋ). This system is used mainly by the older generation.
Download a alphabet chart for Dhimal (Excel)
Sample text
हिदिबुङ खामालाइ प्रतिस्ठा आरो आधिकारको आधारता जोलोमसोङ स्वतन्त्र र बराबर हिखे। ओबालाइ बुद्धि बिबेक चुम्तेङ लोका हिखे र ताइताइमिता दाइओन ताइ खामालको बेभार पालि गोइखे।
IPA transcription
hidibuŋ kʰaːmaːlaːi pɾatistʰaː aːɾo aːdʰikaːɾko aːdʰaːɾtaː dʑolomsoŋ swətantɾa ɾə baɾaːβaɾ hixe. oːbaːlaːi buddʰi biβek tɕumteŋ lokaː hixe ɾə taːitaːimitaː daːuonə taːi kʰaːmaːlko beβaːɾə paːli ɡoixe.
Transliteration
Hidibung khāmālāi pratisthā āro ādhikārko ādhārtā jolomsong swatantra ra barābar hikhe. Obālāi buddhi bibek cumteng lokā hikhe ra tāitāimitā dāuona tāi khāmālko bebhāra pāli ɡoikhe.
Translation
All human beings are born free and equal in dignity and rights. They are endowed with reason and conscience and should act towards one another in a spirit of brotherhood.
(Article 1 of the Universal Declaration of Human Rights)
Details provided by Biswajit Mandal (biswajitmandal[dot]bm90[at]gmail[dot]com)
Sample videos in Dhimal
Links
Information about Dhimal
https://en.wikipedia.org/wiki/Dhimal_language
https://www.ethnologue.com/language/dhi
http://www.endangeredlanguages.com/lang/4076
https://www.researchgate.net/publication/297389585_Brief_Introduction_of_the_Dhimal
https://glottolog.org/resource/languoid/id/dhim1246
https://openaccess.leidenuniv.nl/handle/1887/13072
http://www.unicode.org/L2/L2011/11348-dhimal.pdf
Kiranti languages
Athpare, Bantawa, Belhare, Chamling, Dhimal, Dumi, Khaling, Limbu, Sunwar, Toto, Wambule, Yakkha
Languages written with the Devanāgarī alphabet
Aka-Jeru, Angika, Athpare, Avestan, Awadhi, Balti, Bantawa, Belhare, Bhili, Bhumij, Bilaspuri, Bodo, Bhojpuri, Braj, Car, Chamling, Chhantyal, Chhattisgarhi, Chambeali, Danwar, Dhatki, Dhimal, Dhundari, Digaro Mishmi, Dogri, Doteli, Gaddi, Garhwali, Gondi, Gurung, Halbi, Haryanvi, Hindi, Ho, Jarawa, Jaunsari, Kannauji, Kham, Kangri, Kashmiri, Khaling, Khandeshi, Kharia, Khortha, Korku, Konkani, Kullui, Kumaoni, Kurmali, Kurukh, Kusunda, Lambadi, Limbu, Lhomi, Lhowa, Magahi, Magar, Mahasu Pahari, Maithili, Maldivian, Malto, Mandeali, Marathi, Marwari, Mewari, Mundari, Nancowry. Newar, Nepali, Nimadi, Onge, Pahari, Pali, Pangwali, Rajasthani, Rajbanshi, Rangpuri, Sadri, Sanskrit, Santali, Saraiki, Sirmauri, Sherpa, Shina, Sindhi, Sunwar, Sylheti, Tamang, Thakali, Thangmi, Wambule, Wancho, Yakkha, Yolmo
Page last modified: 16.10.21
[top]
---

Why not share this page:

If you like this site and find it useful, you can support it by making a donation via PayPal or Patreon, or by contributing in other ways. Omniglot is how I make my living.
Note: all links on this site to Amazon.com
, Amazon.co.uk
and Amazon.fr
are affiliate links. This means I earn a commission if you click on any of them and buy something. So by clicking on these links you can help to support this site.
Get a 30-day Free Trial of Amazon Prime (UK)
If you're looking for home or car insurance in the UK, why not try Policy Expert?
[top]