Garhwali (गढ़वळि)
Garhwali is a member of the Central Pahari branch of the Indo-Aryan language family. It is spoken mainly in the Garhwal Division of Uttarakhand State in the north of India. In the year 2000 there were about 2.92 million speakers of Garhwali, which is also known as Gadhavali, Gadhawala, Gadwahi, Gashwali, Girwali, Godauli, Gorwali, Gurvali or Pahari Garhwali.
An old form of Garhwali was used in inscriptions dating back to the 10th century AD on coins, royal seals, temple stones and so on. However, until the 18th century, Garhwali was mainly an oral language. After that, written literature in Garhwali started to be produced.
Garhwali is used as an everyday language by Garhwali people in Uttarakhand, and as a second language by Gujari, Jad and Rongpo people. It is also used on the radio, and in songs, poetry, novels, short stories and plays.
Garhwali is also spoken in other parts of India, especially in Dehli, and also in Himachal Pradesh, Haryana, Punjab, Uttar Pradesh and Bihar.
Garhwali alphabet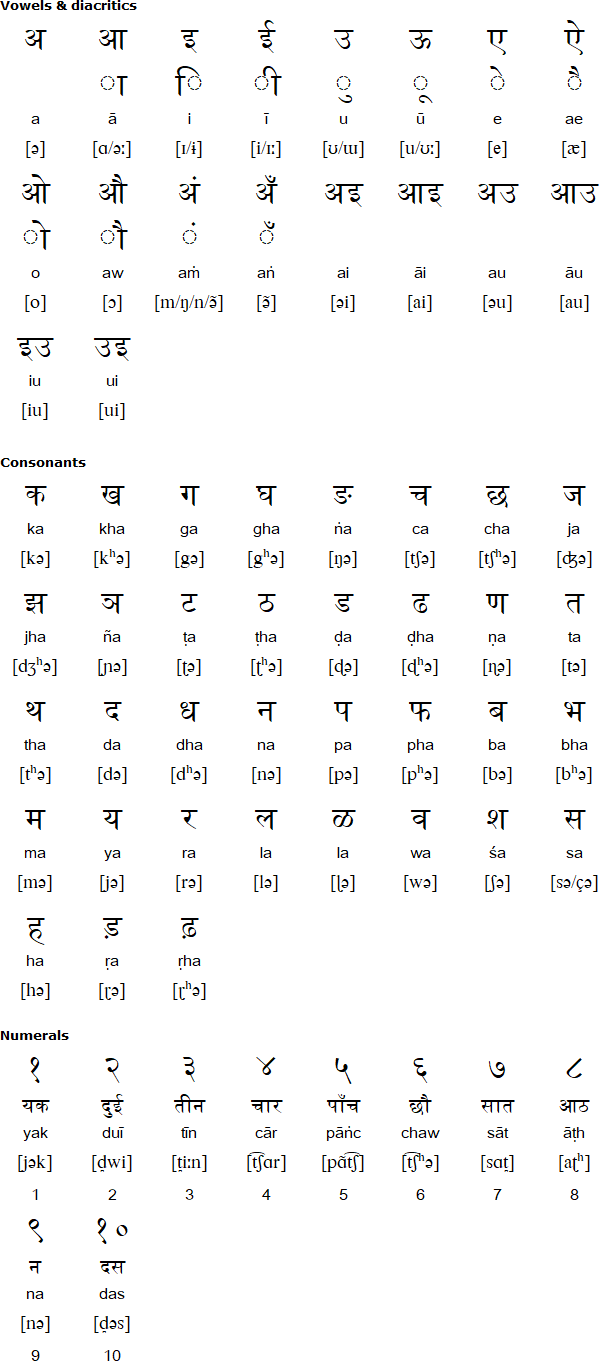 Download an alphabet chart for Garhwali (Excel)
Sample text
तिसरा दिन गलीला का काना नौं नगर माँ कै को ब्यों थयो, आर यीशू की बोई, याने माँ, भी वाख थयी।
आर यीशू आर वै का चेला भी वै व्यो मा न्यूत्या गया थया।
जाब दाखरस घटी गाय ताव यीशू की बोई, याने माता न (वैसे) यानें यीशू से ब्वाल कि ऊँकी पास दाखरस नी रयो।
यीशू न तैं से ब्वाल हे नारी,(या) बैरबान, तेरो मैं से क्या काम, अमी म्यारो बगत नीं आयो।
IPA transcription
tɪsrɑ dɪn ɡəlilɑ kɑ kɑnɑ nɔ̃ nəɡər mɑ̃ kæ ko bjõ tʰəjo, ɑr jiʃu ki boi, jɑne mɑ̃, bʰi wɑkʰ tʰəji.
ɑr jiʃu ɑr wæ kɑ tʃelɑ bʰi wæ bjo mɑ njutjɑ ɡəjɑ tʰəjɑ.
dʒɑb dɑkʰrəs ɡʰəʈi ɡɑj jiʃu ki boi, jɑne mɑtɑ nə (wæse) jɑnẽ jiʃu se bwɑl kɪ ũki pɑs dɑkʰrəs ni rəjo.
jiʃu nə tæ̃ se bwɑl he nɑri, (jɑ) bɛrbɑn, tero mæ̃ se kjɑ kɑm, əmi mjɑro bəɡət ni ɑjo.
Translation
And the third day there was a marriage in Cana of Galilee; and the mother of Jesus was there:
And both Jesus was called, and
his disciples, to the marriage.
And when they wanted wine, the mother of Jesus saith unto him, They have no wine.
Jesus saith unto her, Woman, what have I to do with thee? mine hour is not yet come.
Corrections and sample text by Michael Peter Füstumum abnd Biswajit Mandal
Source: http://gospelgo.com/bibles.htm
Sample videos in Garhwali
Information about Garhwali | Phrases | Numbers
Links
Information about the Garhwali language
https://en.wikipedia.org/wiki/Garhwali_language
https://www.ethnologue.com/language/gbm
http://speedydeletion.wikia.com/wiki/Garhwali_language
Garhwali phrases and lessons
https://www.euttaranchal.com/culture/learn-garhwali
https://www.euttaranchal.com/culture/learn-garhwali-lesson-3
https://www.languageshome.com/English-Garhwali.htm
https://en.wikipedia.org/wiki/Garhwali_language
https://groups.google.com/forum/#!forum/uttranchalkalasangam
Pahari languages
Bilaspuri, Chambeali, Dogri, Doteli, Gaddi, Garhwali, Jaunsari, Kangri, Kumaoni, Kullui, Mahasu Pahari, Mandeali, Nepali, Pangwali, Sirmauri
Languages written with the Devanāgarī alphabet
Aka-Jeru, Angika, Athpare, Avestan, Awadhi, Balti, Bantawa, Belhare, Bhili, Bhumij, Bilaspuri, Bodo, Bhojpuri, Braj, Car, Chamling, Chhantyal, Chhattisgarhi, Chambeali, Danwar, Dhatki, Dhimal, Dhundari, Digaro Mishmi, Dogri, Doteli, Gaddi, Garhwali, Gondi, Gurung, Halbi, Haryanvi, Hindi, Ho, Jarawa, Jaunsari, Kannauji, Kham, Kangri, Kashmiri, Khaling, Khandeshi, Kharia, Khortha, Korku, Konkani, Kullui, Kumaoni, Kurmali, Kurukh, Kusunda, Lambadi, Limbu, Lhomi, Lhowa, Magahi, Magar, Mahasu Pahari, Maithili, Maldivian, Malto, Mandeali, Marathi, Marwari, Mewari, Mundari, Nancowry. Newar, Nepali, Nimadi, Onge, Pahari, Pali, Pangwali, Rajasthani, Rajbanshi, Rangpuri, Sadri, Sanskrit, Santali, Saraiki, Sirmauri, Sherpa, Shina, Sindhi, Sunwar, Sylheti, Tamang, Thakali, Thangmi, Wambule, Wancho, Yakkha, Yolmo
Page last modified: 28.06.21
[top]
---

Why not share this page:
If you like this site and find it useful, you can support it by making a donation via PayPal or Patreon, or by contributing in other ways. Omniglot is how I make my living.
Note: all links on this site to Amazon.com
, Amazon.co.uk
and Amazon.fr
are affiliate links. This means I earn a commission if you click on any of them and buy something. So by clicking on these links you can help to support this site.
Get a 30-day Free Trial of Amazon Prime (UK)
If you're looking for home or car insurance in the UK, why not try Policy Expert?
[top]