Khaling (खालिङ / ख्या:ल् ब्रा:)
Khaling is a member of the Kiranti branch of the Sino-Tibetan language family. It is spoken mainly in eastern Nepal, and also in northeastern India, by about 15,000 people. In Nepal is is spoken in the Solukhumbu, Khotang, Udayapur, Sankhuwasabha, Sunsari and Ilam districts of Province No. 1.
Khaling is also known as Rai, Khalinge Rai, Khael Bra or Khael Baat. It is written with the Devanagari alphabet.
Devanagari alphabet for Khaling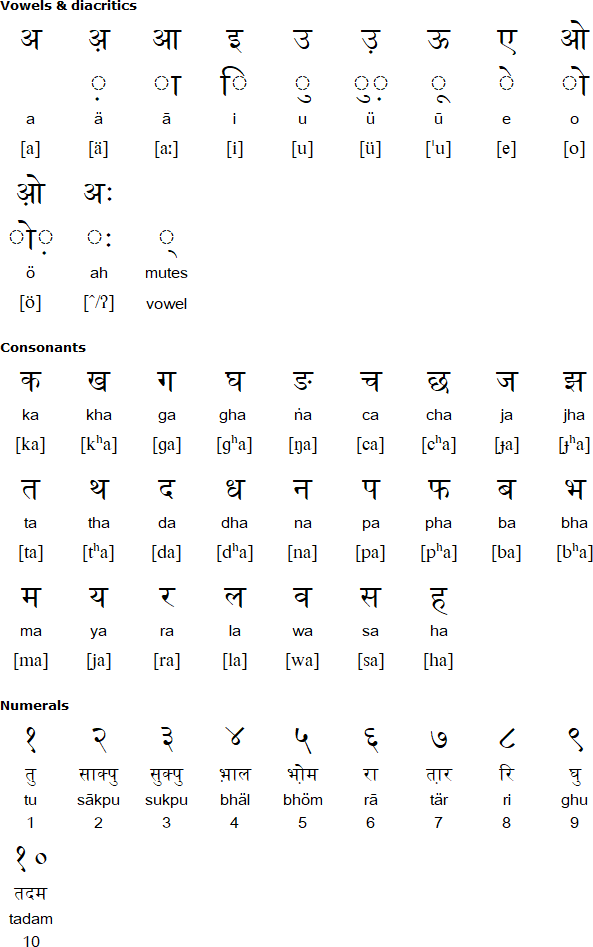 Download an alphabet chart for Khaling (Excel format)
Sample text (Matthew 1:1-4)
अब्राहामपो उमुःना़कोलो दाऊद रा़सपो उमुःना़ येशु ख्रीष्टपो उचु प़ापह़ामपो उन नङ थेसा रेन्प़ा गो़नु,
अब्राहामपो उच़ो इसहाक, इसहाकपो उच़ो याकूब, मना याकूबपो उच़ोह़ाम यहूदाकोलो वोङाम उछ़ारीह़ाम मोत्नु।
यहूदापो उमेइ तामारलका बुक्पा फारेसकोलो जाहेर, मना फारेसपो उच़ो हिस्रोन, हिस्रोनपो उच़ो आराम,
आरामपो उच़ो अम्मीनादाब, अम्मीनादाबपो उच़ो नहशोन, नहशोनपो उच़ो सल्मोन।
IPA transcription
abraːhaːmpo umûnäkolo daː'ud räspo umûnä jesu kʰistpo ucu päphämpo in na tʰesaː renpä gönu,
abraːhaːmpo ucö ishaːk, ishaːkpo ucö jaːk'ub, manaː jaːk'ubpo ucöhäm jahu'daːkolo woŋaːm ucʰärihäm motnu.
jahˈudaːpo udei taːmaːrlakaː bukpä pʰaːreskolo ɟaːher, manaː pʰaːrespo ucö hisron, hisronpo ucö aːraːm,
aːraːmpo ucö amminaːdaːb, amminaːdaːbpo ucö nahason, nahasonpo ucö salmon.
Translation
The book of the generation of Jesus Christ, the son of David, the son of Abraham.
Abraham begat Isaac; and Isaac begat Jacob; and Jacob begat Judas and his brethren;
And Judas begat Phares and Zara of Thamar; and Phares begat Esrom; and Esrom begat Aram;
And Aram begat Aminadab; and Aminadab begat Naasson; and Naasson begat Salmon.
Details supplied by Biswajit Mandal (biswajitmandal[dot]bm90[at]gmail[dot]com)
Sample videos in Khaling
Links
Information about Khaling
https://en.wikipedia.org/wiki/Khaling_language
https://www.ethnologue.com/18/language/klr/
http://www.ling.sinica.edu.tw/files/publication/j2012_6_03_7314.pdf
https://www.webonary.org/khaling/
Languages written with the Devanāgarī alphabet
Aka-Jeru, Angika, Athpare, Avestan, Awadhi, Balti, Bantawa, Belhare, Bhili, Bhumij, Bilaspuri, Bodo, Bhojpuri, Braj, Car, Chamling, Chhantyal, Chhattisgarhi, Chambeali, Danwar, Dhatki, Dhimal, Dhundari, Digaro Mishmi, Dogri, Doteli, Gaddi, Garhwali, Gondi, Gurung, Halbi, Haryanvi, Hindi, Ho, Jarawa, Jaunsari, Kannauji, Kham, Kangri, Kashmiri, Khaling, Khandeshi, Kharia, Khortha, Korku, Konkani, Kullui, Kumaoni, Kurmali, Kurukh, Kusunda, Lambadi, Limbu, Lhomi, Lhowa, Magahi, Magar, Mahasu Pahari, Maithili, Maldivian, Malto, Mandeali, Marathi, Marwari, Mewari, Mundari, Nancowry. Newar, Nepali, Nimadi, Onge, Pahari, Pali, Pangwali, Rajasthani, Rajbanshi, Rangpuri, Sadri, Sanskrit, Santali, Saraiki, Sirmauri, Sherpa, Shina, Sindhi, Sunwar, Sylheti, Tamang, Thakali, Thangmi, Wambule, Wancho, Yakkha, Yolmo
Kiranti languages
Athpare, Bantawa, Belhare, Chamling, Dhimal, Dumi, Khaling, Limbu, Sunwar, Toto, Wambule, Yakkha
Page last modified: 23.04.21
[top]
---

Why not share this page:
If you like this site and find it useful, you can support it by making a donation via PayPal or Patreon, or by contributing in other ways. Omniglot is how I make my living.
Note: all links on this site to Amazon.com
, Amazon.co.uk
and Amazon.fr
are affiliate links. This means I earn a commission if you click on any of them and buy something. So by clicking on these links you can help to support this site.
Get a 30-day Free Trial of Amazon Prime (UK)
If you're looking for home or car insurance in the UK, why not try Policy Expert?
[top]