Mahasu Pahari (महासुई)
Mahasu Pahari is a Western Pahari language spoken in northern India, mainly in the Shimla and Solan districts of Himachal Pradesh, and also in the Uttarkashi district of Uttarakhand state. In 2002 there were about 1 milllion speakers of Mahasu Pahari, which is also known as Mahasui, Kiūnthali, Pahari or Himachali.
There are two main dialects of Mahasu Pahari: Lower Mahasu Pahari and Upper Mahasu Pahari. The language has no official status, is officially classified as a dialect of Hindi, and is considered definitely endangered by UNESCO. It is used to some extent in newspapers, and on the radio.
Mahasu Pahari used to be written mainly with a version of the Takri script known as Kōchi. It is now usually written with the Devanagari script.
Devanagari script for Mahasu Pahari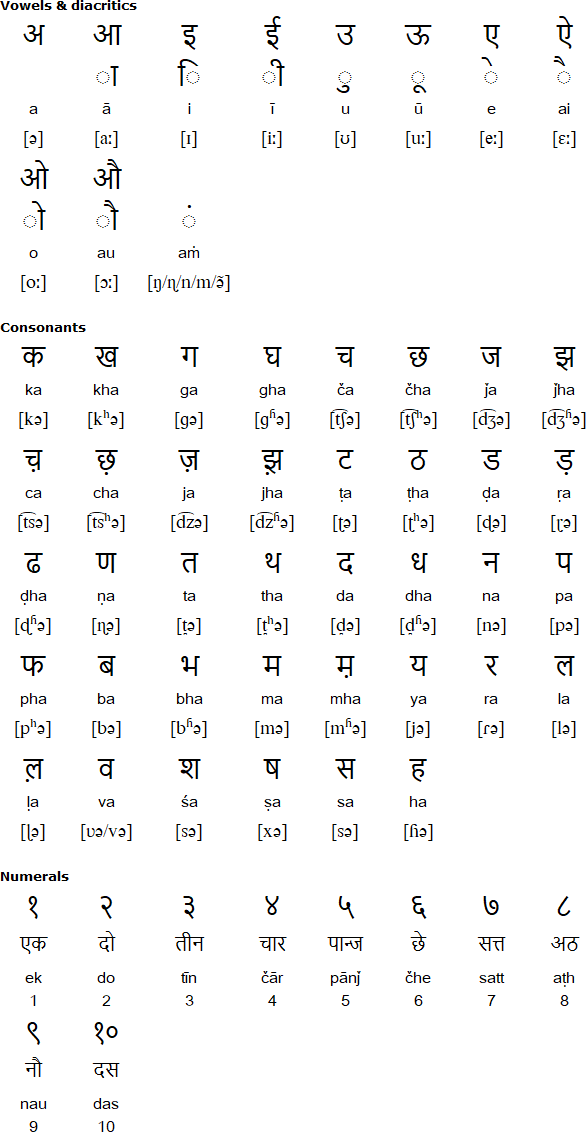 Download an alphabet chart of Mahasu Pahari (Excel)
Sample text (Matthew 1:1-4)
यीशु मसीह रै पोस्तै रै बारै दी, ज़ुण दाऊद राज़ै री खानदानी कु थौ राज़ौ दाऊद अब्राहमा री खानदानी कु थौ।
अब्राहमा रौ छ़ोहरु इसहाक, इसहाका रौ याकूब, याकुबा रै छ़ोहरु यहुदा और तेसरै भाई,
यहुदा और तामारा रै फिरिस और जोरह, फिरिसा रौ हिस्त्रोन, और हिस्त्रोना रौ एराम थौ।
एरामा रौ अम्मीनादाब, अम्मीनादाबा रौ नहशोन, और नहशोना रौ सुलेमान,
Transliteration
Yīśu Masīh rai postai rai bārai dī, juṇ Dāūd rāğai rī khāndānī ku thau rāğau Dāūd Abrāhamā rī khāndānī ku thau.
Abrāhamā rau cohru Isahāk, Isahākā rau Yākūb, Yākūbā rai cohru Yahudā aur tesrau bhāī,
Yahudā aur Tāmārā rai Phiris aur ǰorah, Phirisā rau Histron, aur Histronā rau Erām thau.
Erāmā rau Ammīnādāb, Ammīnādāb rau Nahśon, aur Nahśonā rau Sulemān,
Translation
The book of the generation of Jesus Christ, the son of David, the son of Abraham.
Abraham begat Isaac; and Isaac begat Jacob; and Jacob begat Judas and his brethren;
And Judas begat Phares and Zara of Thamar; and Phares begat Esrom; and Esrom begat Aram;
And Aram begat Aminadab; and Aminadab begat Naasson; and Naasson begat Salmon;
Source: https://play.google.com/store/apps/details?id=org.ips.bfzbible.paharimahasui
Details provided by Biswajit Mandal (biswajitmandal[dot]bm90[at]gmail[dot]com) and Michael Peter Füstumum
Sample videos in Mahasu Pahari
Links
Information about Mahasu Pahari
https://en.wikipedia.org/wiki/Mahasu_Pahari
https://www.ethnologue.com/language/bfz
http://www.endangeredlanguages.com/lang/5660
https://glottolog.org/resource/languoid/id/maha1287
Indo-Aryan languages
Angika, Awadhi, Assamese, Bengali, Bhili, Bhojpuri, Bishnupriya Manipuri, Braj, Chakma, Chhattisgarhi, Dhivehi, Dhundari, Domari, Erromintxela, Fiji Hindi, Garhwali, Gujarati, Hajong, Halbi, Haryanvi, Hindi, Indus Kohistani, Jaunsari, Kalderash Romani, Kangri, Kannauji, Kashmiri, Khandeshi, Konkani, Kotia, Kullui, Kumaoni, Kutchi, Lambadi, Lovari Romani, Magahi, Mahasu Pahari, Maithili, Marathi, Marwari, Modi, Nepali, Odia, Palula, Parkari Koli, Punjabi, Rajasthani, Rangpuri, Rohingya, Romani, Sadri, Saraiki, Sarnámi Hindustani, Sindhi, Sinhala, Shina, Sirmauri, Sourashtra, Sugali, Sylheti, Tanchangya, Torwali, Urdu
Languages written with the Devanāgarī alphabet
Aka-Jeru, Angika, Avestan, Awadhi, Balti, Bantawa, Bhili, Bhumij, Bodo, Bhojpuri, Braj, Car, Chamling, Chhattisgarhi, Dhimal, Dhundari, Dogri, Garhwali, Gondi, Gurung, Halbi, Haryanvi, Hindi, Ho, Jarawa, Jaunsari, Kannauji, Kham, Kangri, Kashmiri, Khaling, Khandeshi, Kharia, Korku, Konkani, Kullui, Kumaoni, Kurukh, Lambadi, Limbu, Lhomi, Magahi, Magar, Mahasu Pahari, Maithili, Maldivian, Malto, Marathi, Marwari, Mundari, Nancowry. Newar, Nepali, Onge, Pali, Rajasthani, Rangpuri, Sadri, Sanskrit, Santali, Saraiki, Sirmauri, Sherpa, Shina, Sindhi, Sunwar, Sylheti, Tamang, Thangmi, Wancho, Yakkha, Yolmo
---
Page last modified: 22.04.21

Why not share this page:
If you need to type in many different languages, the Q International Keyboard can help. It enables you to type almost any language that uses the Latin, Cyrillic or Greek alphabets, and is free.
If you like this site and find it useful, you can support it by making a donation via PayPal or Patreon, or by contributing in other ways. Omniglot is how I make my living.

Note: all links on this site to Amazon.com
, Amazon.co.uk
and Amazon.fr
are affiliate links. This means I earn a commission if you click on any of them and buy something. So by clicking on these links you can help to support this site.