Haryanvi (हरयाणवी)
Haryanvi is a member of the Western Hindi group of Indo-Aryan language family. It is spoken mainly in Haryana State in northern India, and also in Himachal Pradesh, Karnataka, Punjab, Rajasthan, Uttar Pradesh, Delhi and Kolkata. According to the 2011 census, about 9.8 million people speak Haryanvi. There are also some speakers of Haryanvi in Pakistan, particularly in the Pakpattan, Okara, and Bahawalnagar districts of Punjab.
Haryanvi is also known as Bangaru, Banger, Bangri, Bangru, Chamarwa, Desari, Hariani, Hariyani, Haryani or Jatu. In Pakistan it is known as Raangrri. Dialects include Bangaru Proper, Deswali and Khadar. Haryanvi is considered a Western Hindi dialect, however Hindi and Haryanvi are not mutually intelligible.
Haryanvi is written with the Devanagari alphabet, and is used in films, TV, music and education.
Devanagari alphabet for Haryanvi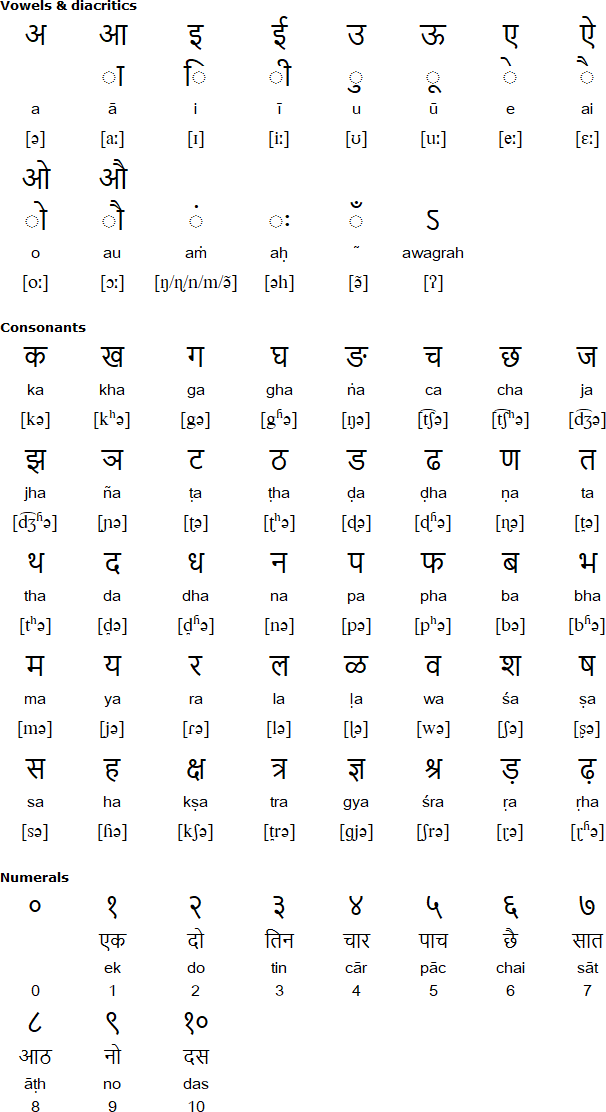 Download an alphabet chart for Haryanvi (Excel)
Sample text (Luke 1:1-2)
ज्यांतै के घणखरयां नै उन बात्त्तां का जो म्हारै बिच्चाळै घटी सैं, इतिहास लिखण म्ह मेहनत करी सै,
जिसा कै उन्नै जो पहल्याए तै इन बात्त्तां नै देखण आळे अर वचन के माणन आळे थे, ये सारी बात म्हारै ताहीं पूह्चायी |
Transliteration
Jyāṅtai ke ghaṇkharyāṅ tai un bāttāṅ kā jo mhārai biccāḷai ghaṭī saiṅ, itihās likhaṇ mha mehnat karī sai,
Jisā kai unnai jo pahlyāe tai in battāṅ nai dekhaṇ āḷe ar wacan ke māṇan āḷe the, ye sārī bāt mhārai tahīṅ pūhcāyī.
Translation
Forasmuch as many have taken in hand to set forth in order a declaration of those things which are most surely believed among us,
Even as they delivered them unto us, which from the beginning were eyewitnesses, and ministers of the word;
Details provided by Biswajit Mandal (biswajitmandal[dot]bm90[at]gmail[dot]com) and Michael Peter Füstumum
Sample videos in Haryanvi
Links
Information about Haryanvi
https://en.wikipedia.org/wiki/Haryanvi_language
http://www.ethnologue.com/show_language.asp?code=bgq
https://glottolog.org/resource/languoid/id/hary1238
https://www.scribd.com/document/374812111/haryanvi-dictionary-whatyouwant-in
http://gospelgo.com/x/Haryana.htm
Indo-Aryan languages
Angika, Awadhi, Assamese, Bengali, Bhili, Bhojpuri, Bishnupriya Manipuri, Braj, Chakma, Chhattisgarhi, Dhivehi, Dhundari, Domari, Erromintxela, Fiji Hindi, Garhwali, Gujarati, Hajong, Halbi, Haryanvi, Hindi, Indus Kohistani, Jaunsari, Kalderash Romani, Kangri, Kannauji, Kashmiri, Khandeshi, Konkani, Kotia, Kullui, Kumaoni, Kutchi, Lambadi, Lovari Romani, Magahi, Mahasu Pahari, Maithili, Marathi, Marwari, Modi, Nepali, Odia, Palula, Parkari Koli, Punjabi, Rajasthani, Rangpuri, Rohingya, Romani, Sadri, Saraiki, Sarnámi Hindustani, Sindhi, Sinhala, Shina, Sirmauri, Sourashtra, Sugali, Sylheti, Tanchangya, Torwali, Urdu
Languages written with the Devanāgarī alphabet
Aka-Jeru, Angika, Avestan, Awadhi, Balti, Bantawa, Bhili, Bhumij, Bodo, Bhojpuri, Braj, Car, Chamling, Chhattisgarhi, Dhimal, Dhundari, Dogri, Garhwali, Gondi, Gurung, Halbi, Haryanvi, Hindi, Ho, Jarawa, Jaunsari, Kannauji, Kham, Kangri, Kashmiri, Khaling, Khandeshi, Kharia, Korku, Konkani, Kullui, Kumaoni, Kurukh, Lambadi, Limbu, Lhomi, Magahi, Magar, Mahasu Pahari, Maithili, Maldivian, Malto, Marathi, Marwari, Mundari, Newar, Nepali, Onge, Pali, Rajasthani, Rangpuri, Sadri, Sanskrit, Santali, Saraiki, Sirmauri, Sherpa, Shina, Sindhi, Sunwar, Sylheti, Tamang, Thangmi, Wancho, Yakkha, Yolmo
---

Why not share this page:
If you need to type in many different languages, the Q International Keyboard can help. It enables you to type almost any language that uses the Latin, Cyrillic or Greek alphabets, and is free.
If you like this site and find it useful, you can support it by making a donation via PayPal or Patreon, or by contributing in other ways. Omniglot is how I make my living.

Note: all links on this site to Amazon.com
, Amazon.co.uk
and Amazon.fr
are affiliate links. This means I earn a commission if you click on any of them and buy something. So by clicking on these links you can help to support this site.