Kharia (खड़िया / ଖଡ଼ିଯା / খরিযা)
Kharia is a Munda language spoken mainly in the states of Jharkhand, Chhattisgarh and Odisha in eastern central India by about 298,000 people. It is spoken in the Simdega and Gumla districts of Jharkhand, in the Surguja and Raigarh districts of Chhattisgarh, and in the Sundargarh district of Odisha.
There are also about 256 speakers of Kharia in Mechi and Kosi zones of Nepal along the border with India.
Kharia is also known as Haria, Khadia, Khariya, Kharvi, Khatria or Kheria. Dialects are Dhelki Kharia, Dudh Kharia and Mirdha-Kharia.
Kharia is written with the Devanagari alphabet, and nearly half the Kharia speakers are literate in their language. It is used in literature and on the radio, and is an official language in Jharkhand. It is also written the the Odia and Bengali alphabets.
Devanagari alphabet for Kharia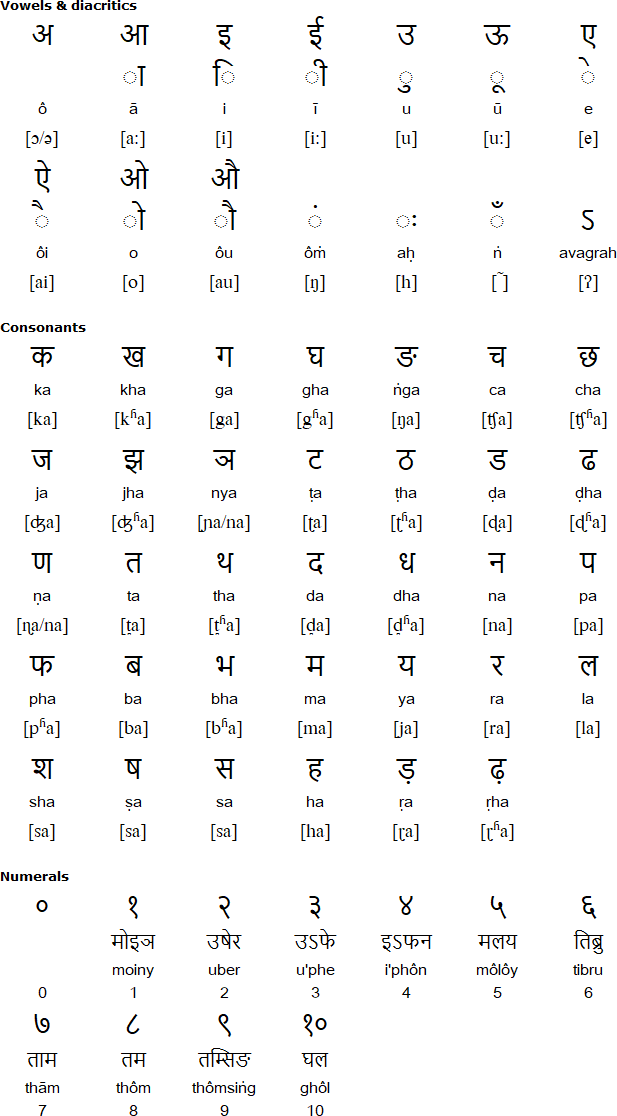 Odia alphabet for Kharia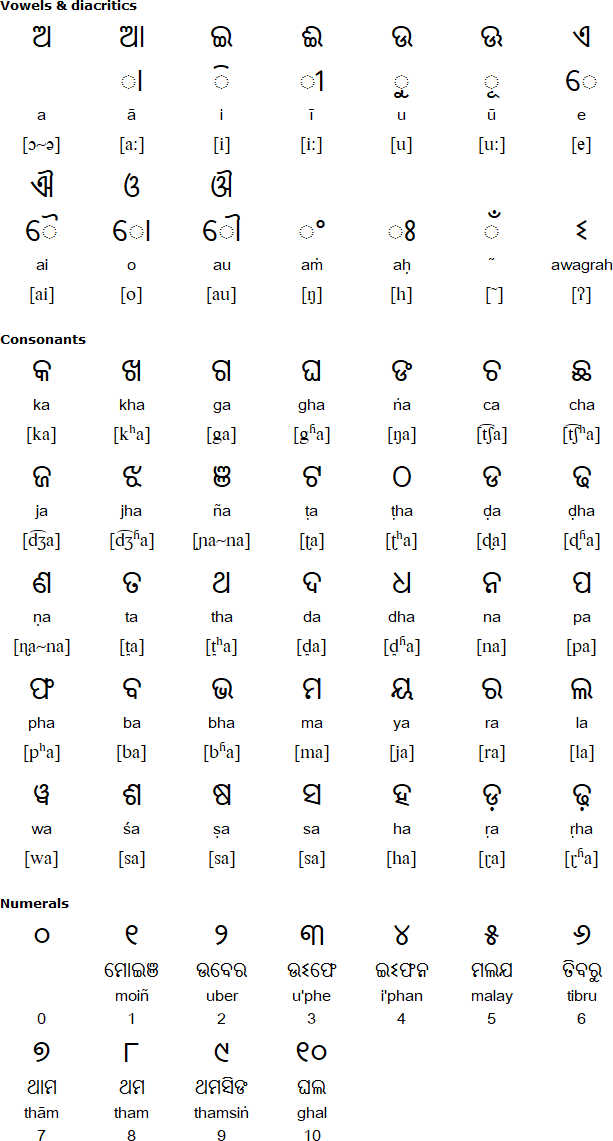 Bengali alphabet for Kharia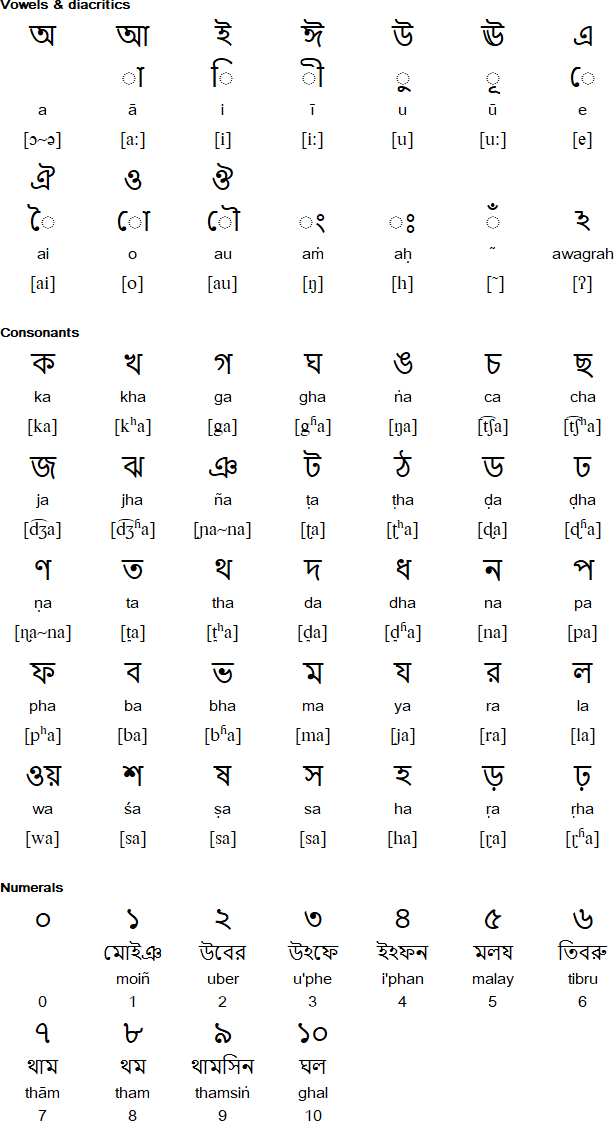 Download alphabet charts for Kharia (Excel)
Sample text (Devanagari alphabet)
सोउब्म लेबु कियाऽ गैरव ओडोऽ अधिकाराऽ मासन बुँग जोनोम-जात स्वतंत्रता ओडोऽ समानता कुई सिड होतोके लुर ओडोऽ जातोमाऽ तेर तेर कुई सिऽ ओडोऽ मुनुडू होकी ते भाई-भाई मुन व्यवहार करायना चाहि।
Sample text (Odia alphabet)
ସୋଉବ୍ମ ଲେବୁ କିୟାଽ ଗୈରୱ ଓଡୋଽ ଅଧିକାରାଽ ମାସନ ବୁଁଗ ଜୋନୋମ-ଜାତ ସ୍ୱତନ୍ତ୍ରତା ଓଡୋଽ ସମାନତା କୁଈ ସିଡ ହୋତୋକେ ଲୁର ଓଡୋଽ ଜାତୋମାଽ ତେର ତେର କୁଈ ସିଽ ଓଡୋଽ ମୁନୁଡୂ ହୋକୀ ତେ ଭାଈ-ଭାଈ ମୁନ ୱ୍ୟୱହାର କରାୟନା ଚାହି‍।
Sample text (Bengali alphabet)
সোউব্ম লেবু কিয়াঽ গৈরব ওডোঽ অধিকারাঽ মাসন বুঁগ জোনোম-জাত স্বতন্ত্রতা ওডোঽ সমানতা কুঈ সিড হোতোকে লুর ওডোঽ জাতোমাঽ তের তের কুঈ সিঽ ওডোঽ মুনুডূ হোকী তে ভাঈ-ভাঈ মুন ব্যবহার করায়না চাহি।
Transliteration
Soubma lebu kiyāʔ gairawa oḍoʔ adhikārāʔ māsana bũga jonoma-jāta swatantratā oḍoʔ samānatā kuī siḍa hotoke lura oḍoʔ jātomāʔ tera tera kuī siʔ oḍoʔ munuḍū hokī te bhāī-bhāī muna wyawahāra karāyanā cāhi.
Translation
All human beings are born free and equal in dignity and rights. They are endowed with reason and conscience and should act towards one another in a spirit of brotherhood.
(Article 1 of the Universal Declaration of Human Rights)
Details of provided by Biswajit Mandal (biswajitmandal[dot]bm90[at]gmail[dot]com)
Sample videos in and about Kharia
Link
Information about Kharia
https://en.wikipedia.org/wiki/Kharia_language
https://www.ethnologue.com/language/khr
http://www.endangeredlanguages.com/lang/5618
https://talkingdictionary.swarthmore.edu/kharia/
Munda languages
Bhumij, Gadaba, Ho, Juang, Kharia, Korku, Mundari, Santali, Sora
Languages written with the Devanāgarī alphabet
Aka-Jeru, Angika, Athpare, Avestan, Awadhi, Balti, Bantawa, Belhare, Bhili, Bhumij, Bilaspuri, Bodo, Bhojpuri, Braj, Car, Chamling, Chhantyal, Chhattisgarhi, Chambeali, Danwar, Dhatki, Dhimal, Dhundari, Digaro Mishmi, Dogri, Doteli, Gaddi, Garhwali, Gondi, Gurung, Halbi, Haryanvi, Hindi, Ho, Jarawa, Jaunsari, Kannauji, Kham, Kangri, Kashmiri, Khaling, Khandeshi, Kharia, Khortha, Korku, Konkani, Kullui, Kumaoni, Kurmali, Kurukh, Kusunda, Lambadi, Limbu, Lhomi, Lhowa, Magahi, Magar, Mahasu Pahari, Maithili, Maldivian, Malto, Mandeali, Marathi, Marwari, Mewari, Mundari, Nancowry. Newar, Nepali, Nimadi, Onge, Pahari, Pali, Pangwali, Rajasthani, Rajbanshi, Rangpuri, Sadri, Sanskrit, Santali, Saraiki, Sirmauri, Sherpa, Shina, Sindhi, Sunwar, Sylheti, Tamang, Thakali, Thangmi, Wambule, Wancho, Yakkha, Yolmo
Languages written with the Eastern Nagari (Bengali) alphabet
Atong, Bengali, Bishnupriya Manipuri, Bodo, Bhumij, Chittagonian, Garo, Hajong, Karbi, Kharia, Khasi, Koch, Kokborok, Kurmali, Malto, Manipuri, Mundari, Noakhailla, Rangpuri, Sadri, Santali, Sylheti, Toto, Tanchangya
Languages written with the Odia alphabet
Bhumij, Chhattisgarhi, Desiya, Halbi, Juang, Kharia, Kurmali, Mundari, Odia, Santali, Sora
[top]
---

Why not share this page:

If you like this site and find it useful, you can support it by making a donation via PayPal or Patreon, or by contributing in other ways. Omniglot is how I make my living.
Note: all links on this site to Amazon.com
, Amazon.co.uk
and Amazon.fr
are affiliate links. This means I earn a commission if you click on any of them and buy something. So by clicking on these links you can help to support this site.
Get a 30-day Free Trial of Amazon Prime (UK)
If you're looking for home or car insurance in the UK, why not try Policy Expert?
[top]