Kangri (कांगड़ी)
Kangri is a member of the Western Pahari branch of the Indo-Aryan language family. It is spoken in northern India, mainly in the Kangra, Hamirpur and Una districts of Himachal Pradesh, and in the Gurdaspur and Hoshiarpur districts of Punjab. In 2011 there were about 1.12 million speakers of Kangri, which is also known as Kangra-Dogri, Pahari, Himachali or Pahari Kangri.
Kangri is used in literature, on the radio and in education. It is written with the Devanagari script, and used to be written with Takri script. It has no official status, and some people consider it a dialect of Dogri, Hindi or Punjabi.
Devanagari alphabet for Kangri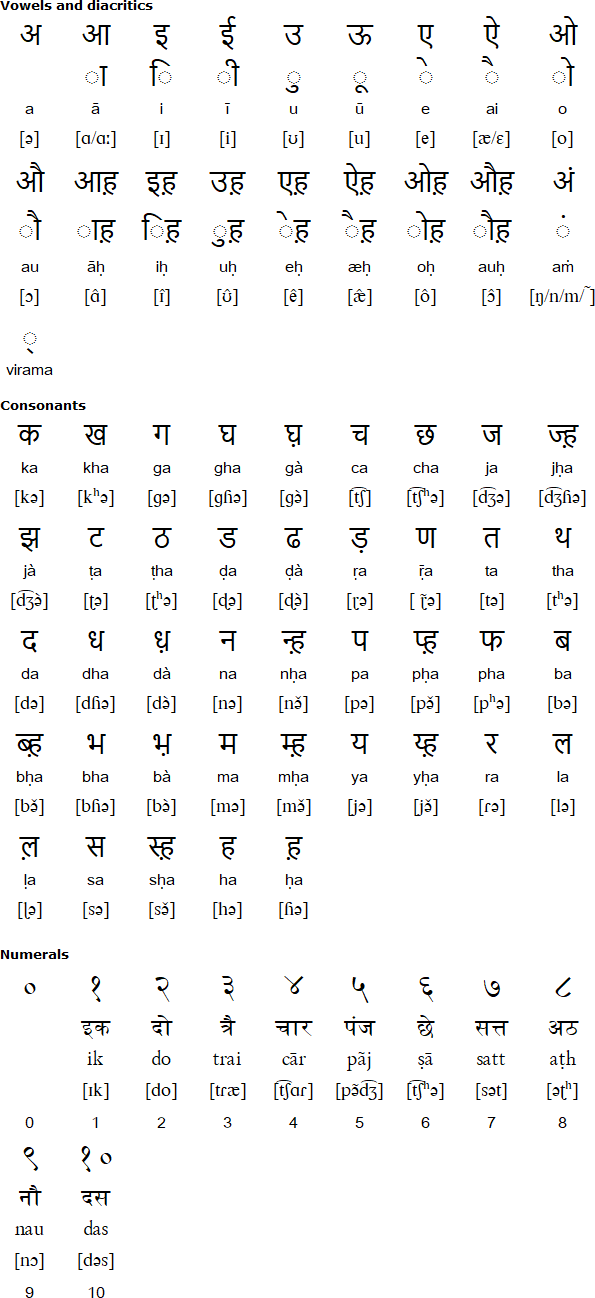 Download an alphabet chart for Kangri (Excel)
Sample text (Matthew 1:1-3)
असां दे कुलपिता 'इब्राह़म' कने इस ते बाह़द राजा 'दाउद्दे' दे बंसे ते यीशु मसीह़ा तिकर बंसाबली एह़ है:
'इब्राह़म' 'इसह़ाक्‍के' दा प्‍यो था। इसह़ाक 'याकूबे' दा प्‍यो था। याकूबे ते 'यह़ूदा' कने होर भ़ी पुत्तर जम्‍मैं।
यह़ूदा 'फिरिस' कने 'जोरह़' दा प्‍यो था। कने इह़नां दी मां 'तामार' थी। फिरिस्‍से ते 'हिस्रोन' जम्‍मेआ। हिस्रोनैं ते 'एराम' जम्‍मेआ।
IPA Translation
əsɑ̃ de kʊlpɪtɑ 'ɪbɾɑ̂m' kəne ɪs te bɑ̂d ɾɑd͡ʒɑ 'dɑʊddɛ' de bə̃se te jisʊ̌ məsiɦɑ tikəɾ bə̃sɑbəli ê hɛ:
'ɪbɾɑ̂m' 'ɪsɦɑkke' da pjo tʰɑ. ɪsɦɑk 'jɑkube' da pjo tʰɑ. jɑkube te 'jəɦuda' kəne hoɾ bì pʊttəɾ d͡ʒəmmɛ̃.
jəɦudɑ 'pʰɪɾɪs' kəne 'd͡ʒɾə̂' dɑ pjo tʰɑ. kəne înɑ̃ di mɑ̃ 'tɑmɑɾ' tʰi. pʰɪɾɪsse te 'hɪsɾon' d͡ʒəmmeɑ. hɪsɾonɛ̃ te 'eɾɑm' d͡ʒəmmeɑ.
Translation
The book of the generation of Jesus Christ, the son of David, the son of Abraham.
Abraham begat Isaac; and Isaac begat Jacob; and Jacob begat Judas and his brethren;
And Judas begat Phares and Zara of Thamar; and Phares begat Esrom; and Esrom begat Aram.
Details supplied by Biswajit Mandal (biswajitmandal[dot]bm90[at]gmail[dot]com)
Sample videos in Tamang
Links
Information about Kangri
https://en.wikipedia.org/wiki/Kangri_language
https://www.ethnologue.com/language/xnr
https://rc.library.uta.edu/uta-ir/bitstream/handle/10106/945/umi-uta-2032.pdf
Indo-Aryan languages
Angika, Awadhi, Assamese, Bengali, Bhili, Bhojpuri, Bishnupriya Manipuri, Braj, Chakma, Chhattisgarhi, Dhivehi, Dhundari, Domari, Erromintxela, Fiji Hindi, Garhwali, Gujarati, Hajong, Halbi, Haryanvi, Hindi, Indus Kohistani, Jaunsari, Kalderash Romani, Kangri, Kannauji, Kashmiri, Khandeshi, Konkani, Kotia, Kullui, Kumaoni, Kutchi, Lambadi, Lovari Romani, Magahi, Mahasu Pahari, Maithili, Marathi, Marwari, Modi, Nepali, Odia, Palula, Parkari Koli, Punjabi, Rajasthani, Rangpuri, Rohingya, Romani, Sadri, Saraiki, Sarnámi Hindustani, Sindhi, Sinhala, Shina, Sirmauri, Sourashtra, Sugali, Sylheti, Tanchangya, Torwali, Urdu
Languages written with the Devanāgarī alphabet
Aka-Jeru, Angika, Avestan, Awadhi, Balti, Bantawa, Bhili, Bhumij, Bodo, Bhojpuri, Braj, Car, Chamling, Chhattisgarhi, Dhimal, Dhundari, Dogri, Garhwali, Gondi, Gurung, Halbi, Haryanvi, Hindi, Ho, Jarawa, Jaunsari, Kannauji, Kham, Kangri, Kashmiri, Khaling, Khandeshi, Kharia, Korku, Konkani, Kullui, Kumaoni, Kurukh, Lambadi, Limbu, Lhomi, Magahi, Magar, Mahasu Pahari, Maithili, Maldivian, Malto, Marathi, Marwari, Mundari, Newar, Nepali, Onge, Pali, Rajasthani, Rangpuri, Sadri, Sanskrit, Santali, Saraiki, Sirmauri, Sherpa, Shina, Sindhi, Sunwar, Sylheti, Tamang, Thangmi, Wancho, Yakkha, Yolmo
---

Why not share this page:
If you need to type in many different languages, the Q International Keyboard can help. It enables you to type almost any language that uses the Latin, Cyrillic or Greek alphabets, and is free.
If you like this site and find it useful, you can support it by making a donation via PayPal or Patreon, or by contributing in other ways. Omniglot is how I make my living.

Note: all links on this site to Amazon.com
, Amazon.co.uk
and Amazon.fr
are affiliate links. This means I earn a commission if you click on any of them and buy something. So by clicking on these links you can help to support this site.