Mundari (মুণ্ডরি / मुण्डरि / ମୁଣ୍ଡରି / Muṇḍari)
Mundari is a Munda language spoken mainly in northeastern India, and also in northern Bangladesh and eastern Nepal, by about 1.17 million people. In India is has about 1.1 million speakers in Ranchi district of Jharkhand state, in the Andaman and Nicobar Islands, and in the states of Assam, Himachal Pradesh, Madhya Pradesh, Odisha, Tripura, and West Bengal.
Mundari is by about 2,500 people mainly in Naogaon district of the Rajshahi division in the northwest of Bangladesh, and also in the Rangpur and Sylhet divisions. In Nepal there are about 7,780 Mundari speakers in the Morang and Sundari districts of the Kosi zone in the east of the country.
Mundari is written with the Bengali alphabet in Bangladesh and in the India state of West Bengal. In the India states of Bihar and Jharkhand and in Nepal the Devanagari script is used. Christian speakers of Mundari in northeastern states of India write it with the Latin alphabet, and it is written with the Odia alphabet in the Indian state of Odisha. Another script, known as Mundari Bani, is used to some extent in Odisha.
Mundari is also known as Colh, Horo, Kolh, Mandari, Mondari or Munari. Dialects include Hasada, Naguri, Tamaria and Kera.
Mundari alphabets
Bengali alphabet for Mundari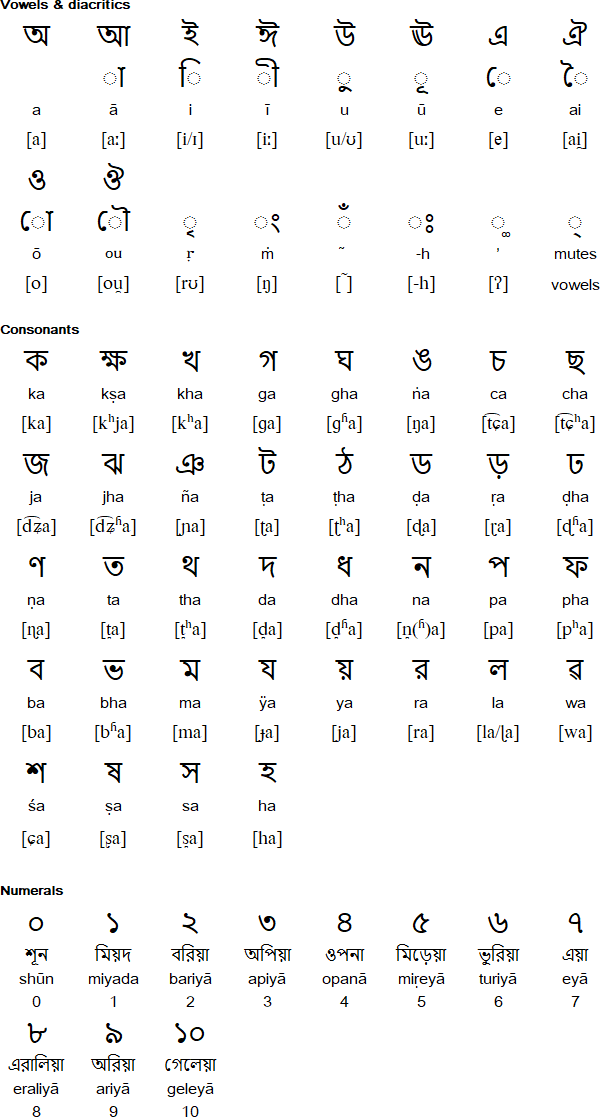 Devanagari alphabet for Mundari
Odia alphabet for Mundari
Latin alphabet for Mundari
Download alphabet charts for Mundari (Excel)
Sample text (The Lord's Prayer)
हॆ आलॆया सिर्मा रॆन् अबा,
आमह नुतुम् पावित्र् ऒका,
आमह राज् हिजुका,
आमह् मॊनॆ चिल्का सिर्मा रॆ मॆनःह् ऎन् लॆका ओतॆ रॆऒ हॊब:ऒका
आलॆकॆ आङॊ मःह् रःह् जॊमॆया तिसिङ् ऎमा लॆमॆ
ऒङॊ आलॆया पाप् कॊ छमा लॆमॆ
चिल्का आलॆ आलॆयः पाप् जद् कॊलॆ छमा जद् कॊअ:
ऒङॊ आलॆकॆ बिङऒरॆ आलॊम् उयु: लॆया
मॆन्दॊ ऎत् क‌न‌यॆतॆ ब‌न्च‌ऒ लॆमॆ
चिय‌चि राज् ऒङॊ पॆङॆ ऒङॊ म‌न‌राङ्
सॊबॆन‌ आम: गिया
आमेन !
Transliteration
Ae aaleya Abba! (Our Father !)
Aam sirma re mena meya (You ,who are in heaven)
Aama nutum pabitar ro ka (Holy be your name)
Aama rieze hiju ka (Your Kingdom come)
Aama odoh sirma re hobao tan leka, (Your will, which is carried out in heaven,)
Ote re ho hobao ka. (May the same be done on Earth)
Aaleah dina ke jomea, (The bread we require to eat daily )
Tsing (esing) ema leme. (Give us (the same) today )
Odoh aaleya paap ko adaye jae leka, (As we forgive those who sin against us)
Paap adaye leme. (Do forgive us our sins)
Bidao re aalom Oyou rika leya, (Do not bring us to the tests)
Mendo etkanaae te banchao leme. (But Deliver us from evil.)
Aamin
Source: https://mundariversity.com/lords-prayer-in-mundari/
Sample videos in Mundari
Information about Mundari | Numbers
Links
Information about the Mundari language
http://en.wikipedia.org/wiki/Mundari_language
https://fr.wikipedia.org/wiki/Mundari
https://www.ethnologue.com/language/unr
https://glottolog.org/resource/languoid/id/mund1320
https://mundari.webonary.org/files/MundariDictionaryFeb17.pdf
Munda languages
Gadaba, Ho, Kurukh, Mundari, Santali, Sora
Languages written with the Bengali, Devanagari, Latin and Odia alphabets
---

Why not share this page:
If you need to type in many different languages, the Q International Keyboard can help. It enables you to type almost any language that uses the Latin, Cyrillic or Greek alphabets, and is free.
If you like this site and find it useful, you can support it by making a donation via PayPal or Patreon, or by contributing in other ways. Omniglot is how I make my living.
Note: all links on this site to Amazon.com
, Amazon.co.uk
and Amazon.fr
are affiliate links. This means I earn a commission if you click on any of them and buy something. So by clicking on these links you can help to support this site.