Bhili (भीली / ભીલી)
Bhili is a Western Indo-Aryan language spoken in the states of Rajasthan, Gujarat, Maharashtra and Madhya Pradesh in central India by about 3.2 million people. In Gujarat it is spoken in the Dohad, Panch Mahals and Sabarkantha districts. In Madhya Pradesh it is spoken in Dhar, Indore, Jhabua, Khargone and Ratlam districts. In Rajastan Bhili speakers are found in Dhar, Indore, Jhabua, Khargone and Ratlam districts.
Bhili is also known as Bhagoria, Bhil, Bhilbari, Bhilboli, Bhilodi, Lengotia, Vil or Garasia. Dialects include Wagdi and Bareli. It is closely related to Wagdi, Gujarati and Rajasthani.
There are ways to write Bhili with the Devanagari and Gujarati alphabets, although few people are able to read and write it.
Devanagari alphabet for Bhili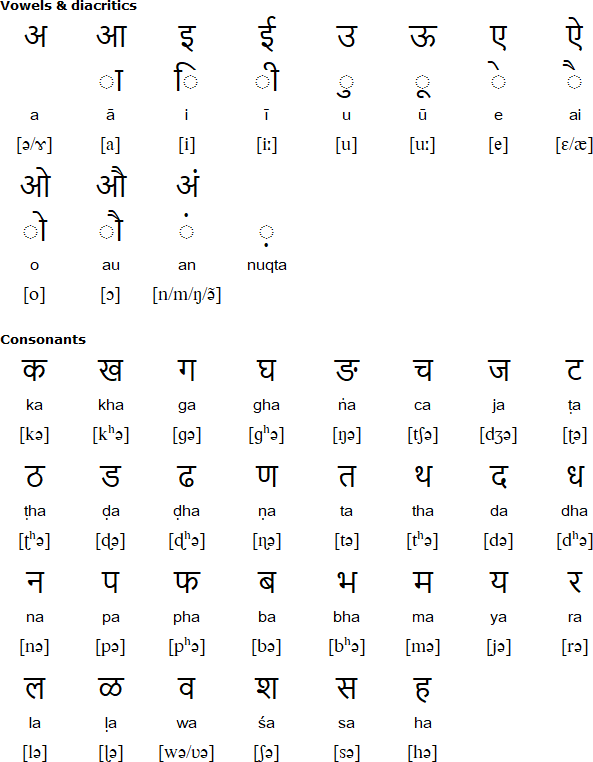 Gujarati alphabet for Bhili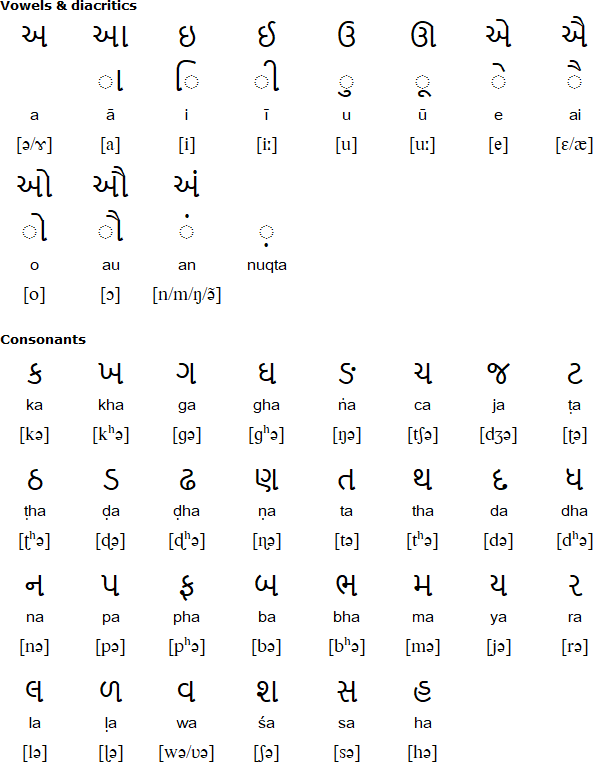 Download alphabet charts for Bhili (Excel)
Sample text (Devanagari alphabet)
भगवान्न् पुरूयू येशुनं बारा मां खबर सुरू.
यशवा नेवताळांन किताब मां लिखोलो छोने की. में एक दूत तारा अगळ मुकल्यो. चू तारी-वाट तीयार करसे.
बयड़ा मां नेवता देणारानं अवाज समळाये की भगवान्न् वाट तीयार करू. तेरी वाट सुदी करो.
तेरी हिसाब शी पापन्ं माफी करावणेन करता. बाप्तीस्मा करनेवाळू यूहान मनं वळावनों करीनं-पाणीमं बाप्तीस्मा करने, गालील रहणें बाळू-बयड़ा मां देखाय.
Sample text (Gujarati alphabet)
ભગવાન્ન્ પુરુયૂ યેશુનં બારા માં ખબર સુરૂ.
યશવા નેવતાળાંન કિતાબ માં લિખોલો છોને કી. મેં એક દૂત તારા અગળ મુકલ્યો. ચૂ તારી-વાટ તીયાર કરસે.
બયડ઼ા માં નેવતા દેણારાનં અવાજ સમળાયે કી ભગવાન્ન્ વાટ તીયાર કરૂ. તેરુ વાટ સુદી કરો.
તેરી હિસાબ શી પાપન્ં માફી કરાવણેન કરતા. બાપ્તીસ્મા કરનેવાળૂ યૂહાન મનં વળાવનોં કરીનં-પાણીમં બાપ્તીસ્મા કરને, ગાલીલ રહણેં બાળૂ-બયડ઼ા માં દેખાય.
IPA transcription
bʰəɡəʋann puruːjuː jeʃunə̃ bara mã kʰəbər suruː.
jəʃəʋa neʋtaɭanə̃ kʰitab mã likʰolo tʃʰone kiː. mẽ ek dut tara əɡəɭ mukəljo tʃuː tariː-ʋaʈ tiːjar kərse
bəjəɽa mã teʋta deɳaranə̃ ɤʋadʒ səməɭaje kiː bʰəɡəʋann ʋaʈ tiːjar kəruː. teriː ʋaʈ sudiː kəro.
teriː hisab ʃiː papəñ mapʰiː kəraʋəɳen kərta. batʈiːsma kərneʋaɭuː juːhan mənə̃ ʋəɭaʋənõ kəriːnə̃-paɳiːmə̃ batʈiːsma kərne, ɡaliːl rəhɳẽ baɭuː-bəjɽa mã dekʰaj.
Translation (Mark 1:1-4)
The beginning of the a gospel of Jesus Christ, the Son of God;
As it is written in the prophets, Behold, I send my a messenger before thy face, which shall prepare thy way before thee.
The voice of one crying in the wilderness, Prepare ye the way of the Lord, make his paths straight.
John did baptize in the wilderness, and a preach the baptism o repentance for the remission of sins.
Source: https://dokumen.tips/documents/bhili-pawri-bible-gospel-of-markpdf.html
Details provided by Biswajit Mandal (biswajitmandal[dot]bm90[at]gmail[dot]com)
Sample video in Bhili
Links
Information about Bhili
http://en.wikipedia.org/wiki/Bhili_language
https://www.ethnologue.com/language/bhb
https://scriptsource.org/cms/scripts/
https://www.indianetzone.com/7/bhili.htm
Indo-Aryan languages
Awadhi, Assamese, Bagri, Bengali, Bhili, Bishnupriya Manipuri, Braj, Chakma, Chhattisgarhi, Chittagonian, Desiya, Dhatki, Dhivehi, Dhundari, Fiji Hindi, Gawar Bati, Gujarati, Hajong, Halbi, Haryanvi, Hindi, Hindko, Kannauji, Khandeshi, Konkani, Kotia, Kumaoni, Kutchi, Lambadi, Marathi, Marwari, Mewari, Modi, Nimadi, Noakhailla, Odia, Parkari Koli, Punjabi, Rajasthani, Rajbanshi, Rangpuri, Rohingya, Saraiki, Sarnámi Hindustani, Sindhi, Sinhala, Sourashtra, Sugali, Sylheti, Tanchangya, Urdu
Languages written with the Devanāgarī alphabet
Aka-Jeru, Angika, Athpare, Avestan, Awadhi, Balti, Bantawa, Belhare, Bhili, Bhumij, Bilaspuri, Bodo, Bhojpuri, Braj, Car, Chamling, Chhantyal, Chhattisgarhi, Chambeali, Danwar, Dhatki, Dhimal, Dhundari, Digaro Mishmi, Dogri, Doteli, Gaddi, Garhwali, Gondi, Gurung, Halbi, Haryanvi, Hindi, Ho, Jarawa, Jaunsari, Kannauji, Kham, Kangri, Kashmiri, Khaling, Khandeshi, Kharia, Khortha, Korku, Konkani, Kullui, Kumaoni, Kurmali, Kurukh, Kusunda, Lambadi, Limbu, Lhomi, Lhowa, Magahi, Magar, Mahasu Pahari, Maithili, Maldivian, Malto, Mandeali, Marathi, Marwari, Mewari, Mundari, Nancowry. Newar, Nepali, Nimadi, Onge, Pahari, Pali, Pangwali, Rajasthani, Rajbanshi, Rangpuri, Sadri, Sanskrit, Santali, Saraiki, Sirmauri, Sherpa, Shina, Sindhi, Sunwar, Sylheti, Tamang, Thakali, Thangmi, Wambule, Wancho, Yakkha, Yolmo
Languages written with the Gujarati alphabet
Page last modified: 23.04.21
[top]
---

Why not share this page:

If you like this site and find it useful, you can support it by making a donation via PayPal or Patreon, or by contributing in other ways. Omniglot is how I make my living.
Note: all links on this site to Amazon.com
, Amazon.co.uk
and Amazon.fr
are affiliate links. This means I earn a commission if you click on any of them and buy something. So by clicking on these links you can help to support this site.
Get a 30-day Free Trial of Amazon Prime (UK)
If you're looking for home or car insurance in the UK, why not try Policy Expert?
[top]