Jaunsari (जौनसारी)
Jaunsari is a member of the Western Pahari group of Indo-Aryan language family. It is spoken mainly in Dehradun (देहरादून) in Uttarakhand in northern India, and also in the Shimla district of Himachal Pradesh, and in the Saharanpur district of Uttar Pradesh. In 2011 there were about 137,000 speakers of Jaunsari, which is also known as Jansauri, Jaunpuri, Jaunsauri or Pahari.
Jaunsari is written with the Devanagari alphabet. In the past it was written with the Latin alphabet, and also with a version of the Takri script known as Jaunsari Takri. The priestly class used the Bogoi Script.
Devanagari alphabet for Jaunsari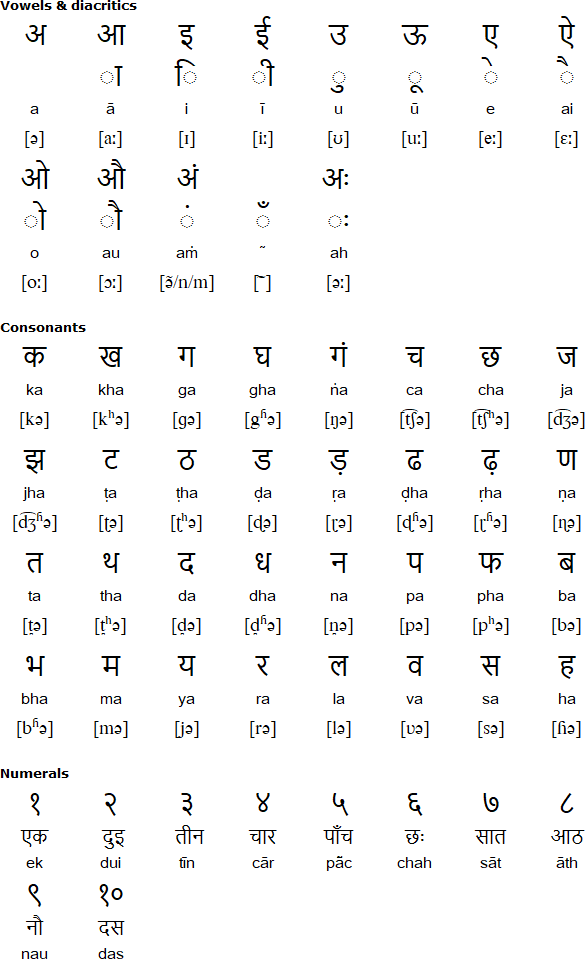 Download an alphabet chart for Jaunsari (Excel)
Sample text (Matthew 1:1-4)
इबराईमअ के बंसज दाऊद के बेटा ईसा मसी की खान्दान एजी अ।
इबराईमअ का बेटा इसाक ता अर इसाकअ का बेटा याकूब ता अर याकूब से यऊदा अर तेसके बाई पईदा अणे।
यऊदा के बेटे फिरिस अर जोअर ते अर तिऊँकी ईजी तामार ती। फिरिस का बेटा ईसरोन अर ईसरोन का बेटा राम ता।
अर रामअ का बेटा अमीनादाब अर अमीनादाबअ का बेटा नसोन अर नसोन का बेटा सलमोन ता।
Transliteration
Ibarāīm'a ke baṅsaj dāūd ke beṭā īsā masī kī khāndān ejī a.
Ibarāīm'a kā beṭā isāk tā ar isāk'a kā beṭā yākūb tā ar yākūb se yaūdā ar teske bāī paīdā aṇe.
Yaūdā ke beṭe phiris ar joar te ar tiūṅkī ījī tāmār tī. Phiris kā beṭā īsron ar īsron kā beṭā rām tā.
Ar rām'a kā beṭā amīnādāb ar amīnādāb'a kā beṭā nason ar nason kā beṭā salmon tā.
Translation
The book of the generation of Jesus Christ, the son of David, the son of Abraham.
Abraham begat Isaac; and Isaac begat Jacob; and Jacob begat Judas and his brethren;
And Judas begat Phares and Zara of Thamar; and Phares begat Esrom; and Esrom begat Aram;
And Aram begat Aminadab; and Aminadab begat Naasson; and Naasson begat Salmon;
Source: https://play.google.com/store/apps/details?id=org.ips.srxbible.jaunsari
Details provided by Biswajit Mandal (biswajitmandal[dot]bm90[at]gmail[dot]com) and Michael Peter Füstumum
Sample videos in and about Jaunsari
Links
Information about Jaunsari
https://en.wikipedia.org/wiki/Jaunsari_language
https://www.ethnologue.com/language/jns
https://glottolog.org/resource/languoid/id/jaun1243
http://dbpedia.org/page/Jaunsari_language
https://www.sil.org/resources/publications/entry/9074
https://m.apkpure.com/jaunsari-bible/in.nlci.jaunsari.bible
Indo-Aryan languages
Angika, Awadhi, Assamese, Bengali, Bhili, Bhojpuri, Bishnupriya Manipuri, Braj, Chakma, Chhattisgarhi, Dhivehi, Dhundari, Domari, Erromintxela, Fiji Hindi, Garhwali, Gujarati, Hajong, Halbi, Haryanvi, Hindi, Indus Kohistani, Jaunsari, Kalderash Romani, Kangri, Kannauji, Kashmiri, Khandeshi, Konkani, Kotia, Kullui, Kumaoni, Kutchi, Lambadi, Lovari Romani, Magahi, Mahasu Pahari, Maithili, Marathi, Marwari, Modi, Nepali, Odia, Palula, Parkari Koli, Punjabi, Rajasthani, Rangpuri, Rohingya, Romani, Sadri, Saraiki, Sarnámi Hindustani, Sindhi, Sinhala, Shina, Sirmauri, Sourashtra, Sugali, Sylheti, Tanchangya, Torwali, Urdu
Languages written with the Devanāgarī alphabet
Aka-Jeru, Angika, Avestan, Awadhi, Balti, Bantawa, Bhili, Bhumij, Bodo, Bhojpuri, Braj, Car, Chamling, Chhattisgarhi, Dhimal, Dhundari, Dogri, Garhwali, Gondi, Gurung, Halbi, Haryanvi, Hindi, Ho, Jarawa, Jaunsari, Kannauji, Kham, Kangri, Kashmiri, Khaling, Khandeshi, Kharia, Korku, Konkani, Kullui, Kumaoni, Kurukh, Lambadi, Limbu, Lhomi, Magahi, Magar, Mahasu Pahari, Maithili, Maldivian, Malto, Marathi, Marwari, Mundari, Newar, Nepali, Onge, Pali, Rajasthani, Rangpuri, Sadri, Sanskrit, Santali, Saraiki, Sirmauri, Sherpa, Shina, Sindhi, Sunwar, Sylheti, Tamang, Thangmi, Wancho, Yakkha, Yolmo
---

Why not share this page:
If you need to type in many different languages, the Q International Keyboard can help. It enables you to type almost any language that uses the Latin, Cyrillic or Greek alphabets, and is free.
If you like this site and find it useful, you can support it by making a donation via PayPal or Patreon, or by contributing in other ways. Omniglot is how I make my living.

Note: all links on this site to Amazon.com
, Amazon.co.uk
and Amazon.fr
are affiliate links. This means I earn a commission if you click on any of them and buy something. So by clicking on these links you can help to support this site.