Chuvash (Чӑваш чӗлхи / Чӑваш чӗлхи)
Chuvash is a Bolgar Turkic language spoken in the Chuvash Republic in the west of the Russian Federation. In 2010 there were about 1.2 million speakers of Chuvash. It is the official language of the Chuvash Republic (Чӑваш Республики), which is also known as the Chuvashia (Чӑваш Ен), and is also spoken in Tatarstan and Bashkortostan.
The first Chuvash grammar was published in 1769. A number of dictionaries, translations of religious texts and folkloric texts were published during the 18th and early 19th centuries. Chuvash has been written with a Runic script, the Arabic alphabet, and the Cyrillic and Latin alphabets. The Cyrillic alphabet for Chuvash was first introduced in 1873 by Ivan Yakovlevich Yakovlev. Since then it has undergone a number of revisions, particularly in 1938. The Latin alphabet is sometimes used as well, though there is no standard, official version.
Chuvash alphabet (чӑваш алфавичӗ) - Cyrillic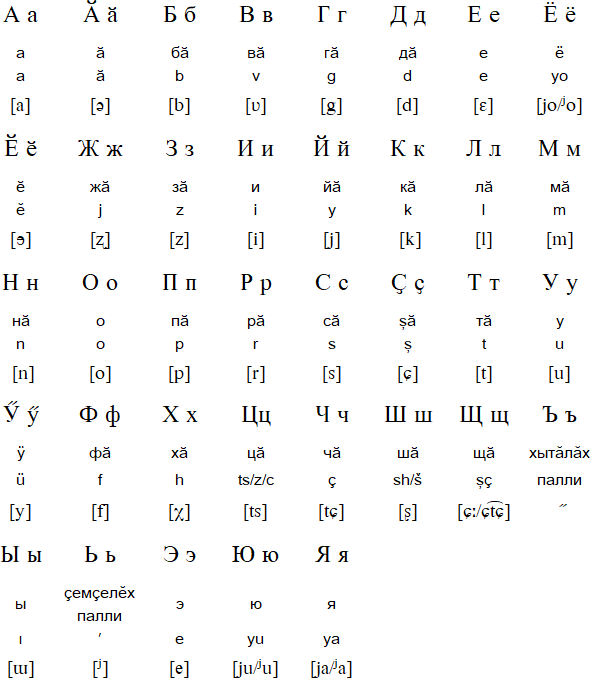 Chuvash alphabet (Latin)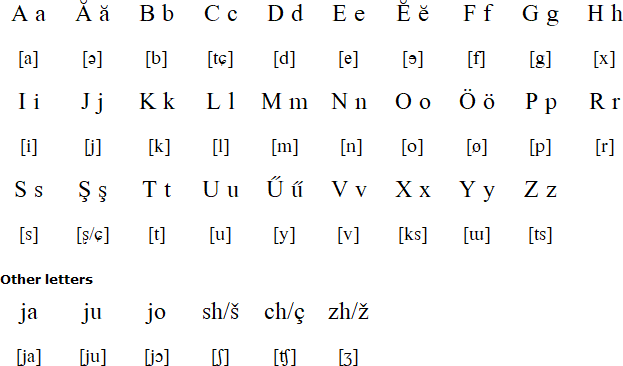 Chuvash numerals
Chuvash numerals developed from the numeral system of the Old Turkish script and were used until the early 20th century. Since then Hindu-Arabic numerals (1, 2, 3) have been used.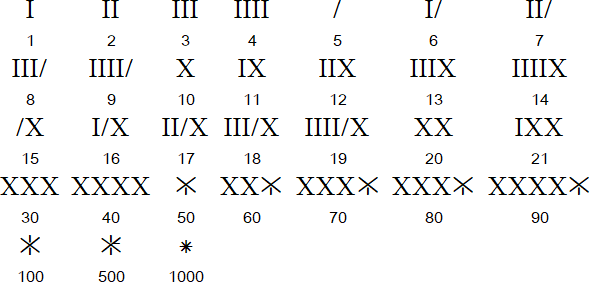 Download alphabet charts for Chuvash (Excel)
Sample text in Chuvash
Пур халӑх та уйрӑм пурӑнма пӗр тан праваллӑ. Ҫак правапа усӑ курса вӗсем хӑйсен политика статусне ирӗклӗн туса хураҫҫӗ, экономика, общество тата культура енӗпе ирӗклӗн аталанаҫҫӗ. Патшалӑхсен ҫак правӑна хисеплемелле, территори пӗр пӗтӗмлӗхӗн принципӗ унпа усӑ курма пӗр енлӗн чарса тӑракан чӑрмав пулмалла мар.
Transliteration
Pur halăh ta uyrăm purănma pĕr tan pravallă. Şak pravapa usă kursa vĕsem hăysen politika statusne irĕklĕn tusa huraşşĕ, ekonomika, obşçestvo tata kul'tura enĕpe irĕklĕn atalanaşşĕ. Patšalăhsen şak pravăna hiseplemelle, territori pĕr pĕtĕmlĕhĕn printsipĕ unpa usă kurma pĕr enlĕn çarsa tărakan çărmav pulmalla mar.
Translation
All human beings are born free and equal in dignity and rights. They are endowed with reason and conscience and should act towards one another in a spirit of brotherhood.
(Article 1 of the Universal Declaration of Human Rights)
Sample videos in Chuvash
Information about Chuvash | Phrases | Numbers | Tower of Babel
Links
Information about the Chuvash language
http://en.wikipedia.org/wiki/Chuvash_language
https://www.ethnologue.com/language/chv
http://www.peoples.org.ru/eng_chuvash.html
http://en.chuvash.org/e/43687576617368206c616e6775616765
Chuvash phrases
http://iub.edu/~celcar/pamphlets/chuvash.pdf
Chuvash dictionaries
http://samahsar.blogspot.co.uk/p/chuvash-english-dictionary_21.html
http://www.freelang.net/online/chuvash.php
http://en.chuvash.org/wiki/Chuvash-English Dictionary
http://www.classes.ru/all-chuvash/dictionary-russian-chuvash-term-1821.htm
Turkic languages
Altay, Äynu, Azerbaijani, Bashkir, Chagatai, Chelkan, Chulym, Chuvash, Crimean Tatar, Dolgan, Fuyu Kyrgyz, Gagauz, Ili Turki, Karachay-Balkar, Karaim, Karakalpak, Karamanli Turkish, Kazakh, Khakas, Khalaj, Khorasani Turkic, Krymchak, Kumandy, Kyrgyz, Nogai, Old Turkic, Qashqai, Salar, Shor, Siberian Tatar, Soyot, Tatar, Teleut, Tofa, Turkish, Turkmen, Tuvan, Urum, Uyghur, Uzbek, Western Yugur, Yakut (Sakha)
Abaza, Abkhaz, Adyghe, Aghul, Akhvakh, Aleut, Altay, Alyutor, Andi, Archi, Assyrian / Neo-Assyrian, Avar, Azeri, Bagvalal, Balkar, Bashkir, Belarusian, Bezhta, Bosnian, Botlikh, Budukh, Bulgarian, Buryat, Chamalal, Chechen, Chelkan, Chukchi, Chulym, Chuvash, Crimean Tatar, Dargwa, Daur, Dolgan, Dungan, Enets, Erzya, Even, Evenki, Gagauz, Godoberi, Hinukh, Hunzib, Ingush, Interslavic, Itelmen, Juhuri, Kabardian, Kaitag, Kalderash Romani, Kalmyk, Karaim, Karakalpak, Karata, Karelian, Kazakh, Ket, Khakas, Khanty, Khinalug, Khorasani Turkic, Khwarshi, Kildin Sámi, Komi, Koryak, Krymchak, Kryts, Kubachi, Kumandy, Kumyk, Kurdish, Kyrgyz, Lak, Lezgi, Lingua Franca Nova, Ludic, Macedonian, Mansi, Mari, Moksha, Moldovan, Mongolian, Montenegrin, Nanai, Negidal, Nenets, Nganasan, Nivkh, Nogai, Old Church Slavonic, Oroch, Orok, Ossetian, Pontic Greek, Romanian, Rushani, Russian, Rusyn, Rutul, Selkup, Serbian, Shor, Shughni, Siberian Tatar, Sirenik, Slovio, Soyot, Tabassaran, Tajik, Talysh, Tat, Tatar, Teleut, Ter Sámi, Tindi, Tofa, Tsakhur, Tsez, Turkmen, Tuvan, Ubykh, Udege, Udi, Udmurt, Ukrainian, Ulch, Urum, Uyghur, Uzbek, Veps, Votic, Wakhi, West Polesian, Xibe, Yaghnobi, Yakut, Yazghulami, Yukaghir (Northern / Tundra), Yukaghir (Southern / Kolyma), Yupik (Central Siberian)
Languages written with the Latin alphabet
Page last modified: 23.04.21
[top]
---

Why not share this page:
Learn languages for free on Duolingo

If you like this site and find it useful, you can support it by making a donation via PayPal or Patreon, or by contributing in other ways. Omniglot is how I make my living.
Note: all links on this site to Amazon.com
, Amazon.co.uk
and Amazon.fr
are affiliate links. This means I earn a commission if you click on any of them and buy something. So by clicking on these links you can help to support this site.
[top]