Sirenik (Сиӷы́ных)
Sirenik is an Eskimo-Aleut language that was spoken in and around Sireniki (Сиреники), a village on the Chukotka Peninsula in the Providensky District of the Chukotka Autonomous Okrug in the Russian Far East region in the northeast of the Russian Federation.
The last speaker of Sirenik, Vyjye or Valentina Wye, died in January 1997. The Sirenik people now speak Siberian Yupik, Russian, and the shift to those languages started long before Vyjye died.
Sirenik is also known as Sirenik Yupik, Sireniki Yupik, Old Sirenik, Vuteen or Sirenikskiy. It is thought to belong to its own branch of the Eskimo-Aleut language family as it differs significantly from other languages in the family. Some scholars classify it as a Yupik language, however it is not mutually intelligible with Yupik languages.
Sirenik was written with the Cyrillic alphabet.
Cyrillic alphabet for Sirenik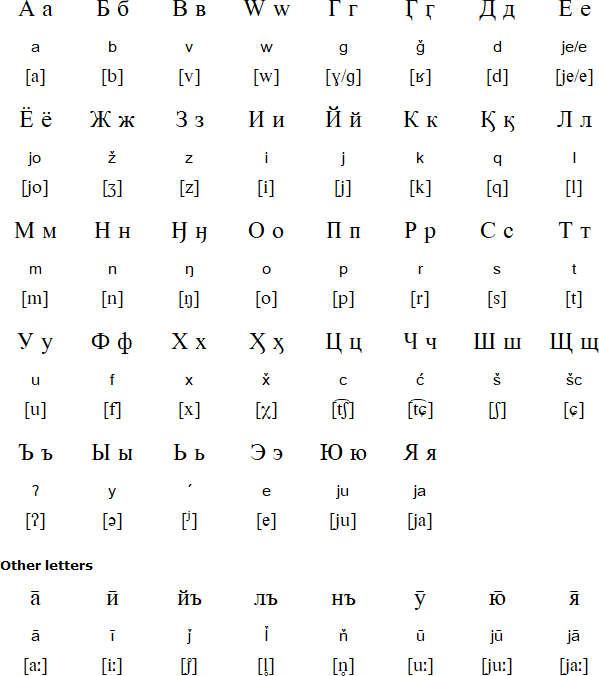 Notes
Б, д, е, ё, ж, з, о, ф, ч, ш, щ, ь and э are only used in Russian loanwords and names.
Download an alphabet chart for Sirenik (Excel)
Sample text in Sirenik
Пагы́лъыги́й сявля́ӽсимы̄цу́й пына́ни таси́мыӈы̄ны́ӈ таӈа́ӄылӷа́й. Кипы́лъхина́ӄаӷы̄́лъымы́ӈ тамы́ӷиту́ӽтыӄы̄лъыӷа́й тӯвам ло̄́ӷыну. Мыты́ӽлъыги́йлъю кияӽсымы̄лыӷай пына́ни таси́мыныӈ таӈаӄылӷа́й. Илы́ӈыни мыты́ӽлъыгы́м ныӈы́сымы̄кыӈи́й на́ӈлъыӈԝа́ӷымы̄кыӈи́й, ылъмы́хту аӷа̄́ӷысю́хтумы̄ки маӄа́лъӽыну. Ныӄы́палъю́ӷыкӣгыпъы́мыӈ, —пимы̄лыӷы́ӽ,— ся̄ма́ маӄа̄́гыта́ наӷы́тысӄы́лки.
Transliteration
Pagýľygíj sjavljáx̌simȳcúj pynáni tasímyŋȳnýŋ taŋáqylǧáj. Kipýľхináqaǧȳ́́ľymýŋ tamýǧitúx̌tyqȳľyǧáj tūvam lṓǧynu. Mytýx̌ľygíjľju kijax̌symȳlyǧaj pynáni tasímynyŋ taŋaqylǧáj. Ilýŋyni mytýx̌ľygým nyŋýsymȳkyŋíj náŋľyŋԝáǧymȳkyŋíj, yľmýхtu aǧā́ǧysjúхtumȳki maqáľx̌ynu. Nyqýpaľjúǧykīgypъýmyŋ, —pimȳlyǧýx̌,— sjāmá maqā́gytá naǧýtysqýlki.
Translation
Cormorants wintered on the cliff with five cubs. In turn, they went for food to the edge of the fast ice. crows lived on a cliff with five cubs. Once a raven saw cormorants, greeted them, and said that the crows should move to them in warmth. That, they say, there is a lot of meat, he said, and in warmth so that they live.
Source: http://philology.ru/linguistics4/menovshikov-97a.htm
Details provided by Michael Peter Füstumum
A video about Sirenik (in Russian)
Links
Information about the Sirenik language
https://en.wikipedia.org/wiki/Sirenik_language
https://www.ethnologue.com/language/ysr
http://philology.ru/linguistics4/menovshikov-97a.htm
https://www.jstor.org/stable/42871951
Eskimo-Aleut languages
Aleut, Alutiiq, Greenlandic, Inuktitut, Inuktun, Iñupiaq, Sirenik, Yup'ik (Central Alaskan), Yupik (Central Siberian)
Abaza, Abkhaz, Adyghe, Aghul, Akhvakh, Akkala Sámi, Aleut, Altay, Alyutor, Andi, Archi, Assyrian / Neo-Assyrian, Avar, Azeri, Bagvalal, Balkar, Bashkir, Belarusian, Bezhta, Bosnian, Botlikh, Budukh, Bulgarian, Buryat, Chamalal, Chechen, Chelkan, Chukchi, Chulym, Chuvash, Crimean Tatar, Dargwa, Daur, Dolgan, Dungan, Enets, Erzya, Even, Evenki, Gagauz, Godoberi, Hinukh, Hunzib, Ingush, Interslavic, Itelmen, Juhuri, Kabardian, Kaitag, Kalderash Romani, Kalmyk, Karaim, Karakalpak, Karata, Karelian, Kazakh, Ket, Khakas, Khanty, Khinalug, Khorasani Turkic, Khwarshi, Kildin Sámi, Kili, Komi, Koryak, Krymchak, Kryts, Kubachi, Kumandy, Kumyk, Kurdish, Kyrgyz, Lak, Lezgi, Lingua Franca Nova, Ludic, Macedonian, Mansi, Mari, Moksha, Moldovan, Mongolian, Montenegrin, Nanai, Negidal, Nenets, Nganasan, Nivkh, Nogai, Old Church Slavonic, Oroch, Orok, Ossetian, Pontic Greek, Romanian, Rushani, Russian, Rusyn, Rutul, Selkup, Serbian, Shor, Shughni, Siberian Tatar, Sirenik, Slovio, Soyot, Tabassaran, Tajik, Talysh, Tat, Tatar, Teleut, Ter Sámi, Tindi, Tofa, Tsakhur, Tsez, Turkmen, Tuvan, Ubykh, Udege, Udi, Udmurt, Ukrainian, Ulch, Urum, Uyghur, Uzbek, Veps, Votic, Wakhi, West Polesian, Xibe, Yaghnobi, Yakut, Yazghulami, Yukaghir (Northern / Tundra), Yukaghir (Southern / Kolyma), Yupik (Central Siberian)
Page created: 23.02.22. Last modified: 27.02.22
[top]
---

Why not share this page:

If you like this site and find it useful, you can support it by making a donation via PayPal or Patreon, or by contributing in other ways. Omniglot is how I make my living.
Note: all links on this site to Amazon.com
, Amazon.co.uk
and Amazon.fr
are affiliate links. This means I earn a commission if you click on any of them and buy something. So by clicking on these links you can help to support this site.
Get a 30-day Free Trial of Amazon Prime (UK)
If you're looking for home or car insurance in the UK, why not try Policy Expert?
[top]