Ingush (гӀалгӀай мотт)
Ingush is part of the Nakh-Daghestanian or Northeast Caucasian language family. It is spoken mainly in Russia, and also in Uzbekistan. In Russia it is spoken in the republics of Chechnya, Ingushetia, Kabardino-Balkar and North Ossetia-Alania. In 2010 there were 306,000 Ingush speakers in Russia. In Kazakhstan there were about 16,900 speakers of Ingush in 1999.
The Ingush call themselves Ghalghaaj and their language Ghalghaai Mott. The name Ingush comes from the village of Angusht where the Russians first encoutered Ingush speakers. The language is also known as Galgay, Ghalghay, Ingus, Ingushi, Kisti or Kistin.
Ingush is the statutory provincial language in Republic of Ingushetia. It is used to some extent on the radio.
Ingush is quite closely related to Chechen, and there is some mutual intelligibility between the two languages.
Written Ingush
Ingush was first written with a version of the Arabic alphabet. Between 1923 and 1937 it was written with the Latin alphabet. The Cyrillic alphabet was adopted in 1938, and a new version of the Latin alphabet was adopted in 1992.
Arabic alphabet for Ingush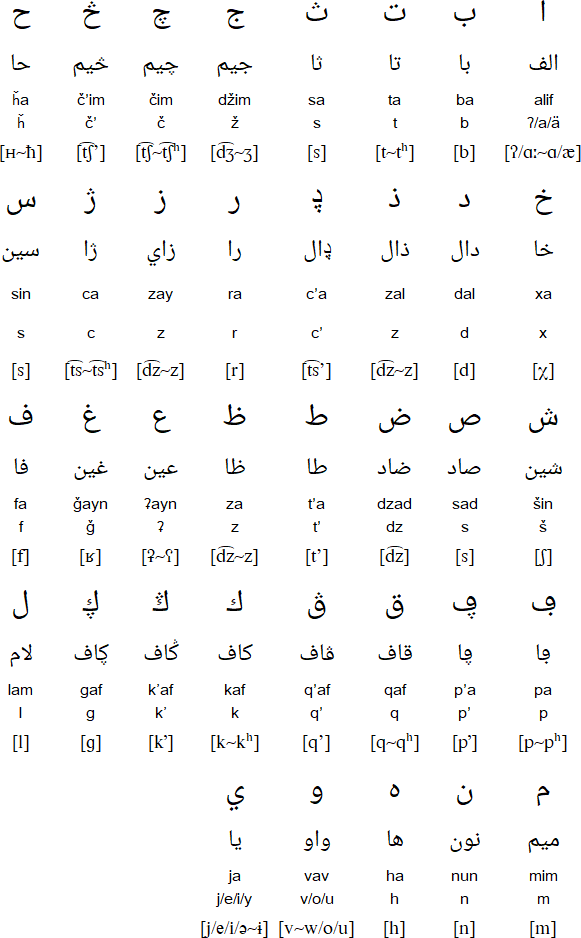 Latin alphabet for Ingush (1928-1937)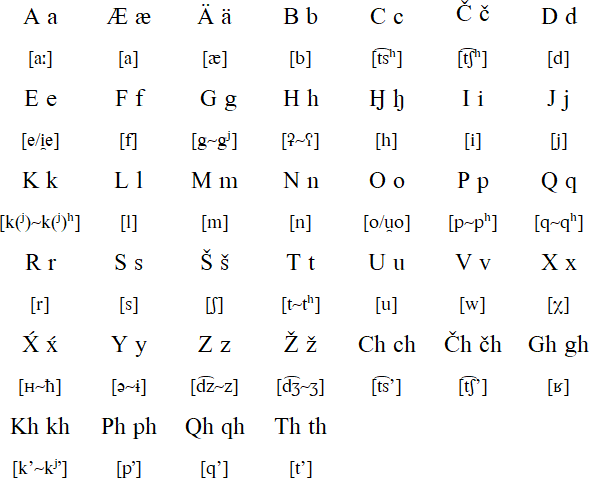 Cyrilic alphabet for Ingush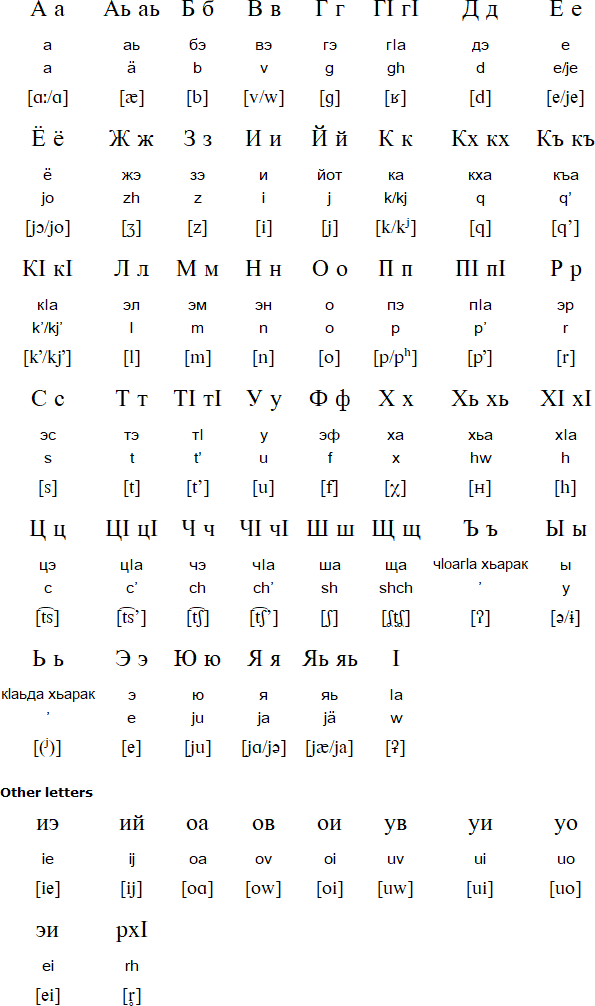 The letters ё, щ, ъ, ы and ь are only used in Russian loanwords and names.
Download an alphabet chart for Ingush (Excel)
Some songs in Ingush provided by Магомет Албаков (Magomet Albakov)
Ingushetia gimn - Ingush anthem
Sample text in Ingush
Тха школен йоккха беш я. Хоза я тха беш. Тайп-тайпара гаьнаш ягӀа школен беша. Доккхий хенаш а дагӀа. Беша гонахьа дика ардакхий карт я. Оаха дика гӀулакх ду беша. Гурахьа «бешеи хьунеи кӀира» чакхдоаккхоаха. Хьехархочо хьа а хьехаш, гаьнаш дӀайогӀ оахаӀ беша... Эттар Ӏа. Къайлаяьхар аренаш кӀайча лайво. Шелало дӀакъайлар Ӏамарч, хиш. Бераша хьаийцар соалозаш. Порайир лаьттан тӀехе. Бераш доладеларсоалозилгаш гувнаш тӀара чухехка. Асхьаб Ӏокхийтар соалоза тӀара. Басилгаш цӀийеннаяр массане а.
Ӏан ди да. Бераш ша тӀа долх. Бераш ша тӀа гӀолла когсоалозаш хехкаш лел. Шелалах басилгаш цӀийеннайцар. Соалозаш хехка долхача берашта вела а велаш тӀхьа уд зӀамига Берса.
Transliteration
Txa školen joqqa beš ja. Xoza ja txa beš. Tajp-tajpara gänaš jaǧa školen beša. Doqqij xenaš a daǧa. Beša gonaĥa dika ardaqij kart ja. Oaxa dika ǧulaq du beša. Guraĥa «bešei ĥunei k'ira» čaqdoaqqoaxa. Ĥexarxočo ĥa a ĥexaš, gänaš dʡajoǧ oaxaʡ beša... Ettar ʡa. Q'ajlajäxar arenaš k'ajča lajvo. Šelalo dʡaq'ajlar ʡamarč, xiš. Beraša ĥaijcar soalozaš. Porajir lättan t'exe. Beraš doladelarsoalozilgaš guvnaš t'ara čuxexka. Asĥab ʡoqijtar soaloza t'ara. Basilgaš c'ijennajar massane a.
ʡan di da. Beraš ša t'a dolx. Beraš ša t'a ǧolla kogsoalozaš xexkaš lel. Šelalax basilgaš c'ijennajcar. Soalozaš xexka dolxača berašta vela a velaš t'ĥa ud zʡamiga Bersa.
Source: Определитель языков мира по письменностям. Академия наук СССР. Москва – 1965.
Information supplied by Wolfgang Kuhl and Michael Peter F¨stumum
Sample videos in Ingush
Information about Ingush | Numbers | Tower of Babel
Links
Information about Ingush
https://en.wikipedia.org/wiki/Ingush_language
http://ingush.narod.ru
http://linguistics.berkeley.edu/~ingush/
https://www.ethnologue.com/language/inh
http://www.eki.ee/knab/lat/kblinh.pdf
Ingush transliteration system
http://www.translitteration.com/transliteration/en/ingush/national/
Республика Ингушетия / Republic of Ingushetia (in Russian)
http://www.ingushetia.ru/
Ingush phrases
http://linguistics.berkeley.edu/~ingush/useful_phrases.html
News from Ingushetia (in Russian and English)
http://www.ingushetiya.ru/
Northeast Caucasian languages
Aghul, Akhvakh, Andi, Archi, Avar, Bagvalal, Batsbi, Bezhta, Botlikh, Budukh, Caucasian Albanian, Chamalal, Chechen, Dargwa, Godoberi, Hinukh, Hunzib, Ingush, Karata, Khinalug, Khwarshi, Kryts, Kubachi, Lak, Lezgian, Rutul, Tabassaran, Tindi, Tsakhur, Tsez, Udi
Abaza, Abkhaz, Adyghe, Aghul, Akhvakh, Aleut, Altay, Alyutor, Andi, Archi, Assyrian / Neo-Assyrian, Avar, Azeri, Bagvalal, Balkar, Bashkir, Belarusian, Bezhta, Botlikh, Budukh, Bulgarian, Buryat, Chamalal, Chechen, Chelkan, Chukchi, Chulym, Chuvash, Crimean Tatar, Dargwa, Dolgan, Dungan, Enets, Erzya, Even, Evenki, Gagauz, Godoberi, Hinukh, Hunzib, Ingush, Interslavic, Itelmen, Juhuri, Kabardian, Kalderash Romani, Kalmyk, Karaim, Karakalpak, Karata, Kazakh, Ket, Khakas, Khanty, Khinalug, Khwarshi, Kildin Sámi, Komi, Koryak, Krymchak, Kryts, Kubachi, Kumandy, Kumyk, Kurdish, Kyrgyz, Lak, Lezgi, Lingua Franca Nova, Ludic, Macedonian, Mansi, Mari, Moksha, Moldovan, Mongolian, Montenegrin, Nanai, Negidal, Nenets, Nganasan, Nivkh, Nogai, Old Church Slavonic, Oroch, Orok, Ossetian, Pontic Greek, Russian, Rusyn, Rutul, Selkup, Serbian, Shor, Shughni, Siberian Tatar, Slovio, Soyot, Tabassaran, Tajik, Talysh, Tat, Tatar, Tindi, Tofa, Tsakhur, Tsez, Turkmen, Tuvan, Ubykh, Udege, Udi, Udmurt, Ukrainian, Ulch, Urum, Uyghur, Uzbek, Veps, Votic, Wakhi, West Polesian, Yaghnobi, Yakut, Yazghulami, Yukaghir (Northern), Yukaghir (Southern), Yupik (Central Siberian)
Languages written with the Latin alphabet
Page last modified: 23.04.21
---

Why not share this page:
If you need to type in many different languages, the Q International Keyboard can help. It enables you to type almost any language that uses the Latin, Cyrillic or Greek alphabets, and is free.
If you like this site and find it useful, you can support it by making a donation via PayPal or Patreon, or by contributing in other ways. Omniglot is how I make my living.

Note: all links on this site to Amazon.com
, Amazon.co.uk
and Amazon.fr
are affiliate links. This means I earn a commission if you click on any of them and buy something. So by clicking on these links you can help to support this site.