Tsez (Цез мец)
Tsez is a Northeast Caucasian language spoken in the southwest of the Russian Federation and in nearby parts of Georgia. In the Russian Federation is spoken in a number of villages in Tsuntinsky district of the Republic of Dagestan. In Georgia it is spoken in Ibtsokhi village in Kvareli district of Kakheti region.
In 2012 there were about 12,500 speakers of Tsez, which is also known as Cez, Didoi, Tsezy or Tsuntin.
The name Tsez, which is used for both the language and the people who speak it, is said to come from the Tsez word for eagle. In Georgian, the Tsez language is known as დიდო (dido). This name comes from the Georgian word დიდი (didi), which means 'big'.
Tsez is sometimes written with a version of the Cyrillic alphabet based on Avar, and is mainly used to write folk tales. It can also be written with the Latin alphabet Tsez is taught in some primary schools in Dagestan. However, most schools teach in Avar for the first five years, and in Russian after that.
Tsez alphabet and pronunciation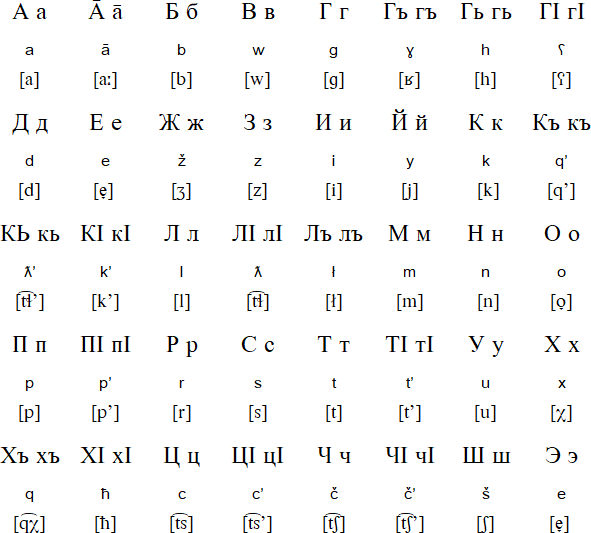 Download an alphabet chart for Tsez (Excel)
Sample text
ЗевнолӀах зевцӀейлӀах белӀон боцӀин зирун хъайно. Сидахъулъ шигохӀно садахъорно бойно хӀукму: йахъулътов бегира боцӀи хӀонлӀāр милӀелъ хизāз хизйо риша йолъ. БелӀā бегирно хъай лъāлъ хизāз, боцӀин зирун регирно хӀонлӀāр милӀелъ хизāз. Гъудод, жеди райноси белӀез рехъенйохор, зиру бохъно угьи-егьлӀада бухъ болӀāхзāзарно бохъно. Зирус угьи-егьи техъхой, гъайби кӀолӀин елāр, боцӀи бухъ бāтузāзарно бохъно бикӀин рехъенйолӀер, бесурно лӀарайав милӀи. МилӀин бисно боцӀин зирун хизор рутин хъӀайлӀāр. Ризирно цӀидолӀор лӀохӀон бегирно лъāлӀор хъай. Кикхогон зевно боцӀикӀхо кӀетӀу.
Transliteration
Zewnoƛax zewč'eyƛax bˤeƛon boc'in zirun qayno. Sidaquł šigoħno sadaqorno boyno ħukmu: yaqułtow begira boc'i ħonƛ'ār miƛ'eł xizāz xizyo rišʷa yoł. Bˤeƛā begirno qay łˤāł xizāz, boc'in zirun regirno ħonƛ'ār miƛ'eł xizāz. Ɣudod, žedi raynosi beƛ'ez reqenyoxor, ziru boqno uhi-ehƛada buq boƛāxzāzarno boqno. Zirus uhi-ehi teqxoy, ɣʷaybi k'oƛin elār, boc'i buq bātuzāzarno boqno bik'in reqenyoƛer, besurno ƛ'arayaw miƛ'i. Miƛ'in bisno boc'in zirun xizor rutin q'ayƛ'ār. Rizirno c'idoƛ'or ƛoħon begirno łāƛ'or qay. Kikxogon zewno boč'ik'xo k'et'u.
Source: https://www.reddit.com/r/languagelearning/comments/5qxo7u/ассаламу_гӏалейкум_this_weeks_language_of_the/
Sample videos in Tsez
Information about Tsez | Numbers
Links
Information about the Tsez language
http://en.wikipedia.org/wiki/Tsez_language
https://www.ethnologue.com/language/ddo
http://www.endangeredlanguages.com/lang/2211
https://wals.info/languoid/lect/wals_code_tsz
Information about the Tsez/Dido people
http://www.eki.ee/books/redbook/didos.shtml
Northeast Caucasian languages
Aghul, Akhvakh, Andi, Archi, Avar, Bagvalal, Batsbi, Bezhta, Botlikh, Budukh, Caucasian Albanian, Chamalal, Chechen, Dargwa, Godoberi, Hinukh, Hunzib, Ingush, Karata, Khinalug, Khwarshi, Kryts, Kubachi, Lak, Lezgian, Rutul, Tabassaran, Tindi, Tsakhur, Tsez, Udi
Abaza, Abkhaz, Adyghe, Aghul, Akhvakh, Aleut, Altay, Alyutor, Andi, Archi, Assyrian / Neo-Assyrian, Avar, Azeri, Bagvalal, Balkar, Bashkir, Belarusian, Bezhta, Botlikh, Budukh, Bulgarian, Buryat, Chamalal, Chechen, Chelkan, Chukchi, Chulym, Chuvash, Crimean Tatar, Dargwa, Dolgan, Dungan, Enets, Erzya, Even, Evenki, Gagauz, Godoberi, Hinukh, Hunzib, Ingush, Interslavic, Itelmen, Juhuri, Kabardian, Kalderash Romani, Kalmyk, Karaim, Karakalpak, Karata, Kazakh, Ket, Khakas, Khanty, Khinalug, Khwarshi, Kildin Sámi, Komi, Koryak, Krymchak, Kryts, Kubachi, Kumandy, Kumyk, Kurdish, Kyrgyz, Lak, Lezgi, Lingua Franca Nova, Ludic, Macedonian, Mansi, Mari, Moksha, Moldovan, Mongolian, Montenegrin, Nanai, Negidal, Nenets, Nganasan, Nivkh, Nogai, Old Church Slavonic, Oroch, Orok, Ossetian, Pontic Greek, Russian, Rusyn, Rutul, Selkup, Serbian, Shor, Shughni, Siberian Tatar, Slovio, Soyot, Tabassaran, Tajik, Talysh, Tat, Tatar, Tindi, Tofa, Tsakhur, Tsez, Turkmen, Tuvan, Ubykh, Udege, Udi, Udmurt, Ukrainian, Ulch, Urum, Uyghur, Uzbek, Veps, Votic, Wakhi, West Polesian, Yaghnobi, Yakut, Yazghulami, Yukaghir (Northern / Tundra), Yukaghir (Southern / Kolyma), Yupik (Central Siberian)
Languages written with the Latin alphabet
Page last modified: 23.04.21
[top]
---

Why not share this page:

If you like this site and find it useful, you can support it by making a donation via PayPal or Patreon, or by contributing in other ways. Omniglot is how I make my living.
If you need to type in many different languages, the Q International Keyboard can help. It enables you to type almost any language that uses the Latin, Cyrillic or Greek alphabets, and is free.
Note: all links on this site to Amazon.com
, Amazon.co.uk
and Amazon.fr
are affiliate links. This means I earn a commission if you click on any of them and buy something. So by clicking on these links you can help to support this site.
[top]