Rushani (Rōšōrvī ziv)
Rushani is a Pamir language spoken by maybe 18,000 people in the northern part of the Shighnan District in the Badakhshan Province of Afghanistan along the river Panj. There are also some speakers in Tajikistan.
Rushani is considered a dialect of Shugni, and though is not usually written, there are ways of writing it using the Latin and Cyrillic alphabets.
Rushani Latin alphabet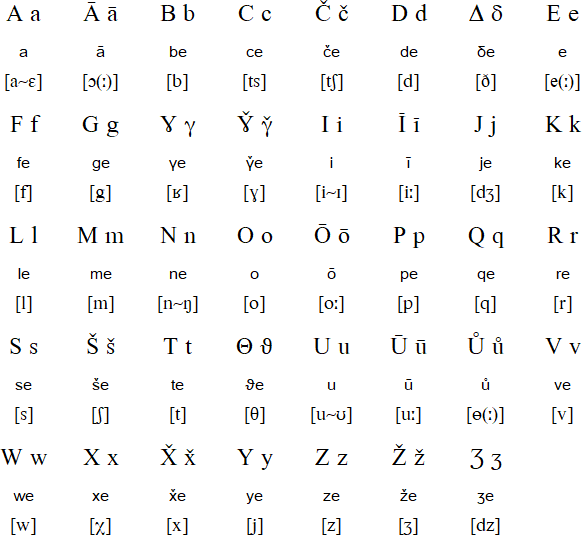 Rushani Cyrillic alphabet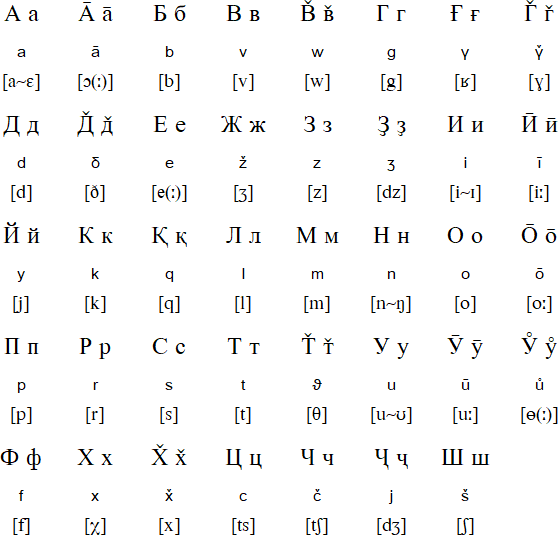 Download charts of the Rushani alphabet in PDF or Excel format
Sample text (Luke 2:1-7)
Ik-duf mīϑen Rūm Qaysar Awgust qōnūn ziwůsč idi tamōmi sarzamīni Rūm imperiyā mardum rūyxat kinan. Id awalīn rūyxat čīg Sūriyā-ndi Kivirīn ukmrōnay dawrā-ndi vid. At fukaϑ-an ar čāy tar xu x̌ār tāyd xu rūyxat čīgōw. Yesuf mis az Jalīl, az Nōsirā ar Yawūdō, ar Dōwūd x̌ār Baytlem rawōn sut, in-dōnd aven idi yā az Dōwūd awlōd vid. Yā rūyxat čīgōw xu γ̌anīʒ Maryam qatay idi ik-day waxt dujōn vid, rawōn sut. Ar Baytlem-an wāδ vid atā Umā Um ziryōt avīgōw waxt firept, at Umā sarfarzand puc az mōd sut; wux̌tak-i Way ču xu ar ōxurčā-yi Way ribu; in-dōnd aven idi ar memōnxōnā uf-ri jōy piδō na sut.
Cyrillic alphabet version
Ик-дуф мӣт̌ен Рӯм Қайсар Ав̌густ қо̄нӯн зив̌у̊сч иди тамо̄ми сарзамӣни Рӯм империйа̄ мардум рӯйxат кинан. Ид ав̌алӣн рӯйxат чӣг Сӯрийа̄-нди Кивирӣн укмро̄най дав̌ра̄-нди вид. Ат фукат̌-ан ар ча̄й тар xу x̌а̄р та̄йд xу рӯйxат чӣго̄в̌. Йесуф мис аз Ҷалӣл, аз Но̄сира̄ ар Йав̌ӯдо̄, ар До̄в̌ӯд x̌а̄р Байтлем рав̌о̄н сут, ин-до̄нд авен иди йа̄ аз До̄в̌ӯд ав̌ло̄д вид. Йа̄ рӯйxат чӣго̄в̌ xу г̌анӣҙ Марйам қатай иди ик-дай в̌аxт дуҷо̄н вид, рав̌о̄н сут. Ар Байтлем-ан в̌а̄д̌ вид ата̄ Ума̄ Ум зирйо̄т авӣго̄в̌ в̌аxт фирепт, ат Ума̄ сарфарзанд пуц аз мо̄д сут; в̌уx̌так-и В̌ай чу xу ар о̄xурча̄-йи В̌ай рибу; ин-до̄нд авен иди ар мемо̄нxо̄на̄ уф-ри ҷо̄й пид̌о̄ на сут.
Translation
In those days Caesar Augustus issued a decree that a census should be taken of the entire Roman world. This was the first census that took place while Quirinius was governor of Syria. And everyone went to their own town to register. So Joseph also went up from the town of Nazareth in Galilee to Judea, to Bethlehem the town of David, because he belonged to the house and line of David. He went there to register with Mary, who was pledged to be married to him and was expecting a child. While they were there, the time came for the baby to be born, and she gave birth to her firstborn, a son. She wrapped him in cloths and placed him in a manger, because there was no guest room available for them.
Information provided by Wolfram Siegel and Michael Peter Füstumum
Sample video in Rushani
Links
Information about Rushani
https://en.wikipedia.org/wiki/Rushani_dialect
https://fr.wikipedia.org/wiki/Rushan_(langue)
Iranian languages
Avestan, Baluchi, Bartangi, Dari, Gilaki, Hazaragi, Ishkashimi, Judeo-Persian, Juhuri, Khufi, Kumzari, Kurdish, Luri, Mazandarani, Ossetian, Ormuri, Oroshor, Persian, Parthian, Pashto, Rushani, Sanglechi, Sarikoli, Shabaki, Shughni, Tajik, Talysh, Tat, Wakhi, Wanetsi, Yaghnobi, Yazghulami, Zazaki
Languages written with the Latin alphabet
Page last modified: 23.04.21
[top]
---

Why not share this page:

If you like this site and find it useful, you can support it by making a donation via PayPal or Patreon, or by contributing in other ways. Omniglot is how I make my living.
If you need to type in many different languages, the Q International Keyboard can help. It enables you to type almost any language that uses the Latin, Cyrillic or Greek alphabets, and is free.
Note: all links on this site to Amazon.com
, Amazon.co.uk
and Amazon.fr
are affiliate links. This means I earn a commission if you click on any of them and buy something. So by clicking on these links you can help to support this site.
[top]